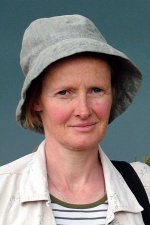 Imogen Lamb is a British-born journalist and producer with Radio France International, based in Paris. She has been on assignment all over Africa, Asia, the Middle East and North America, working in both French and English. She has reported on political, economic and cultural events and has covered issues that include human rights, health, immigration, education and gender. Her assignments have mostly focused on people living in difficult circumstances due to war, violence, famine, abuse, discrimination or disability.
Recent Posts by Imogen Lamb
Freelance foreign correspondent Alex Duval-Smith, Knight International Journalism Fellow Javier Garza, Radio France International reporter and producer Imogen Lamb, Reveal investigative reporter Aaron Glantz and ABC foreign correspondent Sally Sara share their experiences as Dart Center Ochberg Fellows. Click here to apply now!