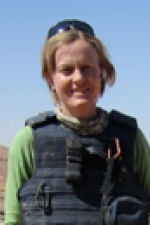 Sally Sara is an award-winning journalist and foreign correspondent with the Australian Broadcasting Corporation. She has reported from more than 30 countries including Iraq, Lebanon and Sierra Leone. In 2011, Sara was the ABC's Afghanistan correspondent. She previously served as Africa correspondent from 2000 to 2005 and South Asia Correspondent 2008 – 2010. Sara has covered a range of stories including the frontline of the war in Afghanistan, 2008 Mumbai terrorist attacks, humanitarian crisis in Darfur, 2005 London bombings, Israeli – Palestinian conflict, sexual violence in the Democratic of Congo and the AIDS epidemic in Africa. Sara is the author of the bestselling Gogo Mama – A Journey into the Lives of 12 African Women. In 2011, Sara was appointed as a Member of the Order of Australia for service to journalism and the community.
Recent Posts by Sally Sara
Freelance foreign correspondent Alex Duval-Smith, Knight International Journalism Fellow Javier Garza, Radio France International reporter and producer Imogen Lamb, Reveal investigative reporter Aaron Glantz and ABC foreign correspondent Sally Sara share their experiences as Dart Center Ochberg Fellows. Click here to apply now!

ABC correspondent and Ochberg Fellow Sally Sara wrote for the first time about experiencing post traumatic stress disorder after returning home from Afghanistan. Scroll down to listen to her piece, and read the full text below.