Alex Duval Smith
2015 Ochberg Fellow, 2017 Senior Fellow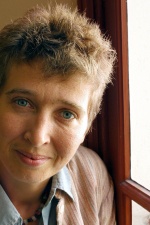 Alex Duval Smith is a freelance journalist who works mainly for British and French text, audio and visual media. In 1998 she was appointed The Guardian's Africa Correspondent. Since then, most of her work has focused on Africa where she has covered all aspects of life across the continent. She has also reported from many conflicts and their aftermath. Most recently as the BBC's resident correspondent in Mali, she dealt with safety threats on many levels. After years of parachuting into stories, she faced the new challenge of living among people who had experienced extreme levels of trauma. In October 2015 she moved to Poland, where she is reporting primarily for The Guardian.
Recent Posts by Alex Duval Smith
Freelance foreign correspondent Alex Duval-Smith, Knight International Journalism Fellow Javier Garza, Radio France International reporter and producer Imogen Lamb, Reveal investigative reporter Aaron Glantz and ABC foreign correspondent Sally Sara share their experiences as Dart Center Ochberg Fellows. Click here to apply now!