Donna DeCesare
University of Texas, Austin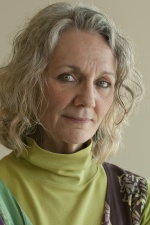 Donna DeCesare is an award-winning documentary photographer and Associate Professor at the University of Texas School of Journalism, a faculty affiliate of the Latin American Studies program, and an Advisory Board member of the Knight Center for Journalism in the Americas. For more than two decades, DeCesare photographed gang members and their families in Central America and in refugee communities in the U.S. In 2013, those images and stories were published in her book "Unsettled / Desasosiego: Children in the World of Gangs." Later that year, she was awarded the Cabot Prize for her distinguished work and contribution to Inter-American understanding. 
A documentary photographer known for her work on youth identity and gang violence, she coordinates the Dart Center's activities throughout Latin America and curates visual journalism for Dart Media.
Recent Posts by Donna DeCesare
An exploration of visual depictions of refugees, and a discussion on how to engage viewers without sensationalizing coverage; how to develop relationships with subjects that don't cross ethical boundaries; and special considerations when capturing and disseminating images of children.

One month after Mexican journalist Javier Valdez was assassinated outside his workplace, we asked seven journalists to reflect on his murder and the impact of violence and impunity on their work. Below, Donna DeCesare introduces pieces by Melissa del Bosque, Javier Garza, Michel Marizco, Maria Teresa Ronderos, Christopher Sherman and ​Marcela Turati. Scroll down for excerpts, and click to the right to read the full pieces.

For more than two decades, Dart Media curator and documentary photographer Donna DeCesare has documented the impact of gangs, violence, and migration on children living in Central America. Here, she offers her take on the current border crisis.