Anzac Day: Ethics of Remembrance
As hundreds of thousands prepare for this Saturday's 100 year anniversary of Anzac Day, journalists must ensure they are promoting healing, not reopening old wounds.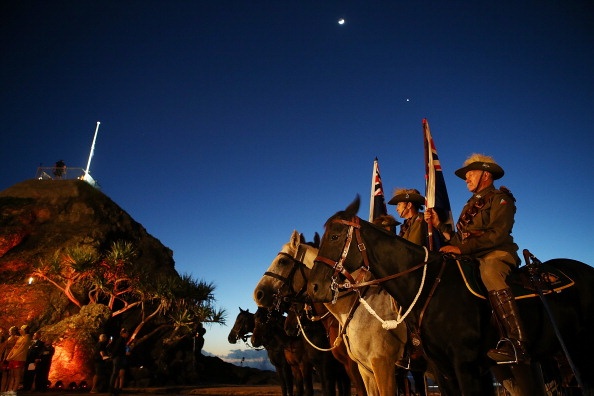 This Saturday is Anzac Day. A day when hundreds of thousands of Australians, New Zealanders and other nationalities who fought as allies in the Great War will rise in the darkness, just before dawn. 
In Singapore, they'll take buses to the Kranji Commonwealth War Cemetery. In country towns, cities and remote communities across Australia, young men and women from youth organisations will "stand down" from all-night vigils held at war memorials the day before. 
In Turkey, commemoration of the landings by the Australian and New Zealand Army Corps (known as ANZAC) on the Gallipoli peninsula on April 25, 1915, will see an unprecedented number of visitors. 
Some 10,500 people – individually selected via ballot – will gather at the Anzac Commemorative Site near the beach called Anzac Cove; thousands more will be in towns nearby or on ships off the coast. 
For many Australians and New Zealanders, the Anzac Centenary is more than a mere anniversary – it is a story of nationhood in the aftermath of Empire. A story we will hear many times this weekend and in the months to follow. 
The Anzac Centenary has evolved into a four-year event: it began with the centenary of the outbreak of the Great War in August 2014 and will end with the anniversary of the Armistice in 2018. Some argue that the commemorative period should last until 2019. 
For journalists, this raises a number of questions. How will the story be told and retold throughout that time? How will audiences stay engaged? With one hundred years of revisits and revisions already passed, what more can be said?  
From an ethical perspective, such a prolonged focus on commemoration and remembrance raises numerous issues. Accuracy and originality are an immediate concern, given the complexity of the subject matter: some basic facts continue to be debated by military historians, even 100 years on. 
My own research – published as part of my PhD in 2013 – showed that reporters assigned to Anzac Day in Australia sometimes struggle, resorting to "copy and paste" from previous years coverage to avoid making an error. 
Media coverage has become formulaic in some cases, with the same copy repeated time and again. There has been a tendency to take refuge in cliché, repeating the words "Anzac spirit" and "Anzac legend", even though some journalists acknowledge that they do not know their meaning.
There is also a tendency to conflate the past with the present, comparing the experiences of today's soldiers with those of their predecessors. In seeking fresh angles, stories and "talent", younger veterans are being exposed to unprecedented media interest, with further repercussions for journalistic ethics. 
This centenary year, Anzac Day will have its usual routine. After a commemorative dawn service, veterans of all ages, together with relatives of those who have not returned, will gather in cities and communities across Australia. 
In formations defined by service – Navy, Army or Air Force – conflict and campaign, they will march, cheered on by the crowd. Capital cities will broadcast the march live on TV and radio; reporters will search for interview prospects in the crowd. The pressure will be on to tweet, file and broadcast continually from dawn until midday, mindful that this story is "once in a century": there is no second chance.
The primary ethical dilemma for reporters arises from an assumption. If veterans attend an Anzac Day dawn service and take part in the march, they must be amenable to being approached. They are in a public place, as part of a public ritual; their tacit agreement to be interviewed is taken as fact. 
The reality is problematic. For many servicemen and women and their families, Anzac Day is a time for private reflection and remembrance: a shared experience that is not easily expressed to those who do not "know". Knowledge is the result of being there; of having served; of having experienced in some, but not all, cases of violence or trauma. Such knowledge is not easily shared with strangers or with the media. 
Some veterans will be prepared to tell their stories and share their memories. But those who have seen war, in all its brutality, complexity and disorder, will often resort to "set pieces" when describing their experiences, falling back on stories they have learned how to tell. 
The prevalence of this technique among veterans – particularly those traumatised by war – has been documented by oral historians in Australia since the 1980's, notably by Alistair Thomson in his recordings for the book Anzac Stories. 
For journalists, such interviewees raise an ethical dilemma: their candour can be misleading, delivering an unreliable account of events and appearing to invite questions which could open unseen wounds of war.
Interviewing veterans at any time requires an awareness of ethical risks as well as journalistic opportunities. Many veterans are empowered by their experiences; it is incorrect to assume that every serviceman and woman is "damaged" in some way. The media's appetite for memories – as a reflection, and in some cases, a correction of history – privileges the veteran's voice. 
As we continue to commemorate and remember the Great War, as well as conflicts in more recent history, we have a responsibility to approach our interview subjects with respect and sensitivity. 
Dart's resources provide useful guidance on how to approach interviewees who have experienced war, violence or trauma; Dart's education programs in Australia have done much to educate reporters here. 
The Anzac Day Media Style Guides – annual guidebooks for journalists covering Anzac Day and the Anzac Centenary in Australia – also refer to Dart as the authority on the subject. The challenge, however, is to persuade journalists to rethink their approach. 
By definition, stories of commemoration and remembrance recall stories that appear to be familiar: stories that journalists believe are easy to tell. My research found that the most junior newsroom staff are often assigned to such stories, without adequate briefing, guidance or resources. When such stories recall war or traumatic experience, we must stop and think again.  
The 2015 Anzac Day Media Style Guide – Centenary Edition is available here.
Mascall-Dare's PhD thesis, An Australian story: media and memory in the making of Anzac Day, is available here. And click here for the accompanying BBC World Service radio documentary.