Conference Report: Covering Cuba in an Era of Change
In October, the Dart Center hosted a three-day conference to deepen journalists' reporting on Cuba and Cuban-American relations featuring historians, scholars, economists, policymakers and award-winning journalists. Click here for full video coverage.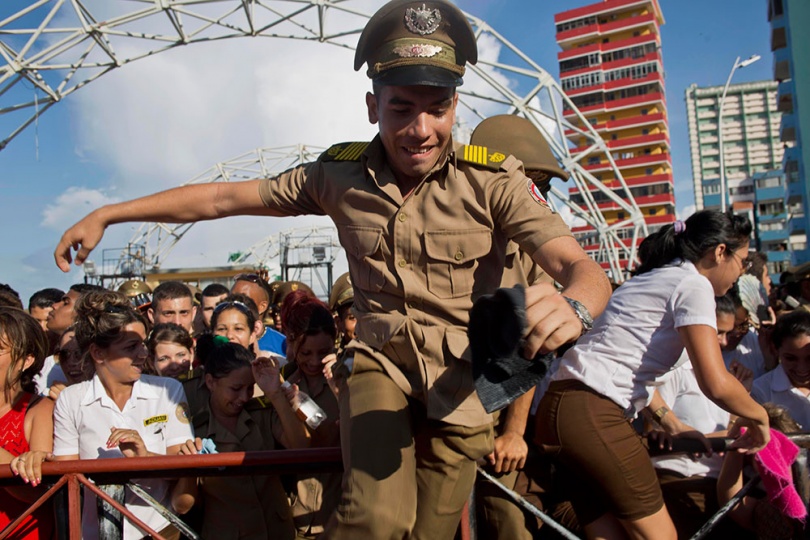 "After fifty years, we should recognize that this policy has done nothing for us," said Gregory Craig, former White House Counsel under President Barack Obama, of the 54-year-old United States embargo on Cuba. "It is time to make a change." 
Craig, a Washington-based lawyer who also served as a foreign policy advisor to Senator Edward Kennedy and to Secretary of State Madeleine Albright, was one of 34 policymakers, academic experts and award-winning journalists who gathered in October to present at a conference at Columbia Journalism School on the shifting social and political climate in Cuba and the potential for a dramatic swing in American policy toward the island nation's government and people. 
Over three days, 29 reporters, editors, photographers and filmmakers participated in expert briefings, policy examinations and engaged in the opportunity to discuss journalistic craft, reporting tactics and a fresh news agenda with a potential to reach past decades of Cold War clichés and generational battle-lines.
For Craig, who made a point of changing the title of his talk from "Recent Initiatives, Future Prospects" to "Just Do It," it is in the United States' best interest to restore full diplomatic relations with Cuba, and to do so as soon as possible. He predicted that if Obama were to take executive action, it would happen sometime between the November midterm elections and the April 2015 Summit of the Americas in Panama, which President Raul Castro has also been invited to attend.
Congressman Jim McGovern, a Democrat who represents Massachusetts' 2nd District, shared Craig's frustrations with a policy whose first iteration was put in place by President Eisenhower in 1960.
"Our policy has become such an embarrassment because it just doesn't make any sense," said McGovern, who argued that the current trade and travel restrictions hurt both sides, and that the inclusion of Cuba alongside Iran, Sudan and Syria as a "State Sponsor of Terrorism" diminishes the importance of the U.S. Terrorist Watch List because "it makes it look like a political document – not something that is meaningful."
McGovern, who is co-chairman of the human rights committee in Congress, said that restoring relations with Cuba would remove the pretext used by the Cuban Government "to justify some of the more repressive policies," adding that the current policy gives "hardliners in Cuba an excuse not to change anything." 
For McGovern, both countries are to blame for the decades-long stalemate, and it is clear that both Cubans and Americans favor lifting the embargo. However, he said, a "passive" United States Congress, with little to gain politically, will not be responsible for orchestrating a change in legislation.
Historically-speaking, the political decision-making processes of both Cuba and the United States have been clouded by overwhelming narratives of "national exceptionalism," according to historian Louis Pérez from the University of North Carolina, who provided a historical grounding for conference attendees. There is, however, a "strong historical foundation on which to build a more open dialogue with Cuba," said Peter Kornbluh, of the National Security Archive and co-author of "Back Channel to Cuba: The Hidden History of Negotiations Between Washington and Havana." 
Every president since Eisenhower has had a real reason to talk to the Cubans, said Kornbluh, and Castro has pragmatically reached out to every U.S. president in their first term in office. For Kornbluh, the time for negotiation is now, but given the deteriorating health of American contactor Alan Gross, who has been locked in a Cuban prison for more than five years and may turn out to be an essential bargaining chip, the diplomatic window is dwindling. 
"We are looking at the most extraordinary moment in U.S.-Cuba relations in recent memory," he said.
Meanwhile, several experts in attendance, including Peter Schechter, Director of the Atlantic Council's Adrienne Arsht Latin America Center, presented polling data to debunk the myth that there is common support from U.S. citizens to maintain an embargo with Cuba. 
"Cuba has been the poison chalice of U.S. electoral politics - anybody who touched Cuba always got burned," said Schechter, who has more then 20 years of experience working in US-Latin America relations. "Now, a 56 percent majority of Americans favor changing our Cuba policy."
Similarly, there has been a steady shift in perspective in Miami, the U.S. city most densely populated by Cubans. In Miami-Dade County, 87 percent of Cuban Americans favored the embargo in 1991. Today, that percentage stands at just 48, according to Guillermo Grenier, a professor at Florida International University. Over 35 percent of Miami's 860,000 ethnic Cubans have migrated to the U.S. since 1994, he said, but while the majority of that group shares a more engaging view toward Cuba, there is a glaring divide between their political views and the 31 percent who are registered as U.S. citizens.
"New groups are changing the culture, they just are not quite moving into the institutions," said Grenier, who was born in Havana. "They aren't registered to vote." 
Archbishop Thomas Wenski of Miami resumed the conversation about the Cuban diaspora in Florida with Mirta Ojito, director of News Standards at Telemundo, previously a faculty member at Columbia Journalism School and Cuba correspondent for The Miami Herald. The Archdiocese outlined the role of the Catholic Church in promoting reconciliation and dialogue among Cubans in Florida, a task Archbishop Wenski jokingly referred to as more difficult than "solving the issues between the Palestinians and Israelis."
He explained that the Cuban Adjustment Act, signed into law by President Lyndon Johnson in 1966, allows for Cubans who have lived in the United States for more than one year to become permanent residents. This has been one of the main causes of success behind the Cuban exile, according to the Archdiocese. "The solution is not to treat [Cubans] as poorly as other immigrants," said Wenski, who was appointed to his position by Pope Benedict XVI. "On the contrary, the law is a model of how we should treat other immigrants."
Designed deliberately to reach past the foreign-policy and national-affairs arena, the conference also met the needs of reporters covering business, telecommunications, health, immigration, arts and culture, sports, tourism and other beats which intersect with change in Cuba and U.S. policy.
Margaret Crahan from Columbia's School of International and Public Affairs moderated a panel on the economic landscape in Cuba today, featuring Professor Marlén Sánchez from the University of Havana, who explained the development of the nation's high dependency on foreign trade; Rafael Betancourt of Havanada Consulting, who asserted that greater autonomy for state-owned enterprises will determine Cuba's growth; and Eric Leenson of Sol Economics, who promotes socially responsible investment opportunities in Cuba, and other prospects for continued collaboration to leaders from major international firms.
The conference also highlighted collaborative projects between Cuba and the United States in the fields of medicine, sustainable economy and environmental conservation. James Williams of the Trimpa Group moderated a panel featuring the Cuba Conservancy's David Guggenheim, the Cuba Research Center's Philip Peters, and the Medical Education Cooperation with Cuba's Gail Reed. Reed, an American journalist and Havana resident, debunked multiple myths rampant in the U.S. regarding the efficacy, spending, logic and international cooperation within the American medical system.  
Reed spotlighted Havana's Latin American Medical School (LAMS) – the largest medical school in the world – which trains doctors from low-income countries and backgrounds who pledge to serve communities like their own. Dr. Joaquin Morante, a LAMS graduate, joined the panel to speak about his experiences in Havana and work as a resident at Woodhull Medical Center in Brooklyn. 
"You are a part of the community when you learn in Cuba. You fulfill this obligation for your social responsibility to one another," said Morante, who says that he was able to go into primary care because of a LAMS guarantee that all of its graduates would exit their medical training loan-free. "I'm very happy to bring that back to the medical system here in the U.S."
In a panel on the changing landscape of arts and culture in Cuba, moderated by Victoria Burnett from The New York Times, Harvard University's Alejandro de la Fuente spoke about the resurgence of racism in Cuba today; Sports Illustrated's Scott Price described the drain of athletic, artistic and medical talent from Cuba to the U.S.; and Cuban performer David D'Omni spoke of the struggle for Cuban artists to express themselves in a tightly-controlled state.
"The Cuban is ready to thrive, but it is necessary that those in power, pass the ball," said the artist, who reported that he, like many other performers, is no longer permitted to sing in public places. 
"If you want to live like a human being, and breathe in peace, then leave Cuba," he added.
On a panel moderated by Baruch College's Ted Henken, Cuban writers and bloggers Orlando Luis Pardo Lazo and Miriam Celaya described their struggles as dissident bloggers in a country that they say promotes a "smear campaign" in labeling them "mercenaries," "CIA spies," and "anti-revolutionaries."
The Cuban government restricts access to the Internet, so Pardo Lazo and Celaya say they are forced to seek out connections in hotel lobbies, foreign embassies, and other public spaces. Since most of their readers do not have Internet access, the independent journalists often copy articles and other information onto CD's and flash drives and hand them out in the streets.
"There is no culture to search for information in Cuba," said Celaya, who is a regular contributor to the digital newspaper 14ymedio created by Yoani Sánchez and used a pseudonym for years before finally revealing her identity. "But once they see what we are publishing, they become interested."
Finding complete and reliable information is also a struggle, according to Pardo Lazo, as the government restricts access to most of its official data.
"The data is 100 percent accurate," said Pardo Lazo, of official information released by the government. "But they omit 90 percent of it."
 Pardo Lazo said that providing the Internet to the masses is a matter of respect, and necessary for a civil society to form. When asked about the potential for a data leak in Cuba, he responded: "Our own Snowden will not survive. Will not escape. Our own Snowden will be shot on the spot."
*Note: On the conference's last day, award-winning journalists led off-the-record discussions among the journalists in attendance. Panelists included Jon Lee Anderson, senior writer for The New Yorker; Ann Louise Bardach, freelance journalist and author; Damien Cave, foreign correspondent for The New York Times; Elaine Diaz, blogger and 2014-15 Nieman fellow; John Dinges, Godfrey Lowell Cabot Professor of Journalism at Columbia's Graduate School of Journalism; Achy Obejas, freelance journalist and author; Peter Orsi, foreign correspondent, AP and Portia Siegelbaum. Havana Bureau Chief, CBS News. Dan Restrepo, senior fellow at the Center for American Progress, also gave an off-the-record briefing on the prospects for policy change.