"An Entire City, Gone"
September 8, 2005
Denver Post reporter Elizabeth Aguilera and Post photojournalist Craig Walker are in Metairie, a suburb of New Orleans. Elizabeth talked to fellow Post reporter Amy Herdy and provided this first-person report, sent Thursday, Sept. 8.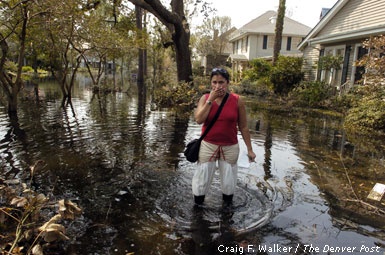 I can't even describe it. We went out on a boat—it's unreal. It reminded me of a movie set, except there are dead people and animals in the water. Very somber. It's blazing hot. There's been no running water or electricity since last Thursday.
We spent three nights in the car, parked outside this big military compound. We were lucky enough not to worry about security because the cops were kind enough to let us sleep next to where they were manning the gate. We had to have the windows open and the mosquitoes are bad.
We met a priest who offered to let us sleep in the rectory. There's no water or electricity but at least it's a flat surface. Two days ago the water came on in the kitchen sink for a few hours, trickled in, and so we did buckets. I washed my hair, for the first time in five days. It was the best feeling.
We're only eating food we brought. We flew into Houston, rented a car and went to Wal Mart and loaded up—Gatorade, water, Pop-Tarts, breakfast bars, beef jerkey, Cheez-Its, peanut butter, Ritz crackers and canned goods like Chef Boyardee. No fresh fruit or vegetables. On Saturday or Sunday we drove 30 minutes away to get gas—there's one gas station open in the county—and I had a salad at Wendy's.
When we went on the water, we wore waders and plastic latex gloves. We have masks but don't wear them—it's hard to talk and it gets stuffy, because it's so humid here. We put Vicks VapoRub under our noses for the smell.
We're up at sunup and often work until 10, 11, midnight. We are transmitting on Craig's photo laptop and his cell phone—I write on my laptop and download it to a memory stick and he transmits it. Since there's no power anywhere we do it all in the car. A power strip is connected to a cigarette lighter. My notebook is on the dashboard and my computer in my lap. There are cords everywhere.
People haven't asked us for much of anything. Somebody asked us for a ride and we had to tell them no because we had to keep up with our caravan. People have asked us for water and we've given it to them, and people have given us water. We've gone days where neither of us ate anything but trail mix and popcorn until 9 p.m. We've had MRE's—the national guard was giving them out.
The hardest part, just the past couple of days, is that it's sunk in just how devastating this all is. It's an entire city—gone.
There are still a few stranded survivors. The saddest thing is how lost people are. We've met people separated from their family, their friends, elderly people, who don't know what's going to happen to them, don't know what city they're going to.
We haven't stopped to think about it. We're just going. We haven't really stopped.
People are still so caring about each other. The ones that are still trying to live here—they're all so patient. To get gas, for example, it's a 30 to 45 minute wait.
We washed some clothes in a bucket, with handsoap. When the water from the streets splashes on you, it's almost like getting tar on you. Oily and dirty.
The air is fine where we're staying. If you go to a home that's had water, it smells moldy. In the city where it's flooding—it smells toxic, like chemicals. You can see oil and gas on the water. We've been joking that it's poopy water.
We saw people's pets still stranded—dogs and cats mostly—either swimming in front yards, and they crawl to higher ground at dark, or sitting on stuff that's piled high, like trash or cars. The rescuers feel really terrible about leaving them behind but they're supposed to be finding people.
Now you're making me think about it.
No tears—we've been on auto pilot. Yesterday was tough, sitting with a woman who was trying to find her family—very sad. We've talked about that.
We try to make each other laugh—that's what you gotta do. The priest here at the parish is very encouraging. There's another team of reporters from Kansas City staying here—we have different schedules, so we don't see each other much—but we all shared stories one night, sitting together in the dark.