On Covering An Invisible War
A final word from Executive Director Bruce Shapiro following the Dart Centre's daylong forum "Reporting Responsibly into the Royal Commission on Child Sexual Abuse."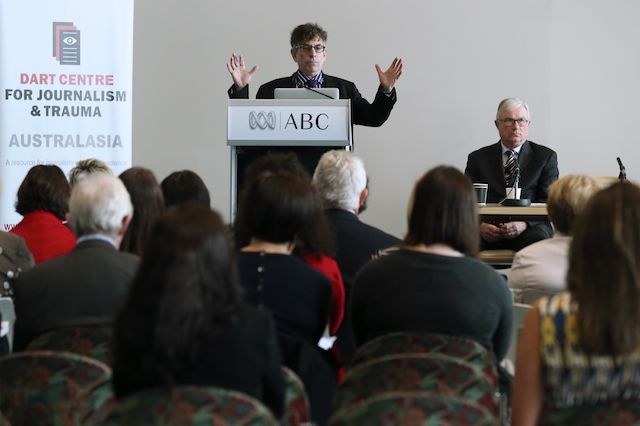 "It was amply clear going in to today that the Royal Commission is going to be a very challenging story. Challenging because of the subject matter, the sheer volume of material, the witnesses and because it's going to go on for a long time.
What we accomplished today was to raise the baseline knowledge about sources and issues and how to think about survivors and to encourage new ways of  thinking about mental health issues.
"Even more importantly, there was intergenerational sharing of knowledge between journalists. You had people who have been covering institutional sex abuse cases for years and people who have literally been assigned to do so this week, young journalists at the beginning of their careers.
I was moved by the extent to which experienced reporters wanted to share their knowledge and even moreso by the receptivity of these young and eager reporters to think through, honestly, the ethical challenges they're facing, the self-care challenges and the practical craft challenges.  The most important accomplishment of the day was creating that informal network of journalists across media who have been able to think together and talk together.
"At some point during the day someone said this is like covering an invisible war. The idea that a court case or a protracted commission of inquiry could be as toxic as a shooting war is still pretty new. But this forum has shown that there is a much greater and growing willingness in our profession to look at an issue that way."