Fiona Lloyd-Davies on Sexual Violence, and Her New Film
Fiona Lloyd-Davies's new documentary tells the extraordinary tale of a Congolese woman who has supported more than 6,000 victims of rape since she and her daughter were raped, and her husband killed, in 2000. In a Dart Centre Europe exclusive, Lloyd-Davies discusses how she prepared to report this story and the challenges she faced.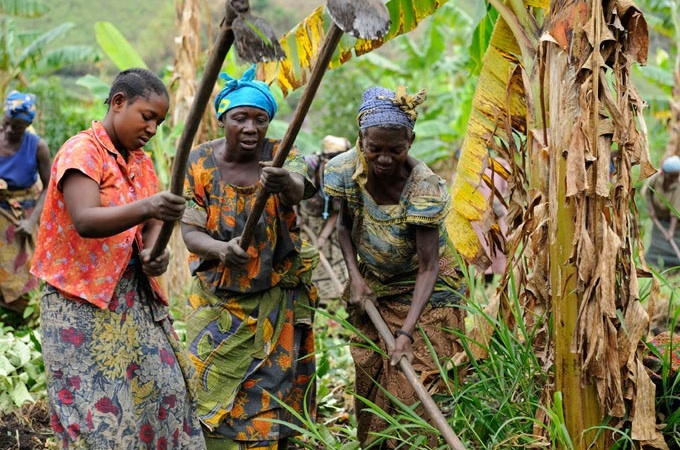 Journalist and filmmaker Fiona Lloyd-Davies began her career in 1992 in Bosnia from an ad hoc trip to Sarajevo at the height of the war. It led to a job as a researcher on the BAFTA-winning Channel 4 documentary The Unforgiving about the motivations of the Bosnian Serbs. In the two decades since, she has made programmes for BBC, Channel 4 and Al Jazeera English. They include the 2000 film Licence to Kill, about honour killing in Pakistan for BBC2's Correspondent series, and 20 films for Newsnight with Salam Pax, the Baghdad Blogger — both of which won RTS awards. Her most recent feature-length documentary, Seeds of Hope, is about sexual violence in conflict zones in Democratic Republic of Congo. It is being screened at the Frontline Club in London on 14th July, 7:30 pm. For tickets, click here.
Jane Feinmann recently spoke to Lloyd-Davies from London about her work, and the challenges she has faced.


Jane Feinmann: You have covered some of the darkest areas of conflict and cruelty, notably in Bosnia, Pakistan and the Democratic Republic of Congo. Did you see yourself as a campaigner from the beginning, someone whose role was to try to make a difference?

Fiona Lloyd-Davies: Of course it's important as a journalist and filmmaker to have independence and not lean to one side of the story or another. But I always remember the words of a survivor of the BosnianSerb concentration camps, who said that the day the cameras from ITN arrived was the day the killing stopped (Penny Marshall with writer Ed Vuillamy). After that, it's difficult to be cynical about what journalism can achieve.

JF: What has been the biggest positive influence on your working life?

FLD: My father is a retired surgeon and my sister and I grew up being taken to hospitals to visit patients as a Sunday treat. Looking after people and "making them better" was part of the family culture. As was the other side of surgery - when patients didn't get better and sometimes died.
My sister Vanessa became a doctor, joined the RAMC and was the first medical officer attached to the Household Cavalry. My first foray into broadcast television was about her work in Bosnia in 1992, where she was awarded an MBE for gallantry treating wounded Bosnian children under fire in Sarajevo. After her death in 2005, Martin Bell writing her obituary in the Guardian recalled her saying that "after the dangers of the hunting field and three-day event I'm hardly troubled at all by mere civil war."

It was through my sister that I met the man who much later became my husband, then a colonel in the New Zealand army who was in Sarajevo for the first five months of the siege. I sometimes feel as though he believes in my work even more than I do. He also understands what the risks are and has been desperately worried at times - but he's told me he will never try to stop me.

JF: You first visited the town of Shabunda in eastern Democratic Republic of Congo in 2001, spending a week there listening to testimonies about rape and torture. Were you consciously realistic about what a journalist could achieve in that situation, both to yourself and to those you interviewed?

FLD: I had a commission from the Glasgow Herald Magazine, the only media outlet who would take the story. But it was a feature article from a magazine with a good reputation. As no one was reporting the story at all, I was just grateful to find a home for the story that enabled me to go. It's a very difficult place to reach - and I was lucky to be able to travel with a team from Médecins Sans Frontières.

JF: How difficult was that emotionally?

FLD: It was extremely difficult and distressing. I had recorded stories of rape, torture and immense suffering from survivors of the Bosnian war, but the women's stories of rape and brutality in Shabunda seemed especially searing.One of the main differences was that during the Bosnian conflict, it was being reported. People did want to listen, albeit in a very limited way. Plus, I surrounded myself with all things Bosnian, at home and when I was there. I made many new Bosnian friends in London, started to learn the language and was able to return to Bosnia regularly throughout the war, working on different documentaries and projects of my own. It was a catastrophe, but one that the whole world was watching. In Shabunda, noone was interested and it felt extremely isolating. While it was physically frightening since the war was still raging close by, with the threat of militias entering the town at any time, I think my main emotion was anger at those people who could have done something and who didn't.

JF: You returned to report on the situation in Shabunda in 2005, two years after the war had officially ended - and therefore, presumably, at a time that the risk of rape should no longer have been a 'story'. How were you able to return, both emotionally and financially?

FLD: Returning to Shabunda was something I had wanted to do for some time. I was keen to find out if the women I had photographed in 2001 were still alive, and what had happened to them and to the community. Although the situation was much calmer, the risk of rape had never gone, it just receded when the fighting lessened. So it was something I wanted to do, very keenly. I was fortunate enough to be awarded a grant by Edinburgh City Council who were organising events for the G8 that was being held outside Edinburgh that summer. The grant funded the trip and an exhibition of the images.

It was very exciting to return to a place that had been so devastated by war that was in a period of peace. The town was calm and busy and places like the hospital, that had been empty and looted in 2001, was full of people, with doctors and nurses able to do their jobs. I found that most of the women I had photographed were no longer there; they had either died or disappeared. Other women I interviewed related more stories of rape, and disturbingly, rape camps that were well-organized. The women had only survived by escaping from them. It felt as though the pattern was changing, with the limited interviews I was able to get in 2005, I sensed that sexual violence was being formalized, organized and perpetrated in a more entrenched, systematic way.
On my return, I felt an enormous sense of achievement to get the images seen by a wide audience when it was still a very difficult story to get published.

JF: In Seeds of Hope, the film you started to make in 2009 (which was shown for the first time at the End Sexual Violence in Conflict Conference in the Excel Centre, London on June 10) you return to this subject. How difficult was it to convince funders and/orcommissioning editors that this was worthwhile?

FLD: It has been and continues to be very difficult. However it is through the support of the Pulitzer Centre on Crisis Reporting that making Seeds of Hope was possible. Without their support, it wouldn't have happened. The film has grown out of a shorter, half-hour version, Field of Hope, which was commissioned by Al Jazeera in 2011. I combined some of Field of Hope, with footage that was never used and more recent films made in 2013. I still have to find a broadcaster for Seeds of Hope. But I'm optimistic. It's a tough film to watch. But through opportunities such as the Global Summit, the film is being seen by audiences all over the world. And the more it is shown, the more people are hearing about it and want to see it.


JF: No punches are pulled in describing the details of rape and torture of women, children and babies. But the focus of Seeds of Hope is survival. Did you have this positive focus in mind from the start of the project?

FLD: I think there has to be some sense of hope within a story of such horrific violence and suffering, otherwise it becomes unwatchable. It's not all good news: the film shows the reality of these women and children's lives, where often, there is no happy ending and life is cruel. Yet the women do have hope, they are rebuilding their lives and, most importantly, they are survivors not victims. It would have been wrong to portray them as anything other than survivors with hope.

JF: Masika Katsuva, a Congolese woman whose husband was murdered in 2000 by armed men who raped her and her two teenage daughters, has supported more than 6,000 victims of rape over the past ten years. And the film describes how she is currently taking care of 170 women and their children. After the launch of Seeds of Hope, you said there are many women like Masika Katsuva in DRC. Was this a revelation for you about the potential for human goodness?

FLD: Working in Bosnia where I started my career, quickly showed me the human potential for good and evil. I think seeing it under such an intense magnification during the Bosnian war left a profound impression on me, and has meant it's something I often seek out in my work. It is very humbling to witness people in these circumstances. We have the choice of going to these places and then leaving them. They do not have this choice. We meet people who trust us with their story, something that is deeply part of them and their humanity. I feel one must be responsible with this and treat their voice with respect and dignity.

JF: What's the single most important lesson you have learnt?

FLD: That there are always extraordinary people within the region of conflict who can provide the answers. They just need some support. The work of these people and grass roots groups are as important as international pressure. Top-down initiatives are essential. Political pressure on Rwanda to withdraw its support of the M23 militia was as key to ending that particular moment of fighting as the UN and their support of the Congolese army. As was Hillary Clinton travelling to DRC in 2006 and bringing the world's attention to a place that had been consistently ignored. Now, William Hague has shone a very bright light on the issue of sexual violence in conflict zones, helped enormously by Angelina Jolie who was sufficiently motivated to give up her time in this way. Yet someone has to make these initiatives count. Governments can sign up for these initiatives without anything huge changing. The US still has a serious problem of rape in the armed forces. That's why I'm interested in finding ways to support the grass roots, to provide funding for people like Masika to feed and educate the children, to buy land for the boys who are stigmatised because of the way they were conceived. But this needs to happen without the donors demanding ownership of the project - that's the difficulty.

JF: The first trials of soldiers for rape have taken place in Minova where a stated aim is an end to impunity. Do you have a sense of optimism that this freedom to rape could end in DRC?

FLD: There have been a number of trials focusing on gender violence in the last few years, but very few senior officers have been held to account. While it was a positive step that the Minova Rape Trial happened at all, the Congolese justice system is still very fragile. I believe there is a long way to go before the culture of impunity is changed.

JF: You attended the End Sexual Violence in Conflict conference in London last month, chaired by William Hague and Angelina Jolie.

FLD: While it is very commendable that this Summit has been organized and so many people have attended, we still have to wait and see what has been and will be achieved. It's significant that William Hague's Prevention of Sexual Violence in Conflict initiative was set up just over two years ago, yet very little has been done on the ground. In addition, it's important to highlight that this initiative, with a Team of Experts who we are told are ready to be deployed, were not sent to assist in the Minova Rape Trial. No one has asked William Hague to explain why, although I would be happy to ask were I to have the opportunity.

JF: What in your view was the best news from the conference?
FLD: The establishment of the International Protocol (on the Documentation and Investigation of Sexual Violence in Conflict) is an important step forward. But once again, this must be put into practice. For me, networking was probably the most important part of this Summit, bringing so many people and groups who are passionate about ending sexual violence who could meet and talk. But action is what needs to happen next. If, for instance, Physicians for Human Rights MediCapt App can be put into practice AND installed on a conflict-free phone it would make a difference. What I would like to see is this application taken one step further. So that this app could be adapted for the individuals, like Masika and many others who have been recording the facts of rape from survivors for many years. Up until now this extraordinary material has not been recorded in a format that is universally acceptable to local, national or international courts. If the MediCapt App was adapted according to the Protocol, applied to a secure, conflict-free phone, with training to these people, many of whom are in areas inaccessible to most clinicians or investigators, they would be creating an extraordinary database of evidence that could speed the end of impunity.