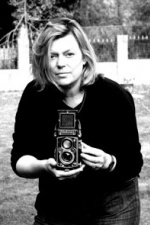 Journalist and filmmaker, Fiona Lloyd-Davies, started her career in 1992 in Bosnia from an ad hoc trip to Sarajevo at the height of the war. It led to a job as a researcher on the BAFTA-winning Channel 4 documentary The Unforgiving about the motivations of the Bosnian Serbs. She has since made programmes for BBC, Channel 4, Al Jazeera English for nearly two decades. They include the film Licence to Kill on honour killing in Pakistan for BBC2's Correspondent series in 2000 and 20 films for Newsnight with Salam Pax, the Baghdad Blogger—both of which won RTS awards. Her most recent feature length documentary Seeds of Hope, about sexual violence in conflict zones in Democratic Republic of Congo, is being screened at the Frontline Club in London on 14th July.
Recent Posts by Fiona Lloyd-Davies
Fiona Lloyd-Davies's new documentary tells the extraordinary tale of a Congolese woman who has supported more than 6,000 victims of rape since she and her daughter were raped, and her husband killed, in 2000. In a Dart Centre Europe exclusive, Lloyd-Davies discusses how she prepared to report this story and the challenges she faced.