Framing the WDBJ Tragedy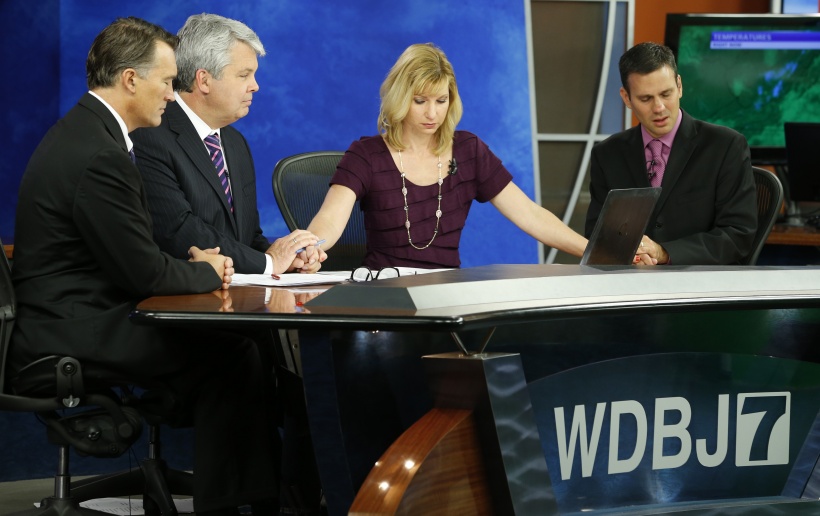 It is less than an hour's drive from Roanoke, due south across Virginia's Blue Ridge Parkway, to Smith Mountain Lake, where WDBJ reporter Alison Parker and videographer Adam Ward—24 and 27 years old, respectively—were shot to death by a former colleague on live TV early Wednesday morning. Nothing prepares journalists anywhere for the murder of our own. Yet the news professionals of Roanoke know something about handling high profile tragedy, the kind that swiftly brings the world's media to your small-city doorstep. This is the same southwestern Virginia news community that, less than a decade ago in April of 2007, demonstrated exceptional dignity and skill covering the mass shootings at Virginia Tech University even while reporters' and editors' own spouses and children were locked down or facing unknown fates on campus.
As the horrific Smith Mountain Lake videos—first that live TV feed, then shooter Vester Lee Flanagan II's own cell-phone record—were unleashed over the internet, the local press responded with the same calm, professionalism, and quiet compassion that marked the Virginia Tech coverage nearly a decade ago. The Roanoke Times released facts throughout the day as they became clear, moving quickly to paint a human portrait of victims and whatever could be gleaned about the shooter's motives, rather than leaping on board unconfirmed tweets. Behind the scenes, newsroom staffers of WDBJ received calls from their competitor station WSLS, offering to cover the day's assignments so that grieving reporters and producers could take whatever time was necessary.
But what comes next in this terrible story? When the shock of Parker's and Ward's on-camera murder has worn off, is there any meaningful way to frame such a brutal and unusual tragedy as the story evolves?
One might be for reporters to call this incident what it is: a workplace shooting. (A TV crew's workplace is wherever a camera is set up.) Journalist-on-journalist murder may be rare, but workplace shootings are a richly-studied public health problem, uniquely American in their scope thanks to the prevalence of guns. In 2010 alone, the most recent year for which complete data are available, 518 Americans lost their lives in workplace homicides—a staggering 11% of all occupational fatalities—and 78 percent of those deaths were from guns, including 77 multiple-fatality massacres, according to the Bureau of Labor Statistics. If any journalistic good were to come out of this incident, it might be to focus public attention on this epidemic.
The Smith Mountain Lake shootings may also represent an unusual, tragic opportunity to bridge the vexing and emotional gap that so often arises in the aftermath of highly-publicized multiple murders between victim families and news media. Just a few weeks ago, surviving victims and family members of the Colorado theater massacre were at odds with Denver-area and national news media over the use of shooter James Holmes's name during his trial. Similar divides opening up after school shootings in Connecticut (over whether crime scene photos should be released) and Winnenden, Germany (as in Colorado, over publication of the shooter's name), and in Tasmania following the Port Arthur massacre.
This time, the victims are reporters—young, vibrant television journalists on a good-spirited morning standup with the local Chamber of Commerce. But the questions remain: How to keep victims like Parker and Ward central to the story as it evolves? How much to mention, discuss, explore the motivations of the shooter—and former reporter—Vester Flanagan, who shot himself to death after a police chase, without rewarding a murderous notoriety-seeker? Whether and how to use the videos of the morning murders, now removed from many news sites but still circulating widely? And probably most pertinent: What of the killer's own words and background to publish and post? How to balance the legitimate public interest in an act of evil with respect for victims and survivors, and with fear of copycats?
There is certainly evidence that at least some high-profile shooters—though often profoundly different in their background and motivations—become fixated on past incidents, whether out of a primitive fantasy of revenge, paramilitary delusions, or simple sadism. Sandy Hook shooter Adam Lanza was reportedly obsessed with Columbine, for instance, as was the profoundly mentally ill Virginia Tech shooter Seung-Hui Cho. And Norway's Anders Breivick described himself as a student of Al Qaeda. After the Smith Mountain Lake shootings, ABC received a rambling fax from Vester Flanagan, specifically praising Cho and outlining his grievances toward his former employer. On some level, these killers do take their cues from one another—and what they learn through news and the internet. 
But if killers can learn from past incidents, so can journalists—and we do it too seldom. Some of the questions already swirling around the Smith Mountain Lake shootings harken straight back to Virginia Tech (which, by the way, videographer Adam Ward attended starting the semester following the massacre). Then as now, a television network—NBC, not ABC—received a communication from the killer, in that case, a rambling video manifesto. Mental health professionals advised the network that repeated—rather than one-time—viewing of the video could play dangerously into the thinking of disturbed individuals. At the same time, news executives saw something else: A video that clearly portrayed the killer as out of touch with reality. NBC's decision—criticized in many quarters—was a careful balance between public education and public safety. Excerpts of Cho's videos were shown for a single news cycle, then removed from the network's site and not rebroadcast. On balance, it worked. It matters to public policy that Cho's rampage be understood as a product of profound mental illness, and as a failure of the mental-health system, court, and university to connect the dots. Compare that with Fox putting unedited ISIS beheading videos on its internet archive, becoming the transmission belt for the cult's murderous recruitment campaign for aspiring sociopaths.
There's much we still don't know about Wednesday's Virginia shootings. If past incidents are any guide, some of what we think we know will turn out to be profoundly wrong. But it is not too soon to praise southwestern Virginia's local reporters and editors for doing it right under the most dreadful circumstances; and not too soon to recognize that when two young news professionals like Allison Parker and Adam Ward can get shot on live camera, it is time to rethink whether American journalism's coverage of guns is asking the right questions.