Grief in the Gulf
The Deepwater Horizon oil spill is different from a war or an earthquake, but the traumatic impact is just as real. The challenge to journalists is to report the slow-motion disaster while seeking stories of resilience and possible recovery.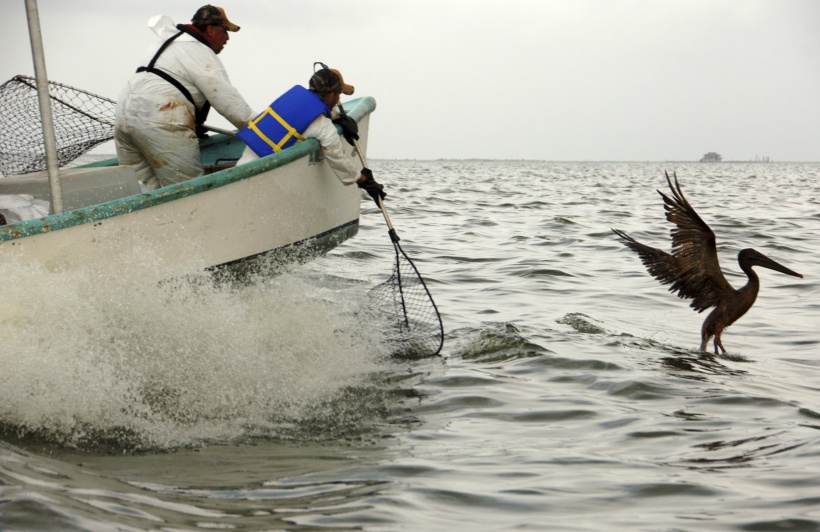 On April 20, 2010, the Deepwater Horizon oil rig exploded and burst into flames, killing eleven workers and injuring another seventeen. Since then, oil has been spilling into the Gulf of Mexico at the rate of at least tens of thousands of barrels per day and sweeping past booms to hit marshlands and beaches in Louisiana, Mississippi, Alabama, Florida, and beyond.
The media coverage has been constant, and for the eighth week in a row, news of the spill has dominated headlines. As a nation, we are transfixed by the accounts and images of the continuing spill, of unemployed fishermen and oil workers, of oil-soaked pelicans and other dying wildlife. There is a sense of mourning over this man-made environmental catastrophe and the possible death of a gorgeous area of our natural world. Some are calling for boycotts of British Petroleum and a halt to offshore drilling; others are taking a hard look at our oil-dependent way of life.
It's difficult to get a grip on the extent of damage. Estimates of the amount of oil actually gushing keep increasing, and scientists have also identified massive 50-mile long plumes of oil stretching out underwater from the site of the explosion. Oil will continue surfacing for weeks or more, and currents are likely to transport oil, tar, and chemical dispersants far past the site of the original explosion, possibly as far as the Atlantic Coast. Now that it's hurricane season, the uncertainty increases because storm winds can overwhelm the booms, drive oil slicks further into the wetlands, and even force human and marine resources involved in the cleanup to be pulled off the water.
A slow-motion environmental disaster is unlike a war or an earthquake, but the traumatic impact is just as real. The challenge to journalists is to report the unfolding catastrophe with an emphasis on victims while seeking stories of resilience and possible recovery. That will require rigorous reporting across many disciplines: economics, engineering, science and the environment, politics, public policy and the law. It also calls for sensitivity to the possibility that people caught up in the tragedy may be deeply traumatized.
"Whether or not [Gulf residents] saw the disaster as life-threatening, this event has the potential to be an enormously destructive or disruptive event in their lives," says Bruce Shapiro, executive director of the Dart Center. "The event can undermine their way of life and their physical environment."
Journalists should look out for signs of trauma when interviewing victims, even though this has been little discussed in the wake of the spill. "Since this is seen primarily as an economic disaster, the word 'trauma' isn't really being used," says Arnessa Garrett, assistant metro editor at The Daily Advertiser in Lafayette, Louisiana and former Dart Center Ochberg Fellow." But there are definitely emotional scars, not just economic scars."
Interviewing victims may be a challenge under these uncertain circumstances. Says Michele Many, a social worker and assistant professor of psychiatry at Louisiana State University: "There is a quality of the unknown to this disaster. People see it happening but can't stop it. That can mean that it's difficult to recover until the full extent of the damage is known."
This spill has far-reaching implications, and there are number of groups of victims worth reporting on. The earliest human face on this tragedy came from the families of the rig workers who died on board the Deepwater Horizon. Their stories are often forgotten as the oil continues to spill and economic impacts mount.
One-third of the Gulf of Mexico is now off-limits to fishing, as fisheries in Alabama, Mississippi, and Louisiana have been declared federal disaster zones. People are out of work. Those involved in the fishing industry often make all their money in one season, but now fishing areas are closed and the future prospects are bleak or unclear at best. The tourism industry will be severely stunted, leaving deserted islands and vacation homes. Cleanup workers are breathing in toxic dispersants, which may cause long-term health effects.
People who've lived in tight-knit communities on the Gulf all their lives may identify closely with the waters from childhoods of fishing and swimming. Now they're not sure if they'll ever be able to use the natural resource again. Many feel powerless and may even feel that the government or other authorities are not acting fast enough. Gulf residents may be angry, worried and depressed.
Some Gulf residents are taking matters into their own hands, tracking the disaster through crowd-sourced maps like the one managed by the environmental group Louisiana Bucket Brigade and aerial photo projects like MIT Media Lab's Grassroots Mapping project. These are examples of communities empowering themselves to tell their own stories. Thankfully, getting the facts straight can actually help the resiliency of a population. In a tipsheet on its website directed to those distressed by the oil spill, the American Psychological Association noted, "knowing the facts can lessen anxiety that comes from uncertainty and enable you to feel more in control about an otherwise chaotic situation."
Psychologist Gilbert Reyes, author of the "Handbook of International Disaster Psychology," says it's clear that tremendous levels of stress are likely as a result of the oil spill, including deteriorations of physical and mental health. At the same time, he cautions against making generalizations about individuals: "When we talk about losses of livelihood, losses of future, like the people in the fishing industry, we talk about these as very substantial stressors. But we can't decide whether stress is traumatic or not based on the stressor, because we're each individuals and we each have a different stress capacity."
It's a complex human equation: factors in traumatic stress can include genetics, personality, and previous exposure to trauma. The Gulf region is still in recovery from the disaster of Hurricane Katrina and the subsequent flooding. Families and communities, approaching the five-year anniversary of Katrina this August, were just starting to put that disaster behind them.
"People are experiencing increased anxiety. Obviously this was a huge trigger for people because they had just reached some semblance of normalcy post-Katrina,"says Many, who has led post-Katrina and post-oil spill mental health outreach in New Orleans.
John McCusker, a photographer for the New Orleans Times-Picayune and a former Dart Center Ochberg Fellow, concurs. He reports a common quip heard around the Gulf since the spill: "'Damn! I was just starting to feel better.'"
Reyes says that different people react very differently: "For some people, this is going to compound the impact of Katrina. And for some people, they are going to be completely distinct from each other...Some people are stronger at the broken place, by building strength around the previous injury, leaving them more resilient, while others never heal from a prior injury so they're actually weaker at the broken place."
At The Daily Advertiser, Garrett notes that people's attitudes about the oil spill are informed by the lessons of Hurricane Katrina: "The tone or tenor around here is 'hope for the best, but prepare for the worst.'"
See our related tip sheet with resources for reporters covering the Deepwater Horizon oil spill.