Facing Down Fear
As a seasoned photographer coolly documents the earthquake in Haiti's dreadful consequences, a Dart Society writer grapples with the inevitable emotional distress.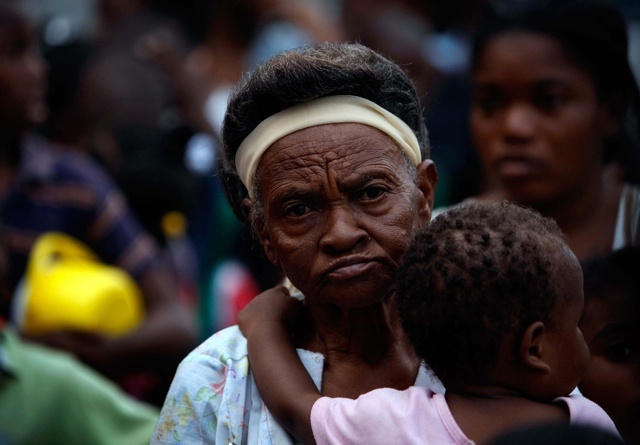 This article originally appeared in Blogging Trauma and is published here with permission of the Dart Society.
One of the main objectives of my trekking down to Haiti was to observe and learn from experienced journalists and photojournalists. I wanted to see how they reported under pressure and coped with the emotional distress they might face after the dust settles.
By chance I ran into Marco Di Lauro, a well-known photographer who covered virtually every conflict in the last 15 years. I was waiting in line to board a Civil Defense bus at Plaza de la Salud in Santo Domingo when his raspy voice called out to me.
"You press?" he asked, and stared at my press pass.
I nodded. He was on assignment for Reportage, Getty Images' visual storytelling photography line. I told him I knew John Moore, a fellow Dart Center Ochberg Fellow also from Getty, and we began chatting.
He wore a cigarette in the corner of his lips most of the time and spoke as if he were chewing his words. He was tall with angry blue eyes.
We sat side by side in silence on the bus to Jimaní, a town at the border with Haiti. I thought of ways of asking to shadow him, to profile him by spending an entire day as he shot his way across Port-au-Prince.
That night we camped at the Civil Defense station at La Fortaleza. Col. Edwin Olivares is chief of operations for the Dominican Civil Defense, and he was manning its emergency operations center. His crew recorded each and every person who entered the camp. They provided food, water and medicine to relief workers and journalists trying to cross the border.
I interviewed a few relief workers heading there and some returning. The trauma that the returning volunteers felt was evident in their demoralized semblance. A 22-year-old man named Simon Perez begged to talk to me. He had driven to Haiti soon after the earthquake and helped remove the wounded.
"I can't sleep," he told me as he wiped tears. "These images are just buzzing around my head. I want to see my mom, my father and my son. I asked for a leave of absence. I am still waiting for a response."
I didn't sleep that night either. I visited the hospital, and spoke with survivors and doctors to try to get a sense of the scope of the work at the Dominican border. At the hospital, I visited the amputees' ward, where children with missing limbs played with toys to distract them from their pain. Tamara, a 7-year-old girl, screamed in agony as they tried to perform a blood transfusion.
The next morning we arrived at the UN's Logistics Base. The ride there was treacherous. We paid a driver who got lost while a mob tried to get in the car several times. I was scared, but even more determined to shadow Marco.
Over the next two days I did everything to irritate him. I scorned him for yelling at our fixer; I almost dropped his brand-new Apple computer and got in the middle of his picture more times than I care to admit.
He was patient – most of the time. Sometimes he lost it. I could see why. Marco had been covering wars and violence for over 15 years. He had been living on and off in Afghanistan and was not accustomed to having a mascot follow him around.
But he knew the ropes. He could prevent an accident and escape dangerous situations.
I couldn't comprehend this catastrophe vicariously; I had to be there.
"You want to come with me?" he asked in a facetious tone that chilly Saturday night.
I assented, not knowing what awaited.
The next morning we awoke to some unfortunate news. Someone stole Marco's trekking shoes. Then our fixer brought a motorcycle instead of a car.
Marco was furious. As the morning progressed, the best light eroded and every powerful image was useless to him.
That's when he told me: "We are going to downtown Port-au-Prince in the afternoon." From what I had read, that was the time and the place to avoid. For Marco, it was the perfect photograph waiting to happen: The worst violent riots amidst the beautiful afternoon light.
We arrived at Port-au-Prince at 3 p.m. We walked for hours observing the shattered buildings and flattened cars. The air was filled with dust and the smell of decaying flesh still permeated. The orange sunlight cast shadows over the debris. It was truly a beautiful dichotomy. How could such destruction be framed in such glorious Caribbean light?
It soon began to get dark in Haiti. At 6 p.m., the sun started to set. Haitians would come out at night, scared another earthquake might hit while they slept. That's also when the looting starts.
We turned on Jean Jacques Dessalines Blvd., where we noticed a commotion. A crowd of about 100 people yelled and banged the walls of a warehouse that a few men had trespassed. We approached.
Each time one of the men stumbled out, the crowd jumped him and then fought over the supplies. They beat one another with sticks or whatever they could find. I looked at our fixer, Sydney, and asked him if we were safe.
"You're safe with me," he said in American accent he had picked up when living in Miami. "I ain't going to let nothing happen to you."
He must have read the fear in my eyes. Within minutes we were in the middle of the angry mob. Sydney pulled me out to safety and then scorned me.
"What I say? Don't leave my sight?"
"Where is Marco?" I asked.
Sydney and I looked up and saw Marco up on the edge of a column, snapping photos with dexterity. He was calm, quiet and alert. Sydney and I ran to a mountain of rubble on the opposite side and watched out for him.
He looked backed at us and winked.
Perhaps it was his tremendous experience or just his character, but Marco was able to get the picture he needed. He was telling a story that needed to be told. This was a country in despair and this is how the despair was manifested. Journalists and photographers take great risks to transmit the truth to the world.
As messengers, we need to overcome fear to get the point across. I was witnessing one of the worst disasters in history, and, just like Marco, I wanted to tell the story.
I hate to admit that at times it's hard to admire all members of the press. During the riot, there were many photographers present. One of them asked another to take a picture of him. He posed and smiled while the mob furiously rocked side to side. It seemed like a brilliantly insensitive gesture to pose as if one were at Disneyland or a zoo. These were people living their worst moments in a succession of tragedies, and a self-congratulatory photo seemed like a slap in their blood-covered faces.
It is, nonetheless, not the case of all press, and I do believe that our job is to be there. Not just to relay the news or pass the pictures; We are there to live the moment.
Shadowing Marco taught me that when you are in the middle of trauma, you can possibly become a victim, and as a victim you can begin to understand what your subjects feel. In the capital's eerie dawn, I felt the fear of a sleepless night in the streets. In the rubble, I worried a piece of wall would collapse on me, and when I got to the UN, I couldn't rid myself of the stench of death and feces for several days.
This is what Haitians have felt now for 15 consecutive days and will probably do for weeks to come.
After the riot subsided, a woman received head injuries and many others were hurt. The night had taken over Port-au-Prince and Marco and I headed to "MINUSTAH" — the UN Stabilization Mission in Haiti. Marco looked at me and laughed. He knew how frightened I was.
I was indeed terrified. I wanted to go home. I started to understand how the Haitians felt: scared and homeless. The media's presence is imperative during this catastrophe. We need to capture the images and type the words not as trophies of our own conquests, but as a civic responsibility to the rest of the world.
Haiti was where I had to be.