Military Suicides in 2012 Hit Record High
The 2012 tally of military suicides is a sobering 349, almost one per day, more than any year since the military began tracking it. The Dart Center has been working with mental health experts and journalists to improve coverage and understanding of this sensitive topic.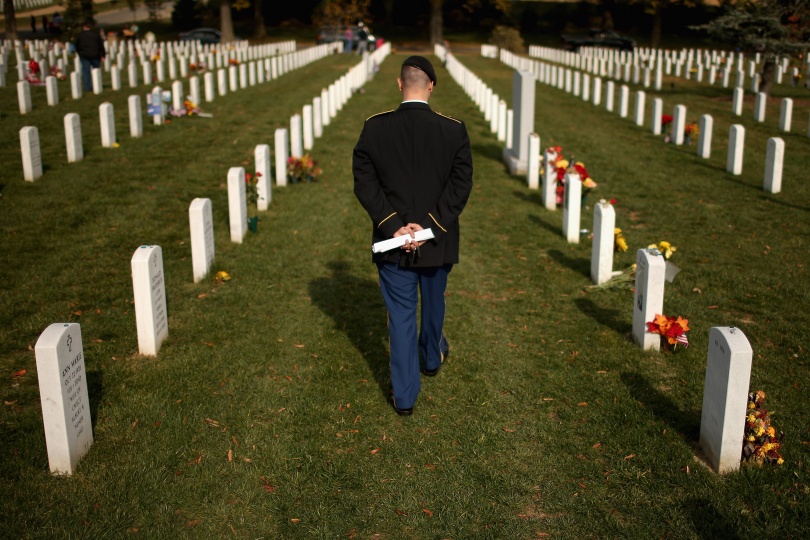 A record number of active duty military servicemen and women took their own lives last year, according to official Pentagon numbers released this week. Accounting for deaths under investigation as "probable" suicides, the 2012 tally is a sobering 349, almost one per day and more than any year since the Pentagon began tracking military suicides in 2001. The Dart Center has been working to address the rising suicide rate by bringing together mental health experts and journalists to improve coverage of a topic that many consider an epidemic and which poses unique challenges.
Last fall at WHYY Studios in Philadelphia, the Dart Center put on its first ever "Covering Suicide" workshop, where health professionals and journalists spent two days discussing the issue. The full slate of resources developed at the event, including panel videos, are housed on the site. Attendees at the "Covering Suicide" conference agreed that coverage of the issue of military suicides was not sufficient given the gravity of the problem, which requires not only better prevention programs from the military but also support for friends and families of service members who have taken their lives.
According to a report today on CNN, "A private-sector group, the Tragedy Assistance Program for Survivors (TAPS), which provides military grief support programs, reported it has eight to 10 cases a week of people seeking help because they are dealing with the suicide of a service member." The Pentagon has been heavily criticized for its lack of attention to the suicide problem, and its focus on teaching "resiliency" to troops in order to help them cope with stress.
Time magazine Deputy Washington Bureau Chief Mark Thompson recently reported that a former top Army official told him, "There are promising techniques that the military could deploy against suicide, but they involve an initial two-hour screening, a sit-down, a one-on-one with a psychiatrist that this nation is just not willing to pay for."
In July, the Army gave a three-year grant to Dr. Michael Kubek, a professor of medicine at Indiana University, to explore whether a nasal spray could administer a neurochemical to the brain that would decrease suicidal thoughts. Kubek will work with Abraham Domb, a pharmacology professor at Hebrew University in Jerusalem. Initial results are expected in about a year.
Meanwhile the worrisome graph charting the figures continues to rise. All four major branches of the military recorded higher rates than in 2011. Among the troubling elements of the Pentagon report was that the Marine Corps, which had a drop in suicides each of the past two years, saw its 2012 numbers rise by 50 percent to 48 deaths.
The Dart Center has other resources available, including Tip Sheets and event audio from a 2011 workshop, "When Veterans Come Home." Of particular interest from the Covering Suicide Workshop was the "Story Behind the Story" panel featuring investigative journalist Michael de Yoanna, who has done pioneering work on the issue.