On the Front Lines in Ukraine
In 2011, at the age of 17, Anastasia Vlasova covered protests in Kiev for the first time. Three years later when the first wave of major violence erupted in Ukraine, she was studying journalism in her first semester of graduate school. "I wanted to shake people's shoulders and say, wake up! There's a war going on in our country." A Q&A with Alan Chin.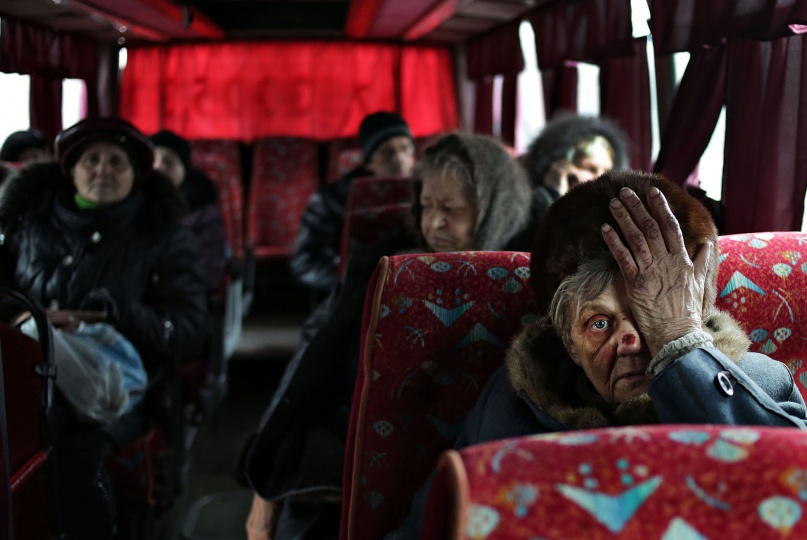 The war in Ukraine has claimed more than 6,000 lives, and displaced nearly two million people. Despite domestic and international efforts to deescalate the crisis, fighting between Ukrainian government forces and pro-Russian separatists continues.
Alan Chin met 22-year old photographer Anastasia Vlasova in December, and the two worked together in the contested pro-Russian separatist region of the self-styled Donetsk People's Republic (DNR) in the east of the country. 
They spoke on the phone last month, just after Vlasova had returned to Kiev from another trip to the front lines and hours before a ceasefire was expected to take effect. As the battle raged on around the town of Debaltseve, they spoke of the current crisis, and what it has been like for a young journalist to learn on the job during a year of revolution, war and ongoing turmoil. The following is an edited version of that conversation. Note: "Maidan" (Independence Square in Kiev) refers to both the physical location and the protest movement that began in November 2013
Alan Chin: Up until the Maidan movement began, to the outside world it looked like Ukraine was unlikely to have a major conflict. Did Ukrainians feel that there was big trouble coming? 
Anastasia Vlasova: In 2004 we had this Orange Revolution. I was a kid then, so I had nothing to do with that. But I was at the Maidan of the small business people, when taxes got higher and they had a protest. It was just for a month or two. 
That's actually a funny story. I started to work at a website called svidomo.com, which translates to "Consciously" in English. And my boss, Egor Sobolev, gave me an assignment. He's now a deputy of the new government party (Samopomich – "Self-Reliance") in parliament. But then he was a journalist. And he assigned me to go to Maidan and spend the night with the protestors, owners of small businesses. I was not yet 18. I was really scared and cold.
But [a few months later], after my birthday I went to [svidomo's] corporate party. Before pouring me champagne my boss asked me, "Are you already 18, so can you drink now?" And I was, like, "What? You assigned me to go to Maidan, spend the night with those people. You didn't even ask me how old I was. And now, when you're pouring me champagne, you're asking me?"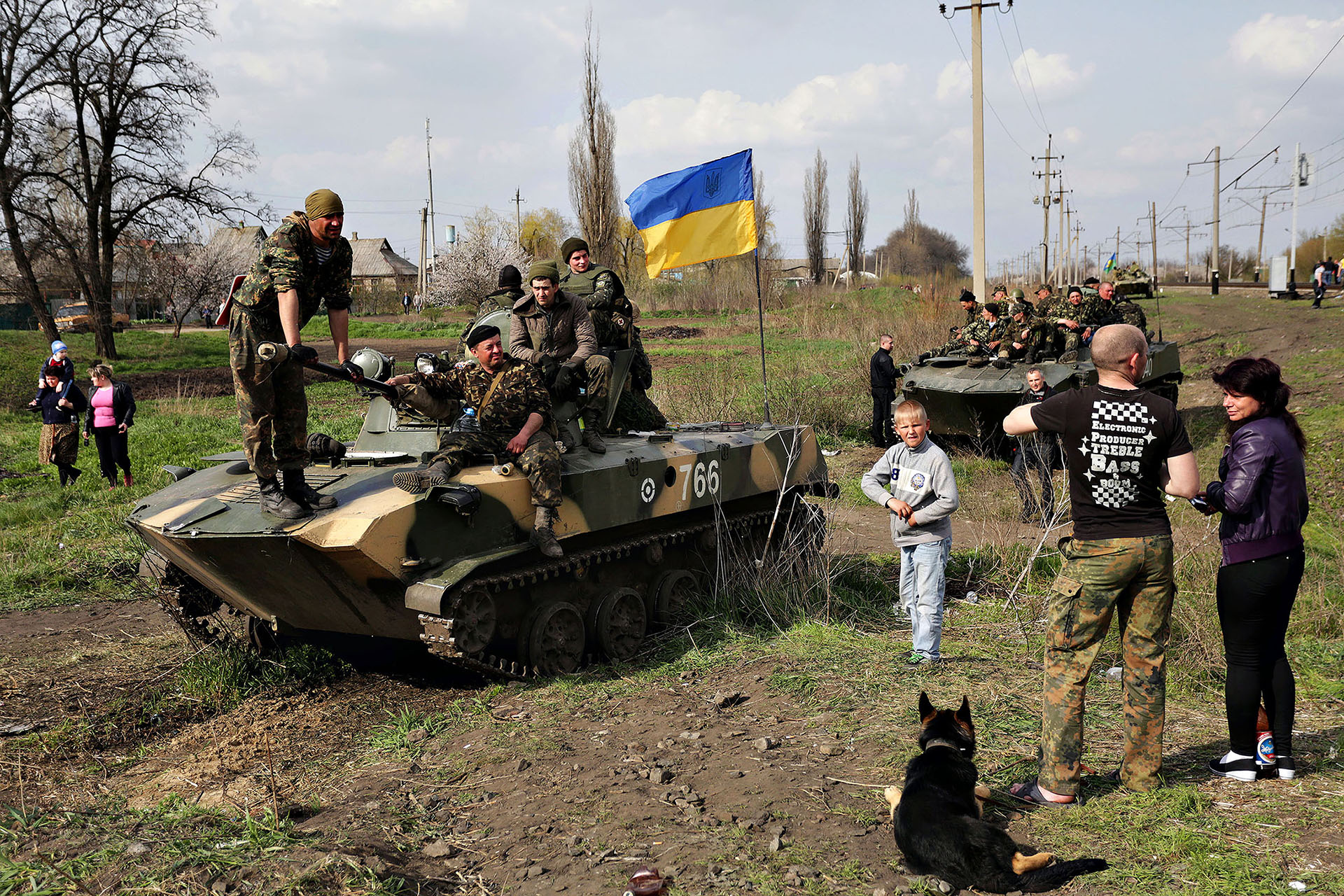 Ukrainian soldiers sit on their armored vehicles near Kramatorsk, Ukraine on April 16, 2014. Local pro-Russian separatists blocked an army column en route to Slaviansk and did not let them pass. 
Alan Chin: Right. But this is just the experience of learning how to become a journalist and a photographer in the real world, right?
Anastasia Vlasova: Yes, we don't have real courses of photojournalism at all in Ukraine. 
But back to Maidan: tensions were getting high. There was the Poroshenko trial. And we had a lot of protests near the city council because there were no elections for a new mayor. 
And then I was only taking photographs as a hobby. I didn't think of doing this all my life, the way I think now, but I thought, "If there is a profession that I want to do, it's maybe the work of photography." 
But it sounded [too] famous, you know. I might as well have said that I want to become a princess, because a girl from Ukraine cannot go to photograph war in Syria or Libya or somewhere else.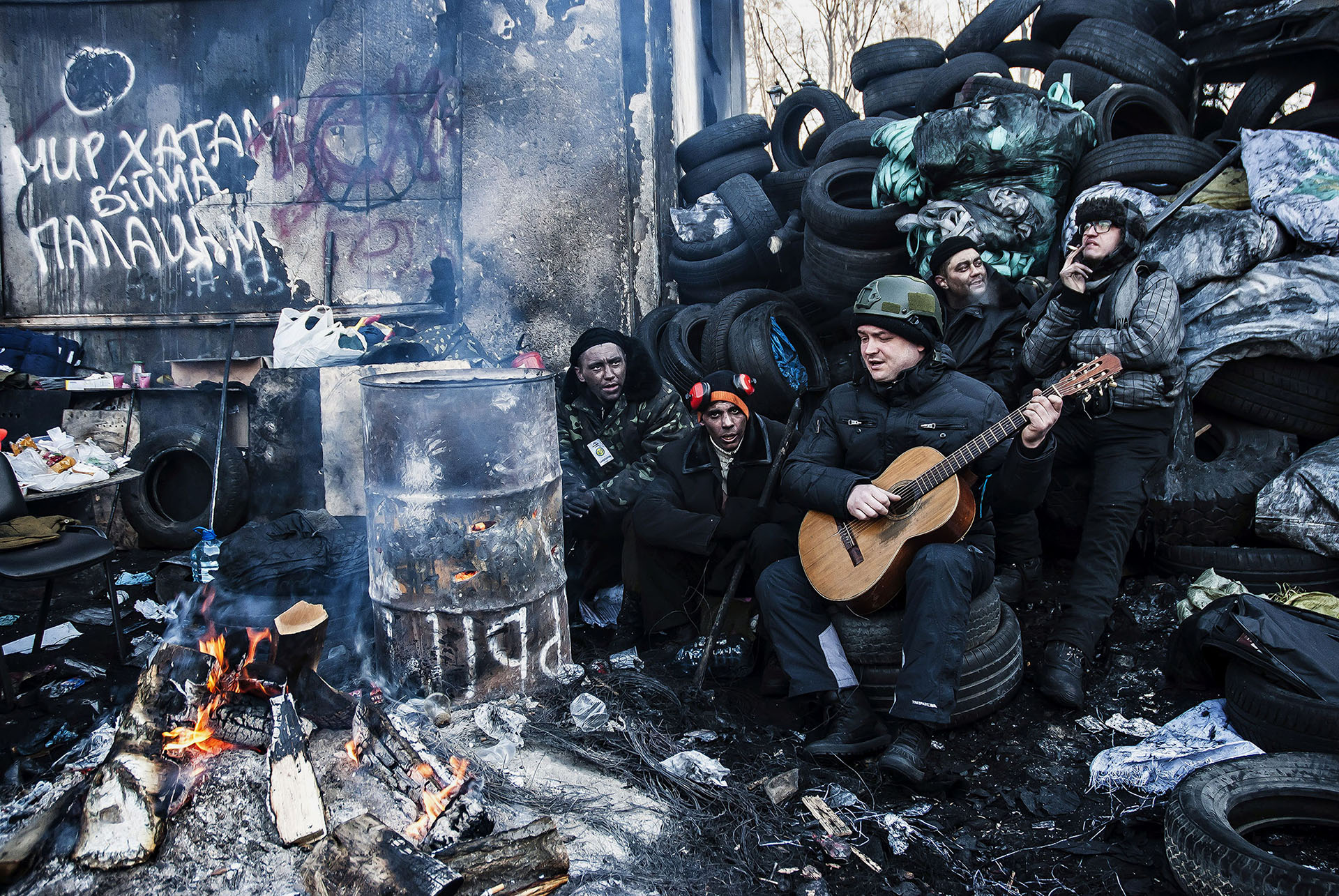 Protesters sing as they get warm near a fire barrel at Hrushevskoho Street, Kiev, Ukraine on February 2, 2014.
Alan Chin: But that's an unusual desire, isn't it? Why did you want to go see war? What about it was interesting?
Anastasia Vlasova: I found that [war] is something real in this world. With photography, I feel that I am doing something right, and I'm doing my thing.
When the clashes on Hrushevskoho Street started, and I first went there, I was so scared. And I was so disappointed; I had been so arrogant. I could not stay there because I was panicking and I was stressed. And I remember calling my mom and saying, "Oh, no, I'm panicking, and I cannot do that. But this is the thing that I want to do the rest of my life. I want to show [people] what's happening."
My mom, she's a very wise woman. She told me, "Calm down. It's not going to end today or tomorrow. You have strong willpower, so you will go and spend 15 minutes there each day until you get used to that."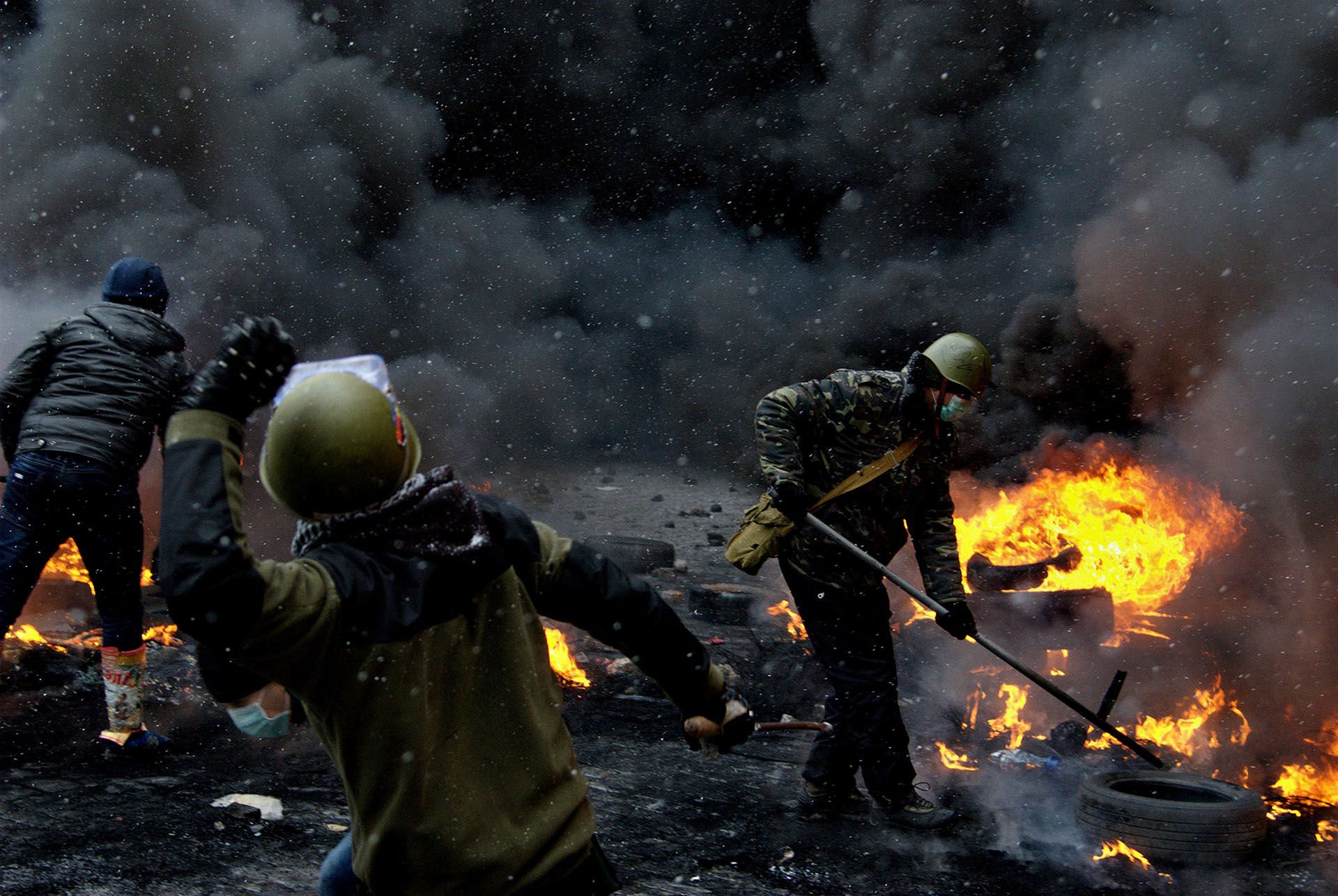 A EuroMaidan protester throws a brick at the riot police on January 22, 2014.
Alan Chin: And when was this conversation? This was during the first clashes in Maidan, in…?
Anastasia Vlasova: End of December [2013], I think.
Alan Chin: And you called your mother and she actually said that, "It's OK, you are strong?"
Anastasia Vlasova: Yeah.
Alan Chin: That's amazing. Most people's mothers would say, "You are crazy. You have to go somewhere safe."
Anastasia Vlasova: In the beginning she was writing me text messages, "Oh, I heard something bad is happening there, there and there. Don't go there." And I was like, "OK, thanks, my job is actually to be there if something is happening." 
For both of us, it was adjusting to the situation and trying to understand each other and to help each other. And, yeah, she's great. Even now I always tell her where I am, what's happening. 
Alan Chin: Even now, when it's much more deadly?
Anastasia Vlasova: Yeah, even now. But we're very, very close, so I think it's very important that she know where am I and I know where she is. 
Alan Chin: But she doesn't suggest that maybe you should go to, say, law school instead?
Anastasia Vlasova: Her parents did not allow her to do what she wanted. So that's why, I think, she is helping out with my willpower all the time. She supports me a lot. 
Alan Chin: So she doesn't want to be like her parents. She wants to be supportive.
Anastasia Vlasova: My father is a seaman, so she's used to waiting for someone and to always being nervous about what's happening. She says, "You've both chosen dangerous professions." And, that I'm smart enough to do this job.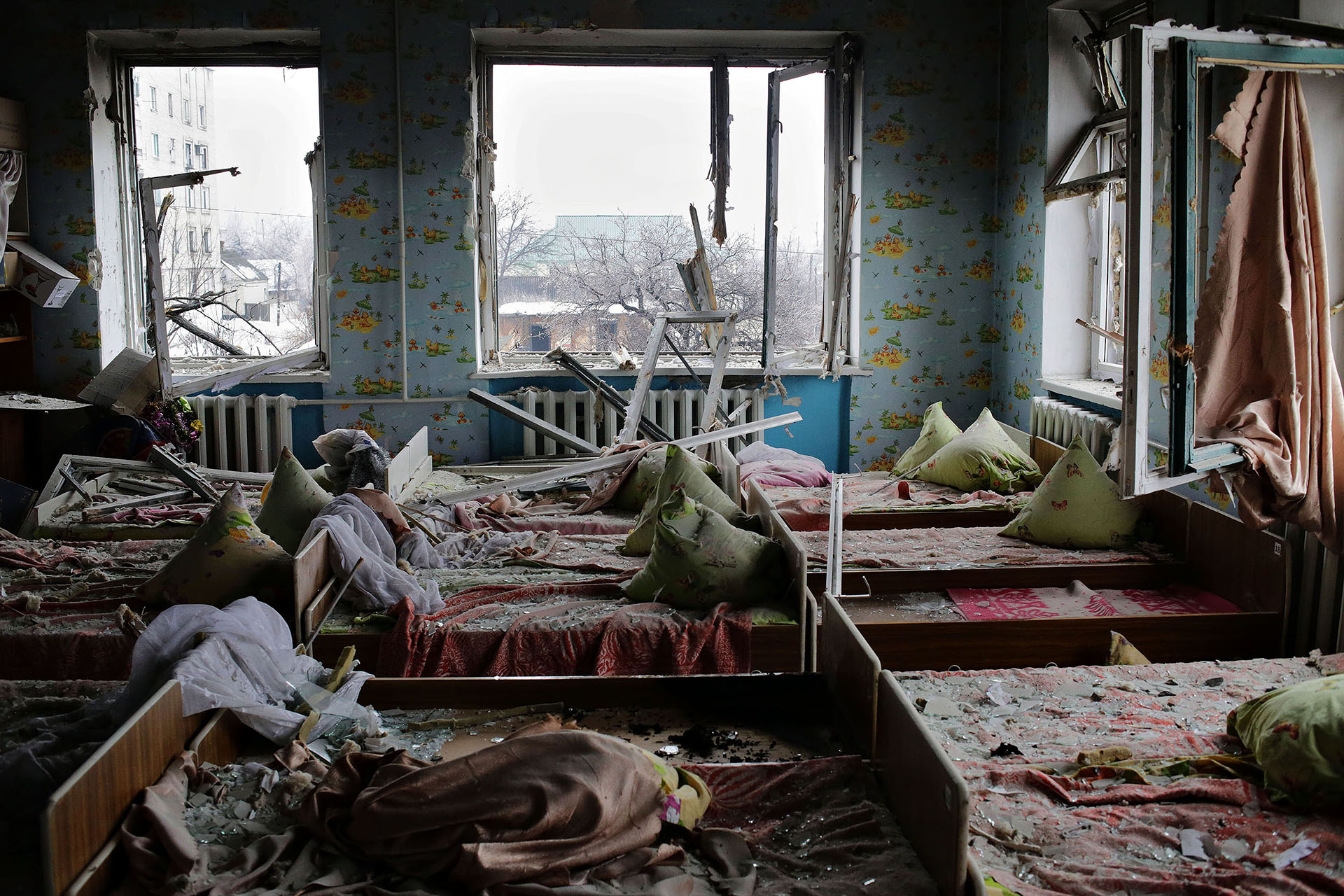 Kindergarten #9, hit by Grad rocket, Debaltseve, Donetsk Oblast. Russian-backed separatists missed their presumed target of a Ukrainian military field command center nearby  January 22, 2015.
Alan Chin: The first clashes started – were you there in February when the shooting started in Maidan?
Anastasia Vlasova: I was working at the Hotel Ukraine. There was a makeshift hospital. So I was working mostly there. I went to Institutska when they had a break in the shooting, it was really deadly and severe shooting in the morning when I was working at the hospital. And I went to Institutska only after it all...
Alan Chin: Right, so you were not – Emine [Ziyatdinova, see her interview with the Dart Center here] ended up in the middle of the fighting.
Anastasia Vlasova: Yeah, because I'm not that brave. 
Alan Chin: I don't think it's about bravery. Emine never wanted to cover any kind of conflict. And she ended up in the middle of it almost by chance - I think it's sometimes just chance.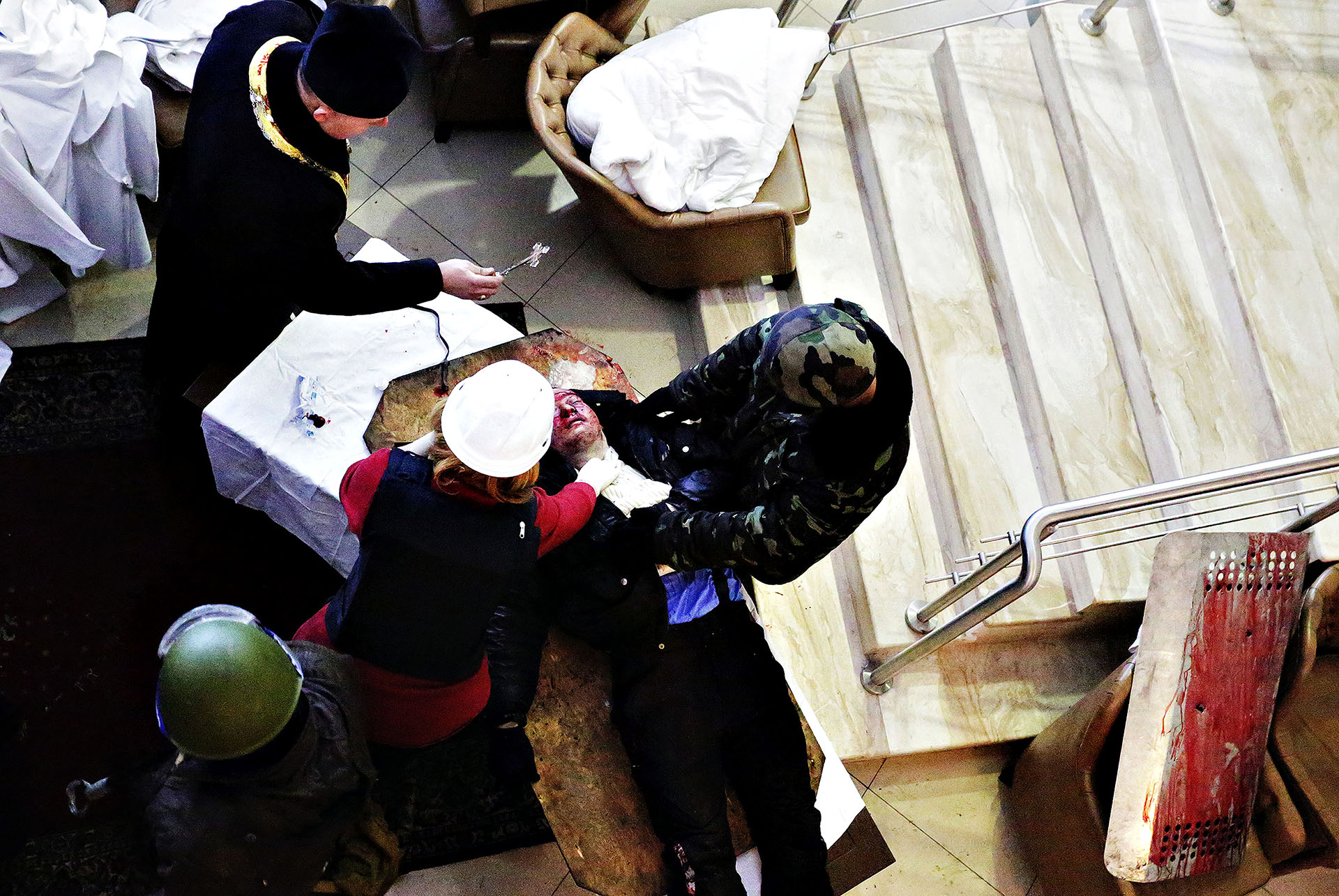 Medics provide first aid to a EuroMaidan protester who was shot by a sniper during the clashes with the riot police on Independence Square on February 20, 2014 in Kiev, Ukraine. 
Alan Chin: So then did you go down to Crimea also?
Anastasia Vlasova: Yes, I spent a week and a half there before the referendum, and the same [amount of time there] after. I was also in Crimea in August. Most Ukrainians had no idea that people in Crimea actually hate Ukraine so much. 
It's kind of funny, because now when I remember, when we were in Crimea, we were, like, "Oh, shit. It's so dangerous. It's so tense, it's so awful," because you didn't know what to expect from those "little green men." 
But now I think of Crimea, it wasn't that much stress at all. At least those were soldiers; this was the [Russian] army. They would not shoot you without orders. But in Donetsk and Lugansk, when there are some uncontrollable, drunk insurgents, I really don't know what to expect from them.
For all Ukrainian journalists, all of this was great professional training. From a moral point of view, it's very sad and painful. But it was a great training experience. In Maidan, it was street clashes. In Crimea, it was not that physically dangerous but more tense.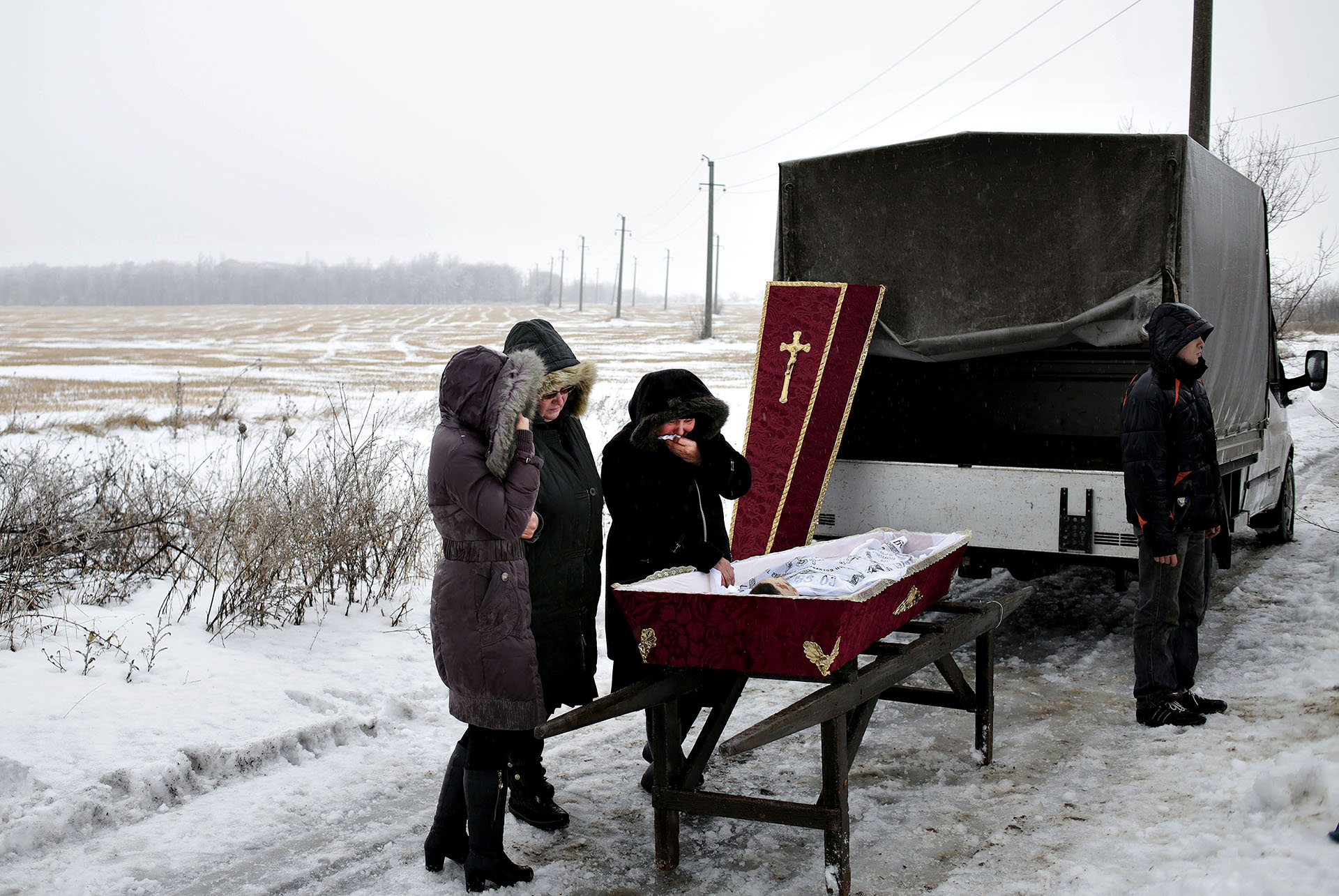 Relatives attend the funeral of 11-year old Artem Lytkin, who was killed on January 19, 2015 during the shelling in Debaltseve, Donetsk Oblast.
Alan Chin: So it was kind of gradual. When was the first moment when you really felt, "this is a real war"?
Anastasia Vlasova: When I got to Pisky [near the heavily fought over Donetsk Airport], in the end of October last year. It really looked like all those documentary movies about war, because you see the village fully occupied with an army, basically no residents. Maybe one or two old people, old men who just don't have any place to go. 
They say, "Here you need to keep low and move fast because this is the front line. This is the very front." And it's shelled regularly so you can hear the sounds, which are very loud and concrete, and you feel that they are landing somewhere close to you. 
And because it was autumn; before that in summer, you always take things easier when it's summer and the weather is good. 
Alan Chin: Wait, even when the separatists shot down Malaysia Airlines Flight MH17 in July?
Anastasia Vlasova: When they shot down the plane, it was different, actually. It was horrible, but I didn't feel that this was war happening. It was a great tragedy and all I could think at that moment was that I really feel sorry for those people who died. 
Alan Chin: Was that the first time you really saw death, at the crash site? Or had you already seen that before at Maidan?
Anastasia Vlasova: At Maidan, February 20th, when I was working at this makeshift hospital in the Hotel Ukraine, I saw people dying. Just, like, the moment when people died. 

Workers remove the bodies of the passengers from the crash site of Malaysia Airlines flight MH17 on July 19, 2014. 
Alan Chin: So in the summer you still felt that even though there was a lot of skirmishing, that it wasn't quite serious. 
Anastasia Vlasova: Yes, because I couldn't actually see the fighting. I didn't get this feeling that this is war. 
In Pisky I had that feeling. And when I was photographing the funeral of an eleven-year-old boy, in Debeltseve, when we just arrived. In the end I was so morally exhausted, I was crying almost every evening after what we saw.
Alan Chin: Tell me about that. What do you mean? That's a really interesting way of looking at it. What is moral exhaustion? 
Anastasia Vlasova: That I was just shocked. I don't know how to explain it. I was crying a lot and I was just shocked with people that I saw during the day. Maybe the hardest point was the first wave of evacuation from Debeltseve.
People just came to the city council each morning at 9 AM, but they were not told when the buses were going to arrive and take them. And we were waiting at the city council with them under the heavy Grad [rocket] shells. It was really loud. It was really close. 
I didn't want to put my flak jacket on because I was thinking that right now I'm taking the same risk as those people here. And I will feel really embarrassed if I put my flak jacket on and I will be just walking, covering my face with my camera, and covering [my body] with the flak jacket. I like to hear those babushkas who tell me their stories, and they start crying. So I was, like, "How am I going to hug them if I'm in the flak jacket?" If I'm also holding a camera, I'm from Kiev and I'm a journalist – I'm like someone from another planet. 
Periodically they hid inside the building when the shelling got really loud. It was awful. The shells were flying a hundred meters from us. When we came to Artemivsk, we were like; we're really lucky today that we came out of there.
We found out that the city council was shelled the next day, or two days after we were there. 
Alan Chin: So did you wear your flak jacket or did you take it off?
Anastasia Vlasova: I didn't wear it.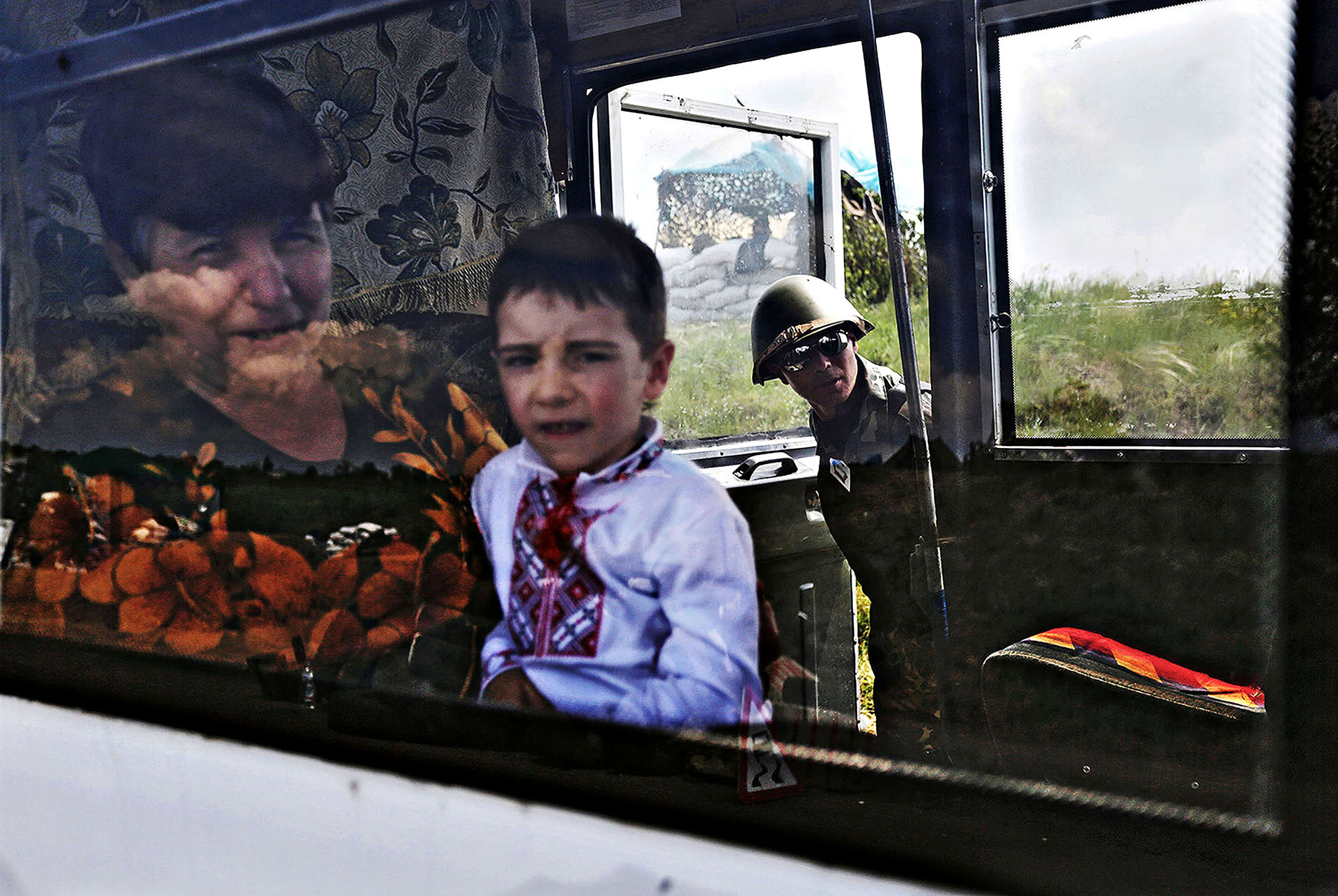 A pro-Russian protester checks a vehicle at a checkpoint near Izvarino village, Lugansk Oblast, Ukraine, on May 14, 2014. The boy is wearing a traditional Ukrainian embroidered shirt.
Alan Chin: Do you think there is a separation now in a way that there did not used to be in society at large? You know, between people who have been to some kind of front, and people who have not? Do you feel there's a kind of emotional separation that's beginning to...
Anastasia Vlasova: For me, yes. And I try to, I understand that this is the post-trauma syndrome, that I have it. I do understand that, but there's nothing I can do.
Alan Chin: I think that happens a lot. Because for you, and for anyone who is experiencing this directly, it's serious, it's the real thing. But for someone in Kiev or in New York, it's very far away. We have images of death and horror and suffering. But it's very easy to just use these images as a kind of background to things. 
Anastasia Vlasova: When Alik, my boyfriend, told me that they are surrounded [in Debeltseve] and they couldn't get out of this checkpoint, I was on my way to the coffee shop, to my favorite coffee shop, just to have some rest. 
There's no way out. He's been trapped for more than a week now. He's in a medical unit that goes to the front line and brings the wounded out.
So I was sitting there, drinking coffee, reading a book. And suddenly he's calling me and he's telling me about the situation that's going on there. That they're sitting in the basement, that he's holding strong. He says, "Everything is fine, I'm getting enough sleep here. We have food to eat, only the bread is running out." And at the next table some girls were flirting with some stupid French guys, and they were talking about some bullshit, I don't know.
You are sitting here, you are enjoying your life, you have no idea what's going on in Debaltseve, a six-hour drive from Kiev, you don't even know that there is a fight going on there. People there, good intelligent people, they are almost…they are dying for your good life here and you don't even have any idea. 
It was really hard emotionally. Of course my boyfriend is there and I wanted to run in the streets and scream. I wanted to shake people's shoulders and say, "Wake up! There is a war going on in our country." 
I hope that I am going to see him on Monday.
Alan Chin: Right, because you are going back there. If they are able to get out, you will be able to see him. Do you feel that this has drawn you much closer to him than would have happened otherwise?
Anastasia Vlasova: Yes, I'm not sure if this is the post trauma syndrome or if this is just the war. He says that he was thinking a lot about me in December. Basically when there are some extraordinary situations you think more. We'll see. I don't know how it's going to be when we are both in Kiev, when he comes back from his rotation.
Alan Chin: Do you think the cease-fire will work?
Anastasia Vlasova: Tonight, maybe, I think they are going to try to take over Debaltseve. I don't know. I can give you an update tomorrow, because my boyfriend usually calls me at 10 in the morning because, it's dangerous at the place where there's phone reception, but they don't usually shell at 10 AM.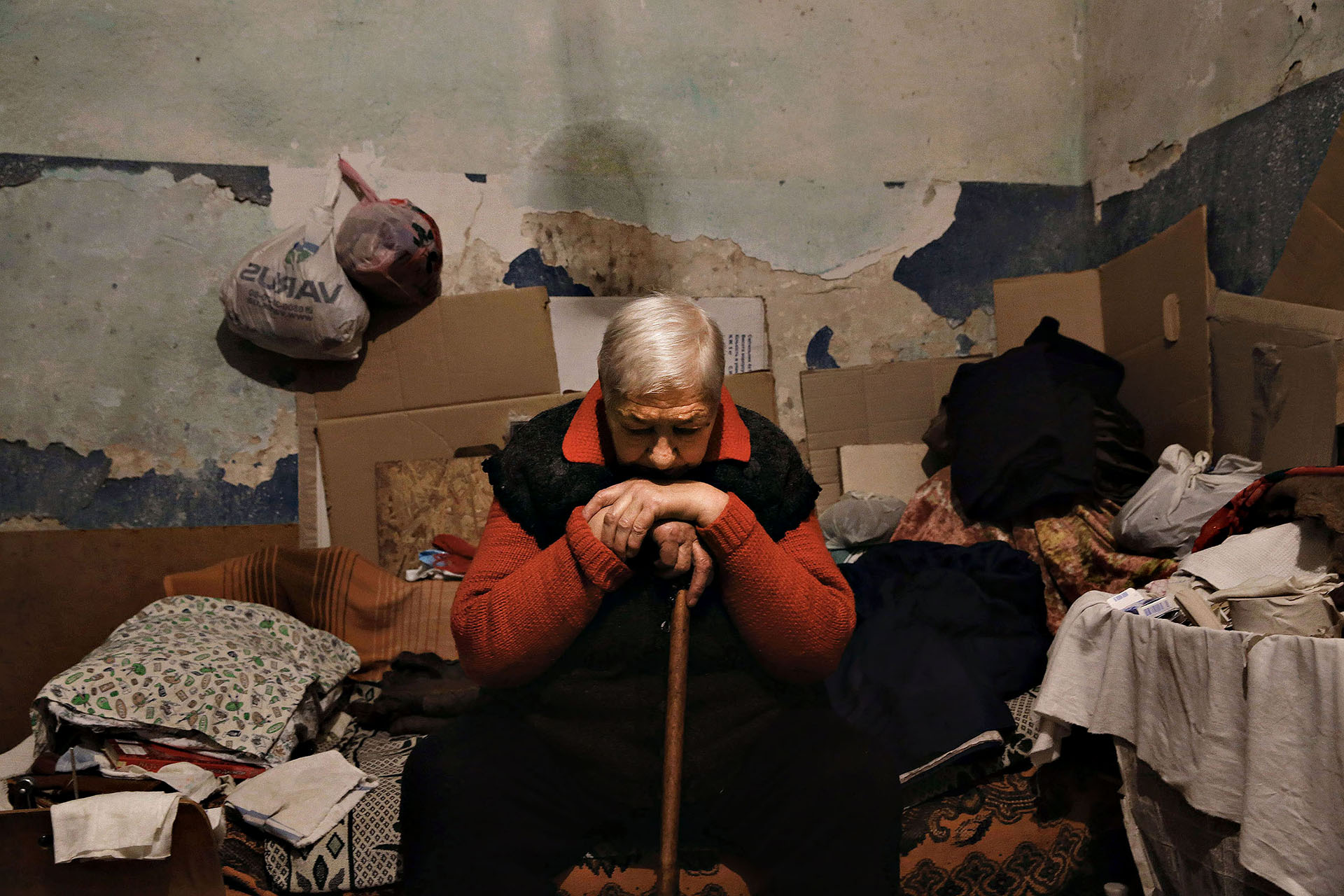 Evdokiya, 77, sits in a bomb shelter. Shelling damaged her house; she has been living underground for five months. Kievskiy District, Donetsk, December 21, 2014.
Alan Chin: Remember when we were in Donetsk in December and there were moments when you felt very strange because you are from Kiev and Kherson and you are pro-Ukrainian, but that you understood that a poor babushka is a poor babushka no matter which side they're on? Do you still feel that way or do you feel yourself hating Putin and the Russians more?
Anastasia Vlasova: I feel negative about Russia, about Putin, but not about DNR [Donetsk People's Republic]. Yesterday, my colleague Maxim Avdeev put a photograph on Facebook of a family wearing military uniforms, standing close to a window covered with sandbags, barricaded against the shells. 
And I was reading this story and I really couldn't understand from the caption who those fighters were. Are they insurgents or are they pro-Ukrainian? 
And then there was a sentence, like, "So they decided to fight for the independence of Donbass." These were insurgents. But I was just shocked and scared with how similar these stories were, and how similar the images looked. 
If you photograph the people and you mix those pictures without saying who is fighting for what, it's going to be really hard to understand who are the insurgents and who are the pro-Ukrainians. You understand that, of course it's not a civil war; Russian troops are present, but still there are people who support the DNR and fight for the DNR.
And the second case that was really strong and painful for me: On our way back from Slovyansk to Kiev, I was with some Russian colleagues on the train and they were discussing our work, and suddenly, a woman in front of us turned around and said, "You are vultures, stop talking about this, people are dying here. This is war going on and people are evacuating from there. People are losing their lives and their houses and everything they have and you are just sitting here and counting money." One of my colleagues started to be very rude to her, started swearing at her. 
Soon after that, they fell asleep and I was sitting and silently crying because this is the feeling that keeps haunting me: that I'm a vulture. When I was photographing the evacuation in Debaltseve, a woman was crying because she couldn't manage to take the cat from her dacha – the dacha was close to Chornukhyne and she couldn't find the stray cat that she was feeding. And she was crying about it and I felt like crying as well and I covered my face with the camera and I started taking pictures and somehow when I take the camera, the emotions in me become less strong. 
Because if not for the camera, if not for the duty that I had to work at that moment, I would have cried with her as well. What that woman in the train said to us, it keeps haunting me. The difficulty for me is that this is my country.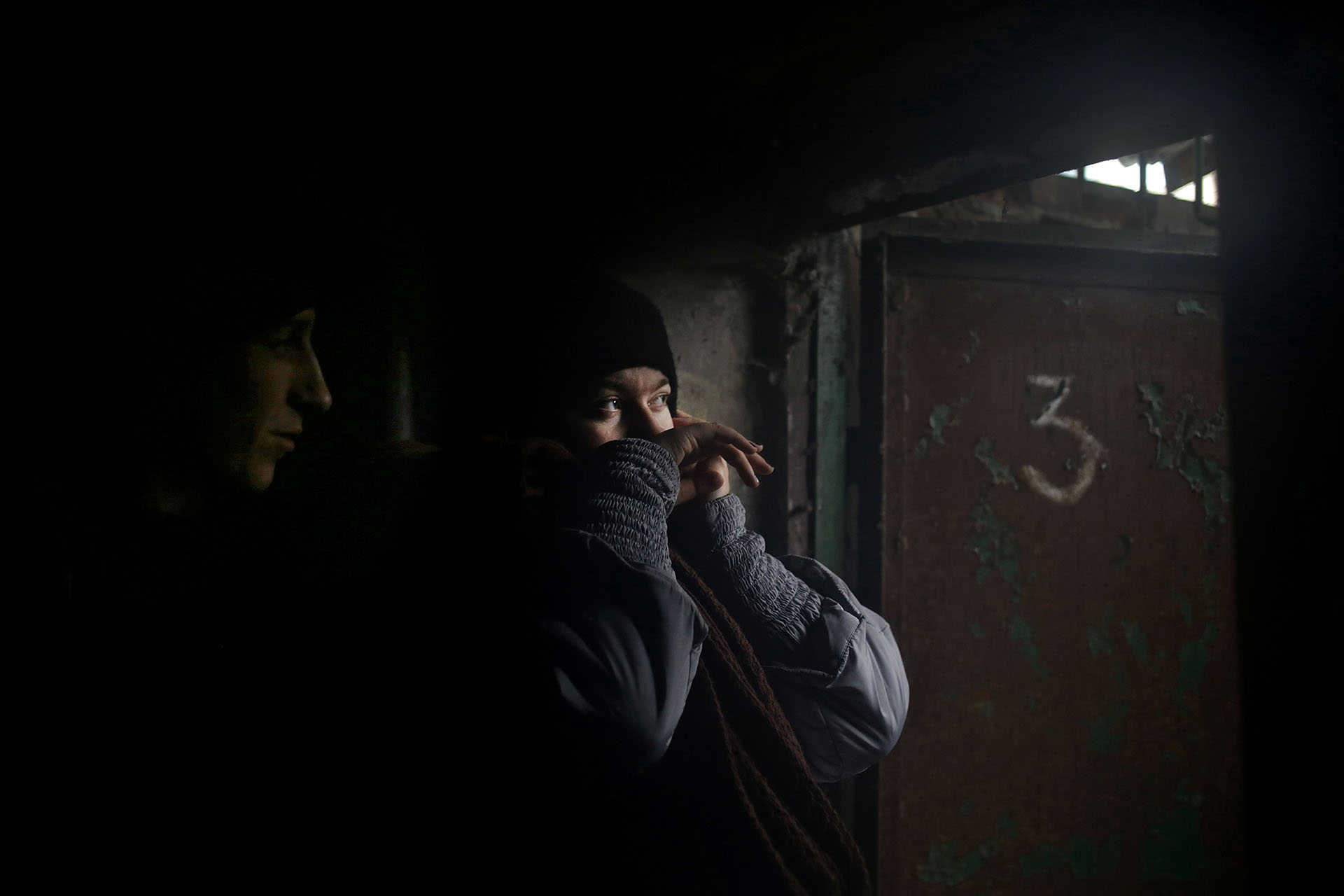 Two local residents hide in a basement room as Grad rockets hit their neighborhood in Debaltseve, Donetsk Oblast on January 20, 2015.
-------------
Two days after they spoke, the Ukrainian army suffered a major defeat, retreating from Debeltseve with significant casualties and loss of equipment. Anastasia sent word that her boyfriend Alik survived the battle, and the two met on the road. The cease-fire officially continues.