Preparing for "A Tsunami of Trauma"
In the wake of Australia's child sex abuse scandals, the Royal Commission will be "bearing witness on behalf of the nation" when hearings begin in September. On August 30, the Dart Centre hosted a special forum for news professionals preparing to cover the hearings and the sensitive issue of child sex abuse. (See the event lineup here.)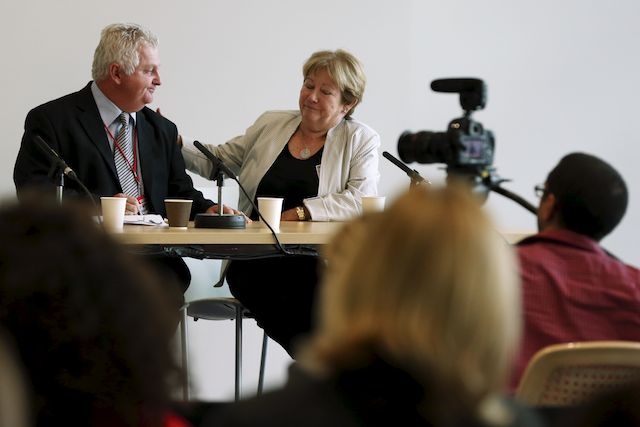 Australia's historic and, for many, long-awaited inquiry into child sexual abuse will hold its first public hearing on Monday 16 September. The Royal Commission into Institutional Responses to Child Sexual Abuse will be far-ranging, and probe organisations from the Catholic Church and Salvation Army to state authorities, sports groups, the YMCA and the Boy Scouts.
Like a similar inquiry in Ireland, it is expected to run for years, perhaps more than a decade. That, warns a survivor and expert on child sexual abuse, will expose "a tsunami of trauma" that will "permeate Australian society."
Dr Cathy Kezelman, author and chairperson of Adults Surviving Child Abuse (ASCA), said that exposure would be challenging, not only for survivors and their families, but also for members of the Commission, the public—and the media who will cover it. This was the focus of the Dart Centre's forum in Sydney, aimed at journalists preparing to cover the proceedings. 
"Reporting the Royal Commission will be confronting, difficult and possibly life-changing as you hear things you had not believed possible," Dr Kezelman told the audience of more than 50 journalists at ABC headquarters on Friday August 30.
"Anticipate to feel shocked and disgusted, to be enraged and horrified and, in some cases, just numb," she warned the professionals, who represented organisations including the Australian Broadcasting Corporation, Fairfax Media and Special Broadcasting Service.
The day-long forum, "Reporting Responsibly on the Royal Commission into Abuse," was led by Dart Centre executive director Bruce Shapiro and Dart Centre Asia Pacific managing director Cait McMahon. It included expert panels and journalist-to-journalist workshops. The day also featured keynote addresses from the Honourable Justice Peter McLellan, chair of the Royal Commission and Frank McGuire, a State of Victoria Member of Parliament, award-winning former journalist and member of a continuing Victorian inquiry into child abuse. (Because of procedural constraints, their comments are embargoed.)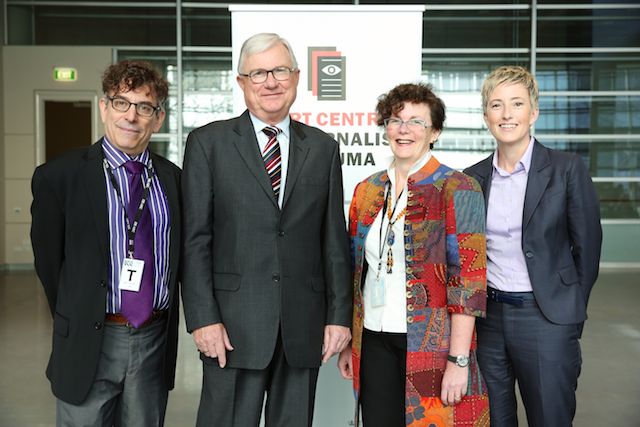 Jane Dempster: (L to R) Bruce Shapiro, Dart Center Executive Director; Honourable Justice Peter McClellan AM, Royal Commission Chair; Cait McMahon, Dart Centre Asia Pacific Director; Janette Dines, Royal Commission CEO.
The forum also heard from abuse survivors and family members, lawyers and psychologists, and two award-winning journalists who have covered the issue of child sexual abuse for years. What follows is some of what they had to say:
Panel:  "Understanding the experiences of those who have been abused – issues over a life span"
Patricia Feenan's son Daniel, an altar boy, was abused by Catholic priest Father James Fletcher for seven years. When she learned of the abuse, Pat helped her son find the strength to go to the police and later give evidence against the priest. She told the story in her book, "Holy Hell: A Catholic Family's Story of Faith, Pain and Courage."
"I believe we are all now on a journey of trying to do things better and to do no further harm to the people we encounter who have already suffered so much," Patricia Feenan said.
"Some of the victims you will encounter might be having their first experience of being listened to. They probably won't have had their day in court. They almost certainly have been powerless and had their trust betrayed. They may be looking at the Royal Commission as a chance to be affirmed as victims."
When dealing with survivors, she encouraged media to be respectful and friendly, to invite rather than coerce. "If you ask a question you're going to have to listen to the answer. They have been cut off enough. They were powerless, they were silenced, they had no power."
Peter Gogarty was also abused by Fletcher. He made history in July by cross-examining a bishop about the failings of the Catholic Church at a Special Commission of Inquiry in Newcastle, New South Wales. He describes himself as Victim, Survivor, Thriver.
"Child sexual assault is not an event. It is not something you can 'get over'," he told the forum. "It is the fundamental altering of one's personality… Everything about my makeup, the person I was, the person I was meant to be was altered. I'm not complaining about how I am—but I am not who that boy was going to be."
Leonie Sheedy was raised as a ward of the state of Victoria. She is co-founder of CLAN, the Care Leavers Australian Network, which represents people who grew up in orphanages, children's homes and foster care. She calls what happened in more than 800 orphanages "Australia's grubby little secret."
While the Australian government has made an official apology to such "Forgotten People," Ms Sheedy said she hates that term. "I want to be remembered," she told the forum. 
"We lived frightened and lonely lives, we lived with a daily diet of fear and there was no escape. We struggled and never escaped the effects of our abuse… We feel, many of us, like we are refugees in our own country… on the whole, invisible to (the rest of) the population.
"We need our stories told so that our families, our children and the general community can understand the long-term damage done to us."
Dr. Kezelman said the Commission had a unique opportunity and responsibility "to break long-standing taboos," lift the lid on systemic issues in institutions and create real change.
"Prior to the Royal Commission many institutions remained closed to scrutiny… many victims were re-victimised and re-traumatised as a result of ongoing secrecy, silencing, denial and cover-up.
"For journalists the challenge will be how to interview survivors and report in ways which minimise the risk of re-traumatisation when a tsunami of trauma is being exposed."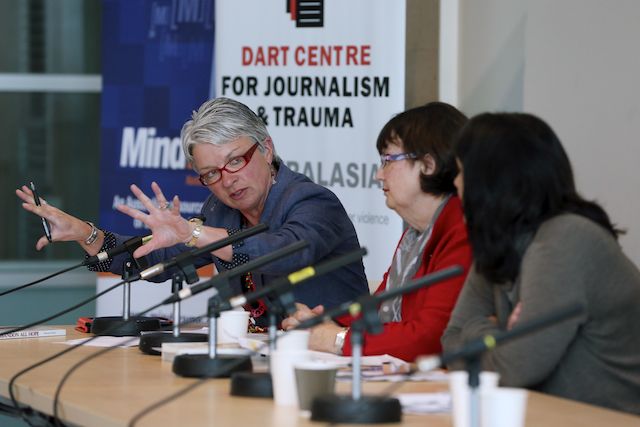 Jane Dempster: Moderator Linda Mottram makes a point, as Leonie Sheedy and Dr. Cathy Kezelman wait to speak.
Panel: "Investigation, Policy and Perpetrators"
John Ellis is both a lawyer and a survivor of child sexual abuse. He specialises in personal injury claims against churches and other institutions for damage caused by sexual and emotional abuse. He told the forum that the Royal Commission was momentous but had to be "all about truth-telling."
But these would be painful truths, he said. "A lot of people I speak to want to trust in the institutions, they don't want it to be as bad as it seems… despite what we all suspect we don't want to hear how widespread and endemic abuse was within the church—we'd rather be the only one, for our abuse to be an isolated mistake."
Many victims wanted financial redress, he said. "Financial redress is our society's way of enforcing accountability, but that financial redress has to come with truth. It must always be given freely by the institutions. If imposed, if it comes grudgingly and with denials… the victims and survivors blame themselves."
For many victims and survivors who have spoken before and not been believed or supported, the Commission would be a more relevant and powerful institution taking the high moral ground the churches and other institutions had failed to take.
He said the only resolution for those who have had their faith shattered was either for the Church to tell the truth "or for the Royal Commission and society to link arms and say, 'It matters to us. You are safe now. We are never again going to allow children to be sacrificed to blind faith'."
Gerard Webster, a New South Wales psychologist, has worked with both victims and perpetrators of sexual abuse for 30 years. While the Commission's remit was to inquire into institutional responses, he said most sexual abuse was likely to have taken place in the home, perpetrated by a family member or friend.
"Many people who sexually abuse have histories of trauma… and part of their rehabilitation is to recognize how they have self-servingly turned the tables so that it is the 'other' who is the person controlled and exploited, no longer themselves. To use the terms of a noteworthy contemporary feminist psychoanalyst, Dr. Jessica Benjamin, they become the 'doers' rather than the 'done-to.'
"While many survivors of sexual abuse are able to recover from the trauma with the assistance of loved ones, all sexual abusers should be given the opportunity for professional treatment.
"I am a firm believer in human rights and, most of all, I believe in each child's right to protection. I note however that since each person in our society has the right to be treated with dignity, respect and to have his or her worth recognized, I do not believe that sexual abusers are exceptions."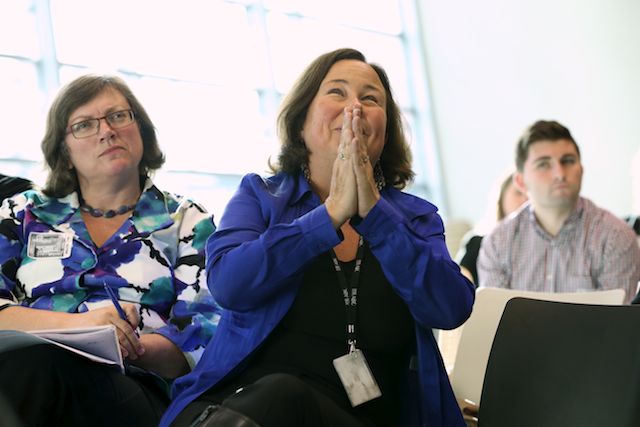 Jane Dempster: The ABC's Suzanne Smith reacts, as The Sydney Morning Herald's Catherine Armitage looks on.