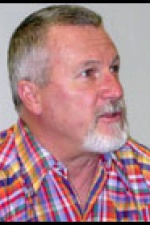 Gary Tippet is a freelance journalist and former senior writer for The Age in Melbourne, Australia. In 2004, he became the first Australian to be awarded an Ochberg Fellowship.
Tippet began in journalism in 1972, at the Sun News-Pictorial and joined The Sunday Age in 1993, moving to The Age when the two papers merged in 1998. In the time since, he has have covered some of Australia's biggest stories including the East Timor crisis of late 1999-2000, the Thredbo ski resort landslide, the Moura coalmine collapse in Queensland, and a number of major crime stories including the disappearance and murder of Jaidyn Leskie, the Port Arthur massacre and the Bega schoolgirls murder trial. In 2000 he covered the military coup in Fiji.
Much of Gary's writing has focused on trauma and its victims.
In 1997 he won a Walkley, for Slaying The Monster, an account of an abused child who, 30 years later, returned to kill his molester with an axe, and has won two Quill's and three Legal Reporting Awards.
In recent years, Gary has written a number of articles on motor vehicle trauma, includinh Fatalities #74 and #75; April's Story and Sudden Impact, in which he spent three months following the victim of a serious injury road accident, from crash to recovery. The result was a 10,000 word, four broadsheet page special report, which won the 2002 Transport Quill Award.
Recent Posts by Gary Tippet
As the Islamic State began to name Australians as targets, Australia's biggest-ever anti-terrorism operation was carried out last week with upwards of 800 police raiding more than a dozen homes across the suburbs of Sydney, the nation's largest city. And in Melbourne, two anti-terror policemen were stabbed before killing a man who had allegedly threatened the Prime Minister. 

A long time fighter for journalists' safety and security in her native Philippines, Weng Paraan has been honoured as one of the world's Information Heroes by Reporters Without Borders.

 

In conjunction with the Australian Broadcasting Corporation, Dart Centre Asia Pacific presents a new teaching video dealing with the treatment of news sources, "Getting it Right: Ethical Reporting on People Affected by Trauma." The project was developed to supplement teaching materials for journalism educators. Click here for a version with Chinese subtitles.

A powerful typhoon that may be the strongest tropical cyclone to make landfall in recorded history has hit the Philippines with millions in its path. The Dart Center has resources for journalists covering natural disaster.