Bangert and Chin Debate Value of "War Porn"
Christoph Bangert and Alan Chin have photographed gruesome scenes around the world and argued with editors about why they are important for the public to see. Earlier this year, Bangert published a new book, "War Porn," in which he confronts the arguments and ethics over violent imagery in new ways. In a Dart Center exclusive, the two photographers sat down to discuss their work, its origins and impact.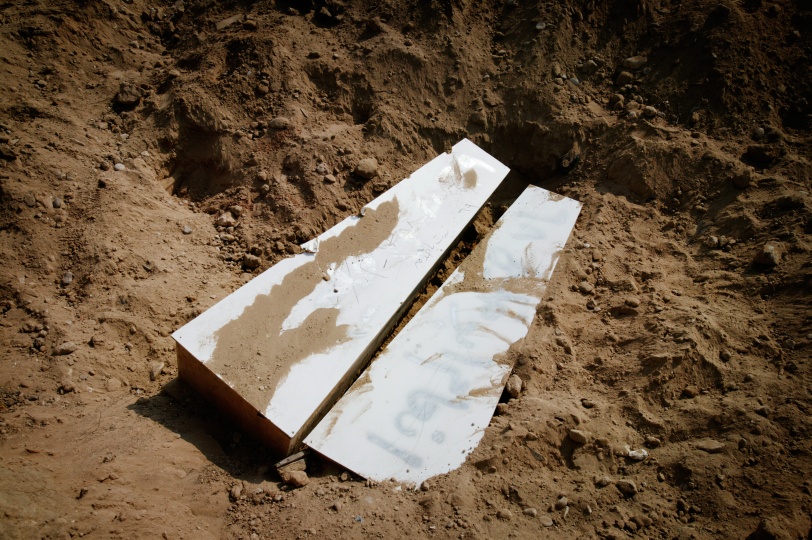 Christoph Bangert is a German photographer who I first met in 2005 when we were both on assignment for The New York Times in Iraq as the war raged out of control. His new book, "War Porn," contains images he took in Iraq and other conflict and disaster zones. It's not for the faint of heart, as most of the photographs depict graphic death and violence.
Christoph meant it to be, as he says, "an experiment." "What would happen if we suppress our need for self-censorship, for once?" It was a question all of us have been forced to contemplate, particularly in the wake of global video dissemination of the beheadings of our colleagues. I met up with Christoph recently in Brooklyn to discuss his new work. The following is a lightly edited transcript of our conversation.
Alan Chin: We are in the presence of death in just about every one of these pictures. In the first picture I see a covered body. That's one kind of shock. And next, I see the face of the victim. That's another. By the fifth or sixth dead body, I am no longer thinking, "Who was this person? What was their name? What were they like?" What was your intention with this project?
Chrisoph Bangert: Shock is cheap. It's easy. I just need to publish a grisly picture in a tabloid newspaper. But my hope is to go beyond that shock, to overwhelm the viewer. Photography is very good at that, unlike video – which is very fleeting as a medium; still images are very reflective. You have the chance to look again. Maybe your shock wears off, but your thought process actually gets clearer because your brain has had the chance to absorb this, to go beyond and start something. 
If you look at it three years from now, you will be less shocked when you see these images, these dead bodies, than when you saw it for the first time. That's completely normal. We'll never be able to solve that. 
AC: But what happens in that process? You're saying there's going to be more reflection. What are we going to reflect, that war is horrible? We kind of know that.
CB: I wanted to create a different angle to this whole thing, a personal, painful angle, something that is a bit of a warning. To say, "Look!" One big idea behind the book is self-censorship; self-censorship that starts with me, the photographer. Self-censorship that happens on the level of the publications that I work for: Most of these pictures were never published. But then the third step is the self-censorship that we all do, all of us who look at images. 
There will always be a trace of this dehumanizing act in the pictures. So you can always argue that the picture is pornographic or voyeuristic. It's a legitimate argument, a dilemma that you cannot solve. But I feel that a lot of times in these discussions, it's just an excuse. I believe it's used as an excuse in order not to deal with these images by saying its morally wrong to even look at them. And to not deal with the images is to not deal with the event.
An extreme example, of course, is the pictures that were taken after the liberation of the camps. Auschwitz. What would happen if these pictures didn't exist, if they had never been published? They are terrible to look at; you have to force yourself to look. But they are so important because this is the vehicle: the image, the still image, is how we remember. So they have to exist. You have to look. 
AC: You're German and your grandfather, whose portrait begins the final section of the book, was a Nazi doctor during World War II. You wrote, "My earliest memories of war are my grandfather's war stories. They were glamorous and made him and his comrades look like heroes." You were a teenager when he died and it sounds like he was an important part of your thinking process making this book. 
CB: We went there on Sundays to have coffee and cake. It's really strange for non-Germans to hear this – Nazi grandfather, etc. – but for Germans it's something very ordinary. If you ask three young Germans of my generation, one of them has a grandfather like that. There's nothing extraordinary about it. But if you tell your story to non-Germans, they say, "Oh my god, what a crazy story." 
Hundreds of thousands, millions of people like that, they didn't just vanish after the Second World War, they were still there. Still believing. That's why they were fighting until the end. They knew the war was lost but they couldn't believe it. 
There were a lot of people who were in the SS; nothing happened to them. They went back home, finished. You think that they [the Allies] executed tens of thousands of people. No, they didn't.
The thing is: what do you do? What do you do with all these people, they're Germans? They're there. The country was destroyed. You needed them. Really, it's a dilemma.
AC: With Iraq, one of the biggest criticisms now is that we went too far in 2003. We should have just taken all those Baathists and said, "OK, go back to work."
CB: And the disbanding of the military, the Iraqi military, was a disaster.
AC: We created that insurgency by disbanding the army in the manner we did. If we had done what was done in Germany, where, yes, it's true, the majority of them just went home and went back to normal life; it meant that the society then went on.
CB: Yes, and the reason I put my grandfather in is because he's a very good example of somebody who became absolutely self-censoring. He talked about nothing except his bloody horse. He told me these wonderful adventure stories from the war in Russia, which was crazy, because he was a military doctor. He must have seen the most horrendous things you could ever imagine. But he never talked about them. 
He was not only self-censoring in this way but combining it with sick Nazi ideology. So it's not only self-censorship on a personal level but on the level of a society, on a broader level, and that's why it's an example of how this can be extremely dangerous.
Your brain does erase these traumatic experiences, which is a good thing, it's wonderful. Because that's the reason we can sleep at night. If you were constantly reminded of that, you would go insane. So it's a good thing, a natural reaction to traumatic experience. But it can be dangerous. 
AC: What do you think is the best way to look at images of extreme violence?
CB: No slideshows. And I didn't want this in a gallery or museum. I was very aware that you have to get the context right. Otherwise it completely backfires. The book is tiny; it's small, as big as your hand. And that's very important, that you can look at it alone, not with a group of people. It should be a very personal, intimate experience, a direct message between me, the author, and you, the viewer. Nothing should be in between. It should not be a public display of horror. It's very difficult to translate that into different contexts and different mediums. 
[I do need to show] just a few images from the book online to help the viewer get an idea of what we're talking about, because it's very abstract if you've never seen it. But with publications, the dilemma of what do you show, what do we self-censor, that's always coming up when I do an interview because the publication may have the same problem that I'm actually criticizing.
What do we show? Can we really confront the viewer with this horror or not?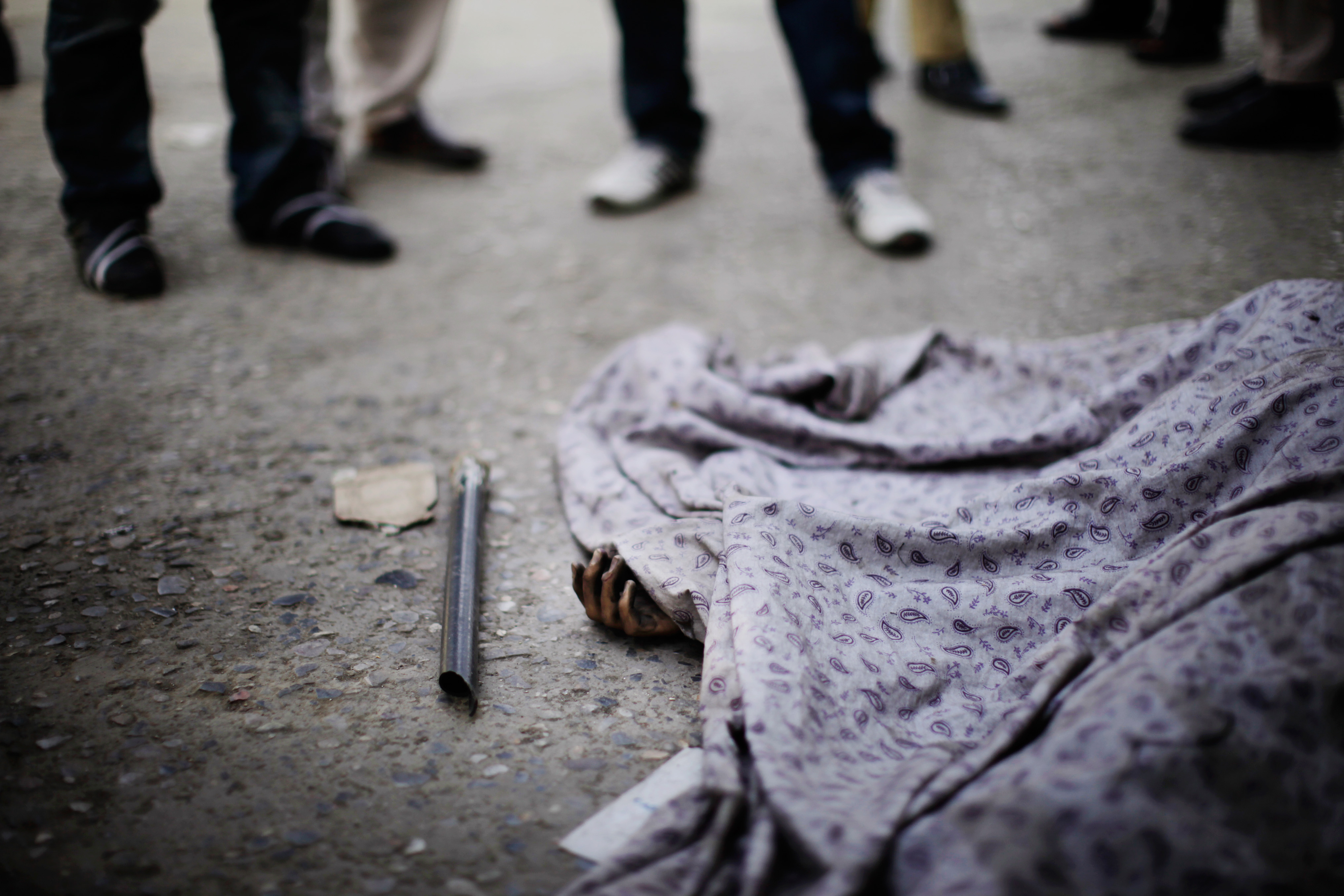 AC: …or to confront the viewer in a way that is not sensationalistic or insulting or patronizing?
CB: Exactly. It is the context that should always be the question. My criticism is not that media isn't showing us how war really is. It's way more complicated than that. It's up to us as viewers to find these images and decide to look at them. Just to point to the media would have been far too easy. The real question is, "what do we as a publication want to show the reader, what do we think is important?" Not, "what does the reader want to see?" That's the wrong idea.
Unfortunately, a lot of times there is no discussion, there are just rules, like: "We don't show dead bodies." These rules do not go anywhere. They're not helpful because you actually have to decide with every image and every situation, every single day; you have to make conscious decisions. And these rules are just a way to make your own life simpler, but it doesn't…
AC: ...it doesn't really answer the question. 
CB: This is a book with horrific images and how we deal or not deal with them. The title, War Porn, came about because we have discussions about this material out of areas of crisis that are very difficult to look at, that are essentially dehumanizing. People are tortured to death; people have their heads cut off. That is the ultimate dehumanization you can imagine. 
AC: I've always agreed with you, and I would send those pictures and I would argue with [editors], arguing how they should be published. I don't know if you have the same arguments. Would you send these pictures to your editors?
CB: Yes, I sent these pictures, most of them. Although I have to say, I found some images when I went through the archive that I have no memory of ever having taken. Your own brain self-censors.
AC: So how did you choose these particular photos?
CB: Normally you edit by trying to find some sort of balance, between different elements, arguments, ideas, and aspects of an event. This book is the absolute opposite. It's one-sided. It shows not my best pictures but my most horrible. I have great dramatic images: wonderful landscapes, decisive moments, portraits, spectacular stuff. 
But this is different. It's not the "best-of" album. I have these pictures: they are so horrific, so painful and difficult to look at, even for me. Even I struggle to look. I actually took these pictures. Sometimes it's hard for me to believe it, that I took these images and walked away as a sane person.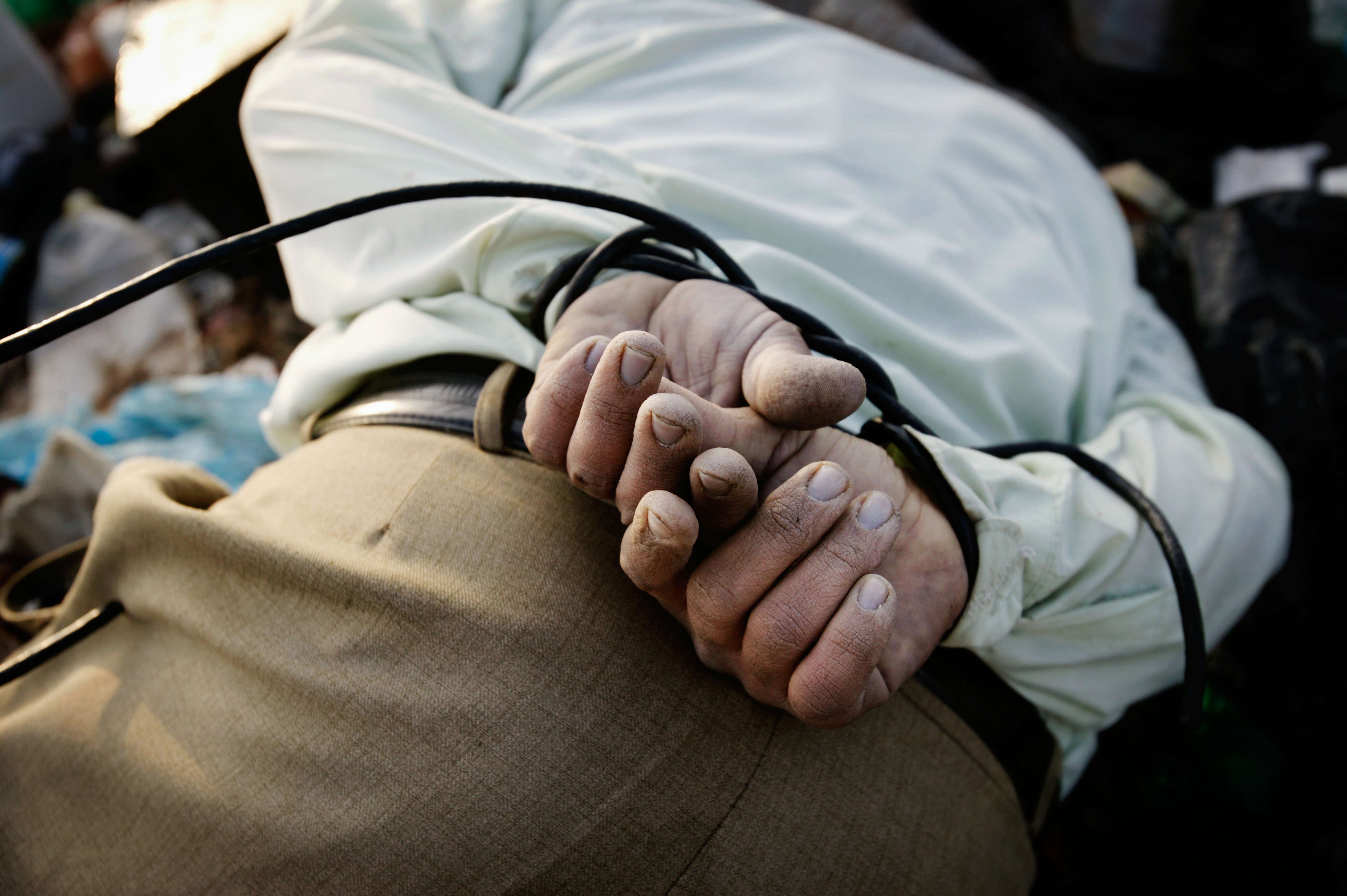 AC: This gets to the heart of the matter. You've made this book, all these pictures of death and the good reasons and maybe not so good reasons why they need to be published…
CB: …among other things…
AC: …among other things, but there's a fundamental issue – of trauma – where do you, Christoph, where do you end up? I make this joke about how we should have gone to law school or whatever. But in a way it's not completely a joke. Because if we had never done this, if we had just said, "I'm going to be a normal guy," and the closest I'm ever going to get to this kind of violence is looking at other people's books, then where would we be? Would we be better off? Would we be the same? Where does that intersection of trauma and life experience, where does that fall for you?
CB: I have no regrets. I would do it again the same way. It is an incredible experience. If, somehow, you manage to not go too much to these places. Take breaks, do other things, other work, then it can be highly rewarding. If you don't lose the perspective of what is normal, and what is an extreme situation. 
AC: Do you think it's possible not to lose that perspective? 
CB: I think it is possible to regain it at some point. The hard part is not to be there, it's coming home. To be a normal person is not easy. To take all these ridiculous problems that people have seriously. How do you bring down the garbage? How do you do that? Turn on the TV, and you don't know whether to laugh or cry.
AC: Exactly. But even situations that other people find challenging, for example, civil protests. There's tear gas, or beating with sticks – that's legitimately serious. But I can't help – I don't know, do you feel this way? – I can't help when I look at that, that it's not so important or troubling.
CB: We have a different perspective on these things. We have different life experience. Somehow we have to take these little problems that people have at home seriously. We have no choice. Because otherwise we go nuts and we will not be able to live, and that would be a shame. 
The challenge is not to run around Iraq and Afghanistan and take pictures, but to be here and deal with everyday stuff. That's difficult, but I have – and so do you – a relatively normal life now. You have family, I have two kids, and it's fine, it's possible. 
It's not like we have to be these tragic figures just because we've seen terrible things. It doesn't mean we have to be suicidal all the time. We can have fun and be funny. Laugh sometimes, that helps a great deal. We have to, somehow, laugh about the absurdity of wars, about our roles as photographers in these wars. It's important work, no doubt about it. It's not a joke. But if you don't manage to laugh about the absurd elements in this, you're gone. 
AC: Do you think by the time your grandfather was an old man and you were a little boy and you were talking to him and he was telling you these stories about the horses and the fun and not talking about the horror, do you think in his own mind the self-censorship had gone so deep that he had literally forgotten, or do you think he was in some way just trying to blot out the part that he didn't want to talk about? 
CB: No, I don't think you can completely erase that. To a certain extent he believed what he was saying, that it was the best time of his life, but maybe, possibly, in a dark corner of his mind, it was still alive, these things he had seen. You have to be honest but sometimes remind yourself what you actually saw. 
So it really struck me later when I went to places where there were wars going on: Between what I experienced and what he told me that war would be like, there was a huge gap. They had nothing to do with each other. Him riding this horse in Russia, that was all it was to him, all he gave from one generation to another about war. And what I experienced, despite having good fun with colleagues sometimes, was pure misery, pure horror and sadness, which didn't match what he told me. 
AC: Do you think he would have spoken more honestly and more openly with other veterans, people his own age?
CB: I'm really not sure. He was a true believer. He was a Nazi until the day he died. 
AC: How do you know that? Would he actually say that?
CB: To be very honest, these are things that I did not realize. My father told me later. I didn't know what a Nazi was when I was little. You don't think this way when you're a child. But I remember these adventure stories very clearly; this positive picture of what war was like. That he was a believing Nazi all his life; this was more formed by my father who obviously knew his own father very well.
AC: For me it was the opposite experience. My grandfather was a soldier in the Chinese Army fighting the Japanese. I never met him because he was wounded very badly and spent a year in the hospital. When they were going to send him back to the front, he infected the wound so he wouldn't have to go back. 
Instead they sent him home to his village to be a recruiter, so it became his job to conscript young men into the army. But nobody at that time wanted their sons to go because they knew that they would be killed. And I will never know if this is really true – my grandfather went to another village to recruit the young men, and they made dinner for him, as I'm sure they had to, and he was poisoned. He came back home and died a week later. They didn't want their boys to go into the army. 
My father, who was just a teenager during the war, told me stories about cannibalism. In my part of China, far more people died from starvation than from fighting, as is often the case with civilians. So he talked about cannibalism, about how his own father was murdered. It was one horrible story after another. That was my childhood concept of war. 
And because I was the first one born in America, they always said, "You don't know how lucky you are." That's what motivated me, I had to prove to them and myself, though I'm never going to experience it as horribly as they did, that I wanted to get as close as I can. I want to share that experience with them on some level. Obviously no one poisoned my father, and of all the horrible things we've seen, we've never seen cannibalism. But certainly when I was 20 or 25 it was something that motivated me. 
For you, though, with your grandfather, which is maybe the opposite of my experience, what motivated you?
CB: It's actually very similar. Most of the photographers who go to these places, they're young men, and most of them come from middle class backgrounds. Part of why people go is to piss off their parents. Part of it is that we want to live different lives than our parents.
AC: In a way, though, I wanted to live the same life as they did. I wanted to witness what they had witnessed, that which was so crucial for them. I didn't feel worthy, I didn't feel like I deserved…
CB: Yes. It's a similar reason why young soldiers go to war. You want to prove yourself; you want to find meaning in your life, the same reasons why young men always have been going to war. It's not so different, if you're really honest, with photographers. We shouldn't be too snobby about our noble reasons to go and take pictures of war. On a moral level, I don't think we're any better with our core motivations, at least when we're young. 
And then, there is another reason; the journalistic ideal to document what most people cannot witness themselves. You have this journalistic approach and assignment to witness for others. Over time, it balances out more equally, the adventure ideal and the journalism ideal. 
AC: After a while you have enough adventure, you don't need any more.
CB: The older you get, the less interesting the adventure. But the journalism gets more interesting.