Contagion of Fear
This piece tells the story of Wyckoff hospital in Brooklyn at the height of the pandemic, the trauma experienced by healthcare workers, and the impact of fear on medical workers, patients, and other hospital personnel. Judges described "Contagion of Fear" as "deeply insightful" and "profoundly affecting" immersive reporting. They praised Shuster for allowing people to "speak for themselves, free of judgment or editorializing," and called Meridith Kohut's photographs "revelatory without being overly graphic." Originally published by TIME in June, 2020.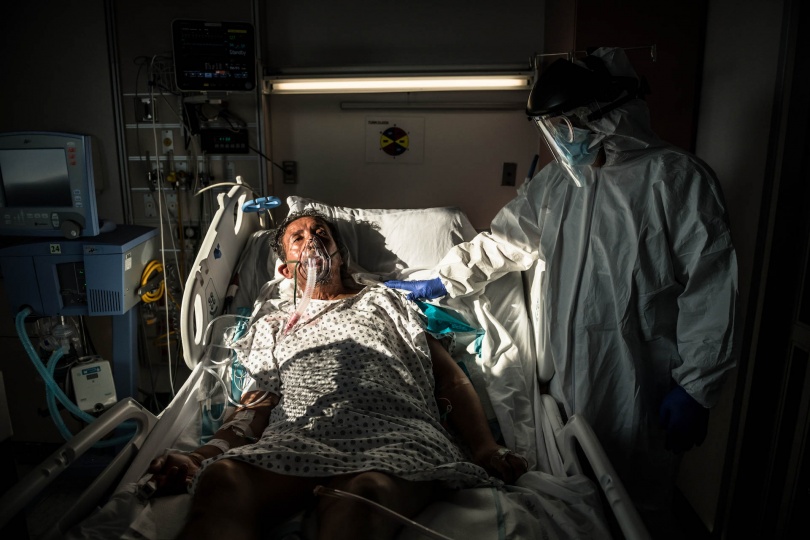 One month inside a New York hospital as a virus took over the world
DR. PARVEZ MIR was already in bed on the night of March 4, about to fall asleep, when his colleagues called to break the news. In Room 10 of the intensive-care unit that Mir has led for more than two decades, they were looking at their first case of COVID-19: an elderly woman, feverish and frail, who had arrived by ambulance with pneumonia in both lungs. In 10 days, she would be the first patient to die of this disease in New York—the first of more than 30,400 in this one state.
Until her diagnosis, the new coronavirus had seemed like an abstract threat to Mir and his staff at Wyckoff Heights Medical Center in Brooklyn. All they knew in early March was what the news had reported—an outbreak in China had spread across Asia and jumped to Europe, killing thousands. Like most U.S. hospitals, Wyckoff had done practically nothing to prepare. Its intensive-care unit had only one room equipped to handle patients with a highly infectious disease. Within a month, it had built out 60 of them around the hospital.
"Now everything that walks into the emergency room is COVID," Mir tells me on a tour of his ward on April 22, his face protected by a shield fashioned from a welder's mask.
In the room around us, a dozen patients cling to life on ventilators, their beds cocooned in plastic sheets that are stapled to the ceiling and duct-taped to the walls. From overhead, the loudspeaker issues a call for help—"Respiratory and anesthesia, stat"—that has become the refrain of this pandemic.
Mir has heard it hundreds of times. Wyckoff, with a capacity of around 350 beds, has treated more than 2,000 COVID-19 patients, the vast majority of them Latino and black with poor health insurance or none at all. Almost 300 died. Nearly 200 Wyckoff workers became infected; others could not handle their fear of infection and stopped coming to work. "I don't think we'll ever be the same," Mir says once the loudspeaker goes quiet, leaving only the hisses and beeps of the breathing machines. "We've seen so much death, so much chaos, so much catastrophe."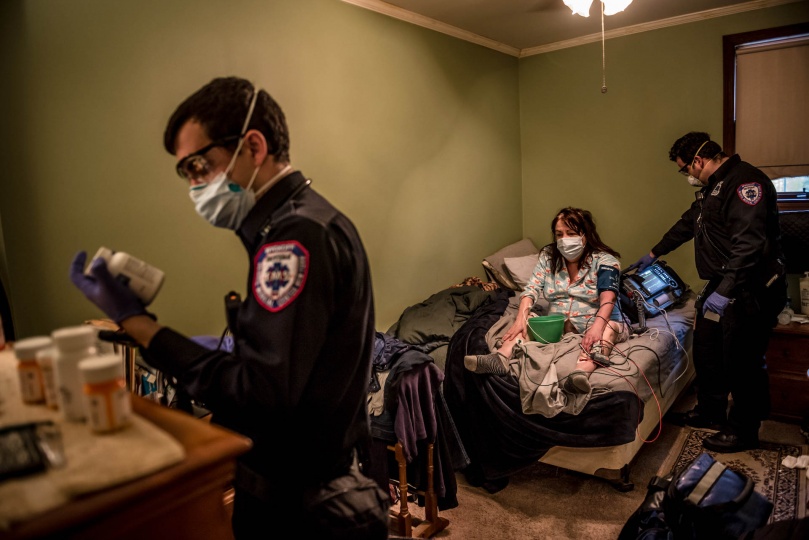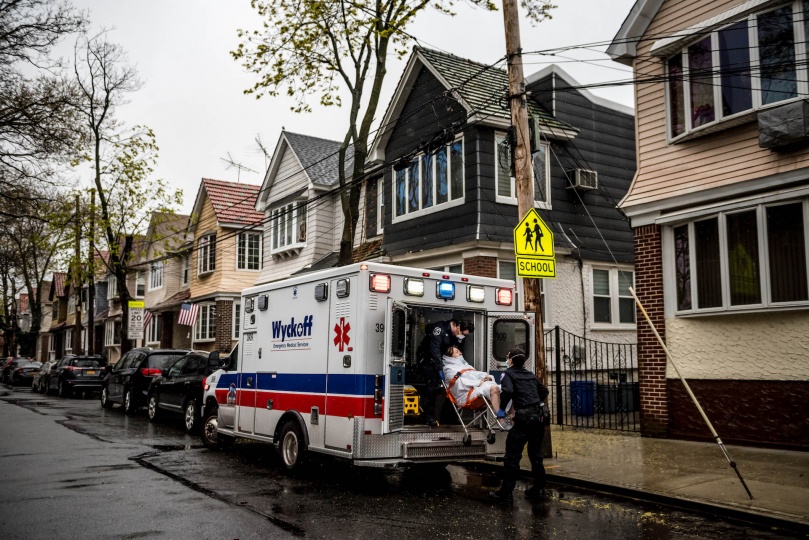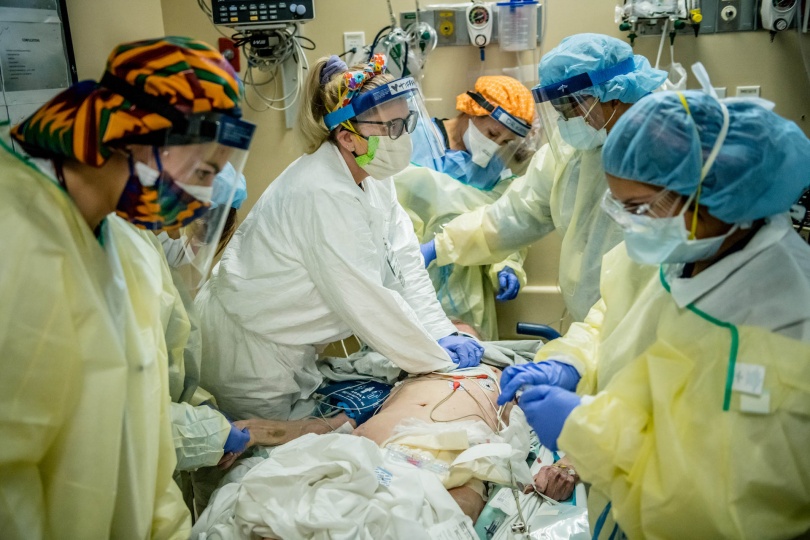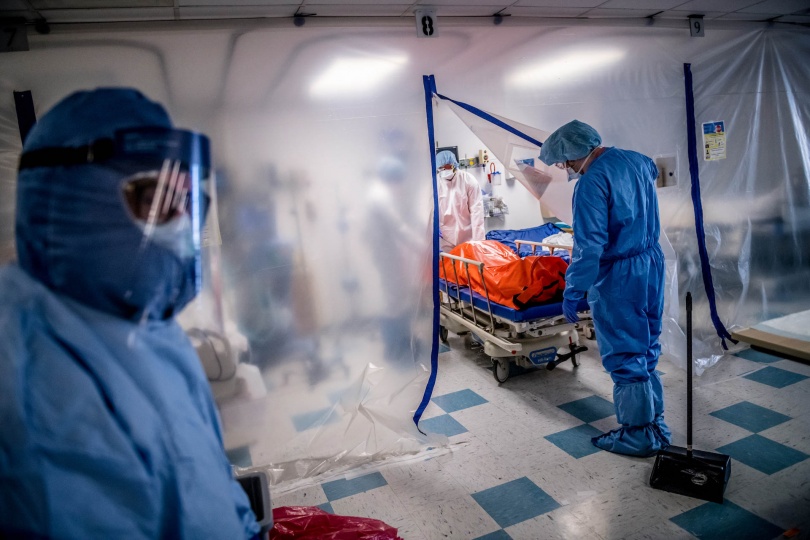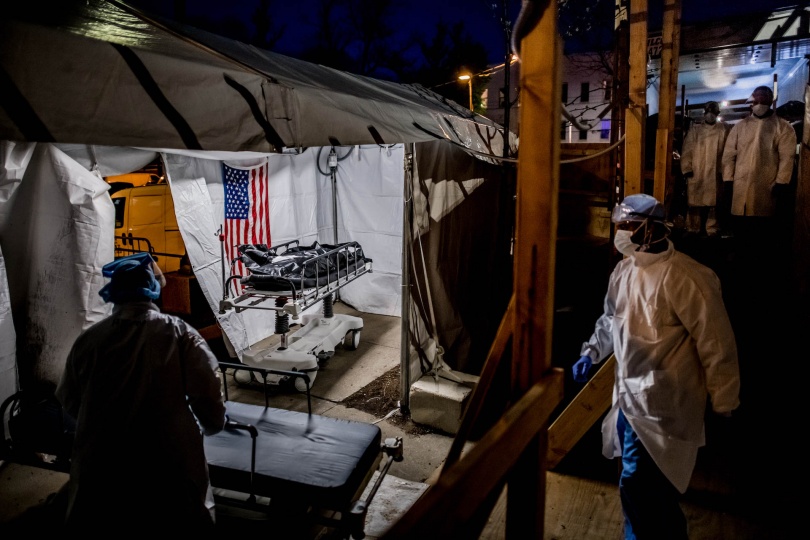 THE DISEASE has now killed more than 111,000 in the U.S. and 407,000 worldwide. New hot spots are erupting from North Carolina to Arizona as states reopen, driven by public and political pressure to revive the economy, even as medical experts warn that a second wave of the disease is all but inevitable. Many countries have yet to reach their peak of infections.
Starting on April 9, as the pandemic reached its apex in New York City, Wyckoff granted reporters from TIME access to its facilities and staff. Our goal was to gather the fullest possible account of how the outbreak played out within its walls, from its emergency room and makeshift morgues to the minds of the people who work there.
This much is clear: as more states confront COVID-19 outbreaks, the experiences of Wyckoff suggest there is little that can prepare hospital staff for what they will face. Mir and his colleagues were forced to improvise, troubleshooting remedies for a disease that no one understood. Alongside the medical challenge, Wyckoff battled a simultaneous contagion—an outbreak of fear that nearly crippled the hospital at its time of greatest need. Shortages of masks and disinfectant fueled that anxiety. But underneath it was the human instinct of survival, which the hospital workers still struggle to suppress. Countless times each day, they've had to ask themselves: Will this be the patient that gets me sick? Will this be the day I infect my family?
That terror swept through Wyckoff more quickly than the virus. Dozens of its health care workers, cleaners and technical staff walked off the job, took leave or retired, and by the height of the pandemic, the hospital was operating without 1 in every 4 employees. The most routine chores, like disinfecting rooms or checking vital signs, still need to be weighed against the chance of infection. That pressure has had a strange effect, says Dr. Lisandro Irizarry, the head of Wyckoff's emergency department. It strained the natural instinct of a medical worker to surround a patient with care. "When this all first started," he tells me, "the patient was the pariah."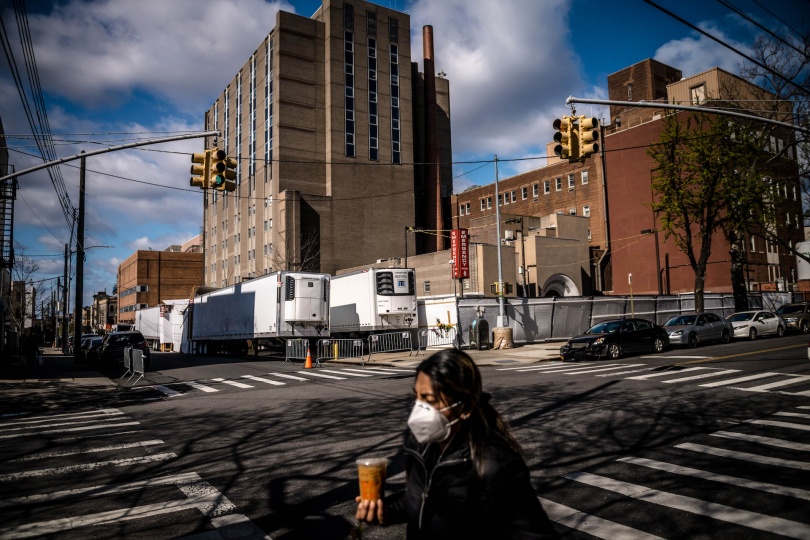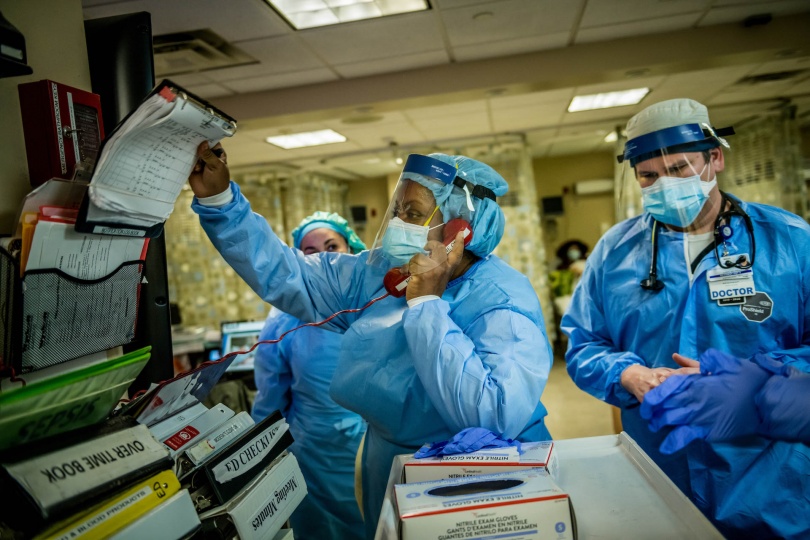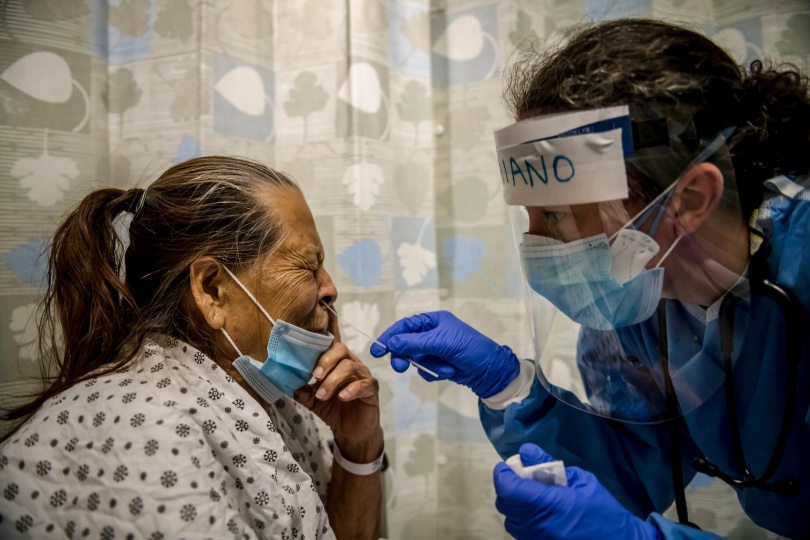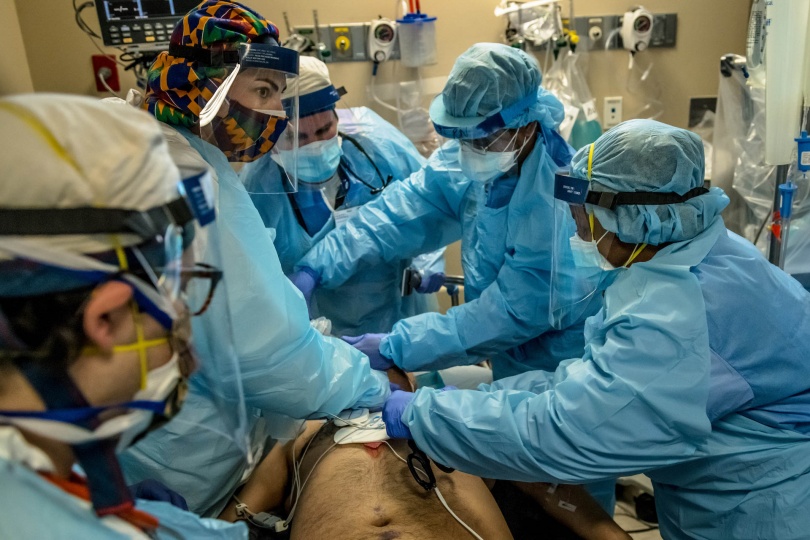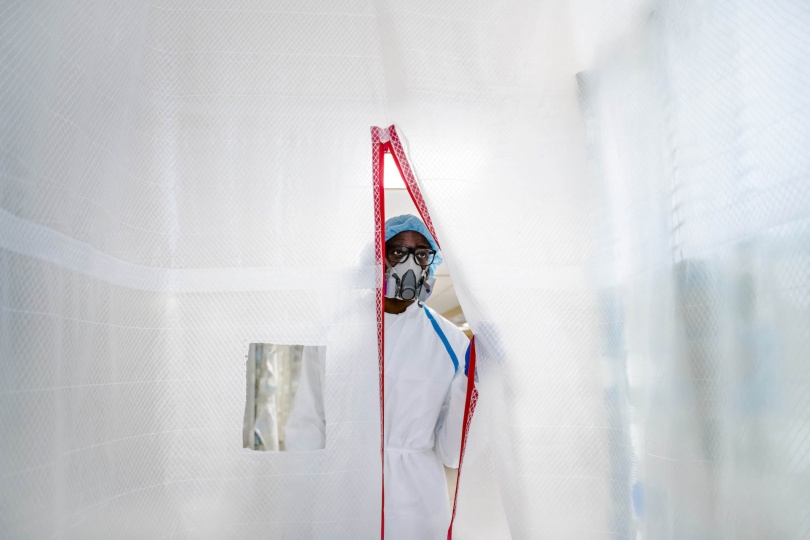 THE DIAGNOSIS of Wyckoff's first coronavirus case started as a hunch. Under the guidelines issued in February by the U.S. Department of Health and Human Services, Mir should not have had reason to worry about her. She hadn't traveled recently to any country with a major outbreak. She hadn't been in contact with any confirmed carriers of the disease.
The U.S. medical establishment had not yet grasped how quickly the virus was spreading within American communities. Neither had the U.S. President. "We're doing a great job with it," Donald Trump said on March 10, almost a week after Wyckoff's first coronavirus patient tested positive. "And it will go away. Just stay calm. It will go away."
Mir was not so sure. His patient's symptoms resembled what doctors in Asia and Europe had been reporting. To play it safe, he put the 82-year-old woman in isolation the day after she arrived at the hospital. She showed signs of recovery after a week on a ventilator. But after 10 days in the hospital, she died. A bank of news cameras gathered outside of Wyckoff the next day. "To hear of the death, the first New Yorker to die related to coronavirus—this is a very painful moment," Mayor Bill de Blasio said in announcing the news at a press conference.
For Wyckoff, it wasn't just painful but terrifying. Twenty-eight staff members had been exposed to the patient. None had worn masks or goggles, because government guidelines were not yet urging them to do so. Now all of them, including several nurses, three paramedics and one of the hospital's two lung-care specialists, had to begin two weeks of quarantine. Mir, who had not been exposed to the patient, was left to lead the intensive-care ward on his own.
He suspected that the staff under quarantine might soon start showing symptoms, but he did not expect one of the first to be the nurse he calls "my Amy." That's Amy O'Sullivan, the straight-talking, fist-pumping force of the emergency room, who was known to hit the gym after a 12-hour shift and then drive her Wrangler to the Jersey shore on weekends to go surfing with her wife and three daughters.
The oxygen levels in O'Sullivan's blood were so low by the time she got tested in early March that colleagues wondered how she was conscious. Mir moved her to an isolation room on the 10th floor—Room 11, next door to where the 82-year-old woman was clinging to life. He asked O'Sullivan if she could breathe without a ventilator. She shook her head no.
Through the window of her isolation room, she could see a few of her fellow nurses crying. One of the last things Mir recalls O'Sullivan saying before she went unconscious was, "Please save me, so I can get back to work."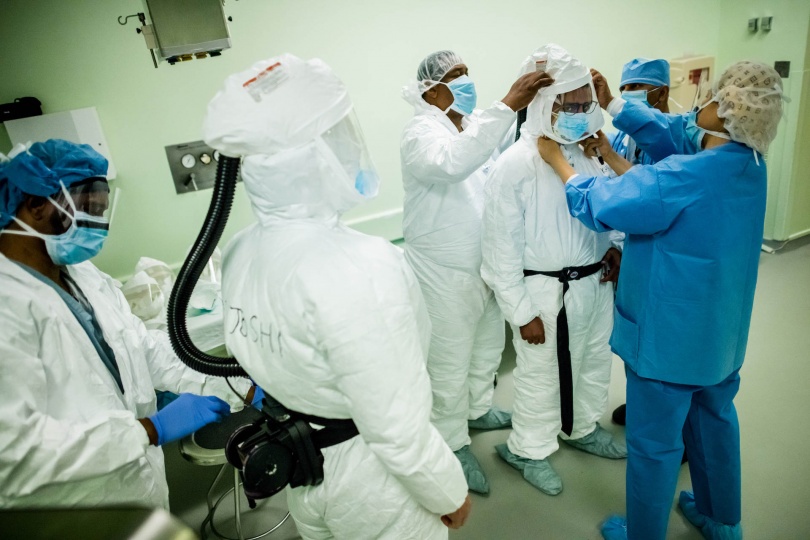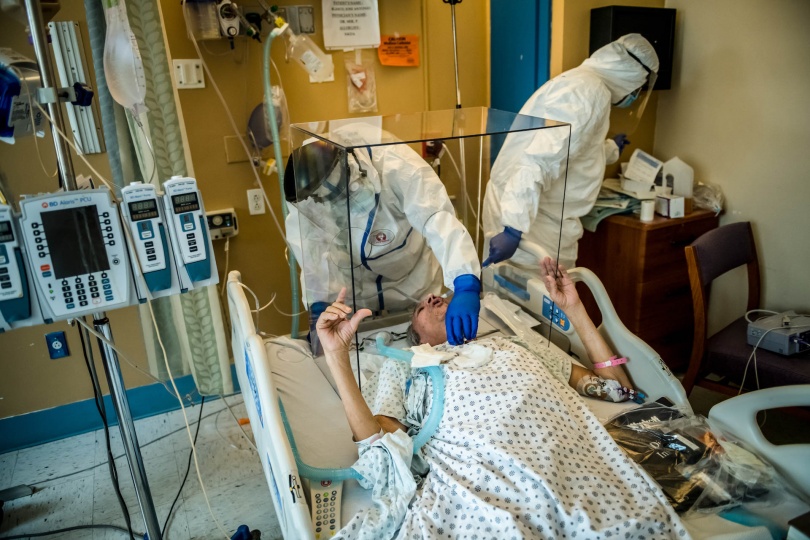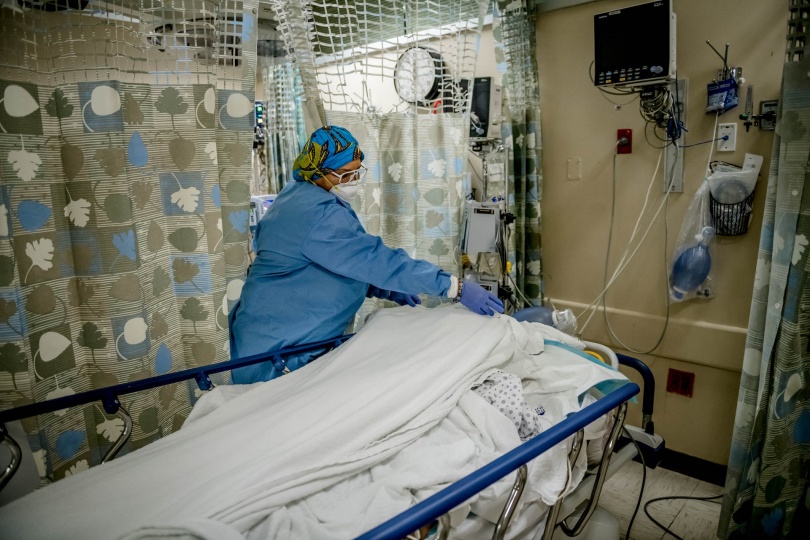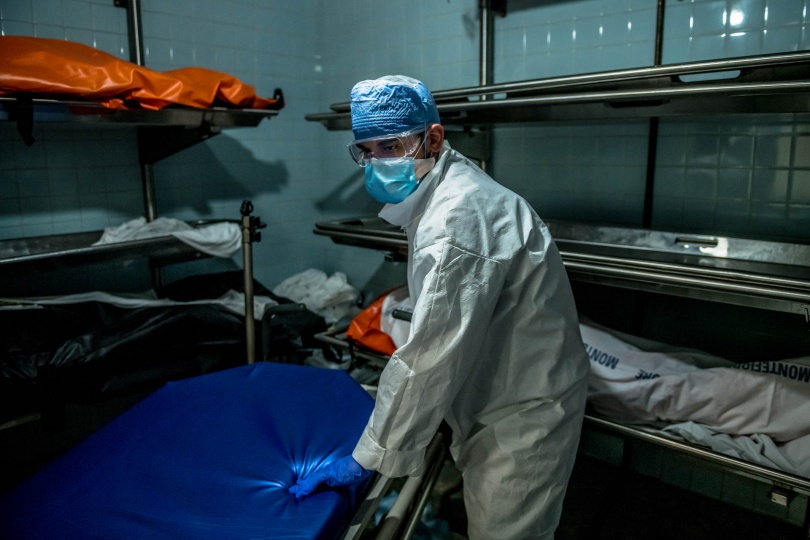 MIR TOOK OVER the intensive-care unit at Wyckoff—a 16-bed facility within the hospital—in 1998, and he's been here ever since. From the ward's 10th-floor windows, he can look across the East River to Manhattan, to wealthy neighborhoods with some of the city's lowest COVID-19 death rates.
Brooklyn and Queens, by comparison, each have had more than 5,000 deaths, more than any other areas in the country by far. The reason is tied to demographics. The area around Wyckoff is predominantly poor, black and brown, with multiple families living in cramped apartments. About 30% of the population in the Wyckoff ZIP code live below the poverty line. "It went through like a blitzkrieg," says Ramon Rodriguez, the hospital's president and CEO. "It's almost as if we're washing away a whole generation of black and Latino people."
Incomes here are too low and health insurance too rare to sustain enough private doctors to serve the population. The result is what's known as a primary-care desert, with Wyckoff the only source of health care for much of the community.
Its emergency room typically treats everything from rashes to upset stomachs, conditions that patients in more affluent neighborhoods might take to their family doctors. But these visitors disappeared when the pandemic started as people afraid of infection stayed away. New intensive-care units were set up on several floors of the hospital. The pediatric emergency area was converted into an adult ICU. Nurses from across the hospital were reassigned to work in it, even if they had never managed a ventilator or dealt with infectious diseases.
Many refused. The biggest problem at Wyckoff was not a shortage of ventilators or protective masks. "The biggest problem we had was staffing," says Rodriguez. "We were running people ragged. I was starting to see people break." Out of roughly 1,800 full-time employees, a quarter stopped coming to work at some point during the pandemic, virtually all because of illness or fear of infection.
Tamekia Melong, an intensive-care nurse, took leave the day after Wyckoff diagnosed its first patient with COVID-19. She was six months pregnant and terrified of losing her baby. Even though she never came into contact with the coronavirus patient, Melong contracted the disease and believes she infected her sister, mother and grandmother, who had to be hospitalized. All of them recovered, but Melong refuses to go back to work. "Psychologically, physically, I just can't," says Melong, who is due to give birth this month.
Between late March and early April, the nursing department saw 50 people calling in sick every day. "They were panicking," says the department head, Catherine Gallogly-Simon. Each morning, she would assign nurses to shifts treating COVID-19 patients. With some of the less-experienced ones, she says, it felt like throwing them "to the wolves."
Some hospital staff took their concerns about infection to their union delegate, Jacqueline Venner, who fought with the administration about overtime and hazard pay. It was also Venner who scolded people for skirting their work out of fear, always adding her catchphrase, "You got this."
But she sympathized with some who stayed away. Many nurses were close to retirement, had spouses at home with health problems, or both. They had paid their dues and were not willing to risk a deadly infection at the end of their long careers. Others had weakened immune systems. One was trying to get pregnant with the help of IVF, and her doctors would not harvest her eggs if she was exposed to COVID-19.
Even for young and healthy nurses, the demands of an already difficult job became brutal. Shifts ran for well over 12 hours, often with triple the usual number of patients to manage. In the last week of March, the hospital began to run out of disinfectants, and nurses brought bleach from home to wipe down beds in the emergency room.
Asta Moorhead, the head of the department responsible for keeping Wyckoff clean, took a woman on her staff to disinfect the room of a COVID-19 patient. The woman had suited up to protect herself, but in the doorway, she froze, turned around and ran. "When I found her later, she was a mess," Moorhead recalls. "She was crying and saying she didn't want to die. She didn't want her kids to get sick."
At the end of every shift, staff risked taking the virus home on their clothes, in their hair, on the bottoms of their shoes. Their anxiety spread to their families, sometimes causing rifts between workers and their loved ones. "You're here, caring for people, saving lives," says Irizarry. "Then you go home, and your family members look at you as though you represent a threat to them."
One nurse's husband died of COVID-19. Another discovered that both her children were infected. Jamwanti Persaud, the patient-care manager in the emergency room, watched her father-in-law deteriorate, gasping for breath, until he died in early April. She lay awake and wondered, "Did I bring it home?"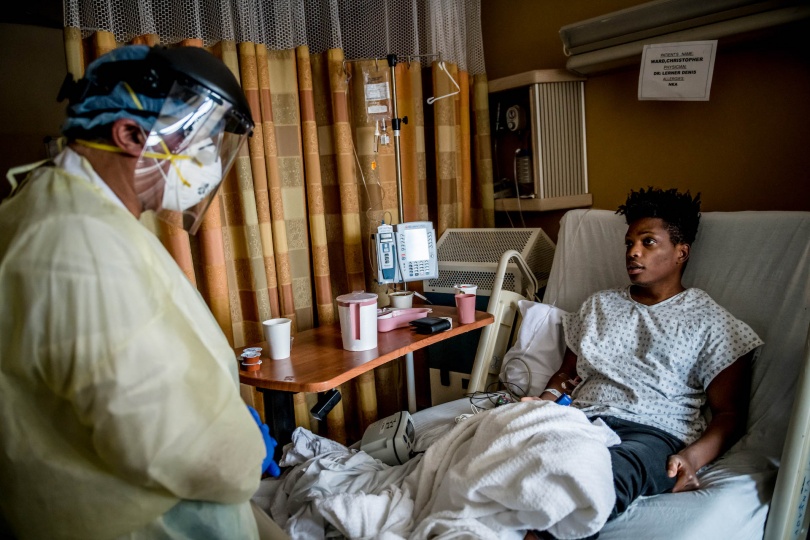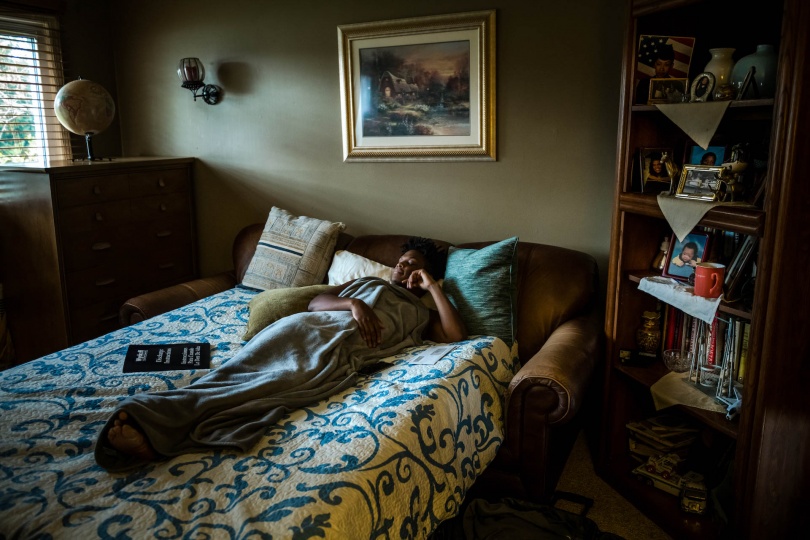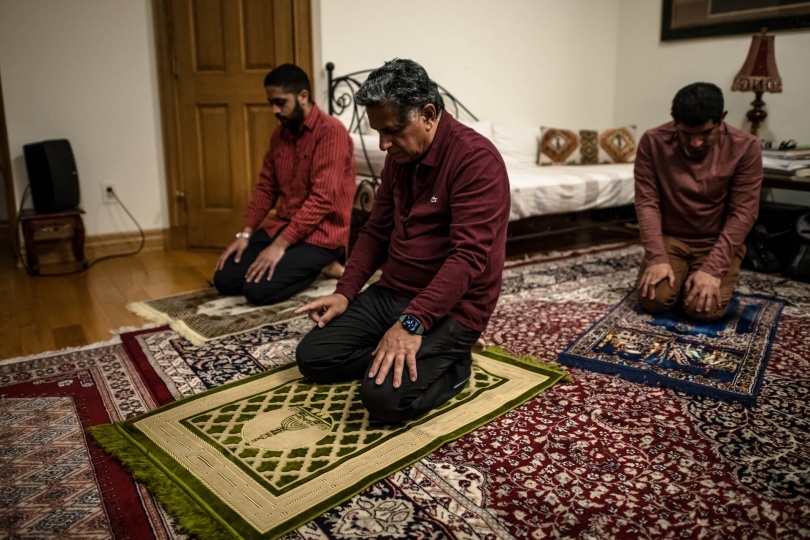 HOSPITAL STAFFING problems were so acute in New York by the end of March that Governor Andrew Cuomo issued a plea to the rest of the nation. "If you don't have a health care crisis in your community, please come help us in New York now," Cuomo said at a press conference, as the state's death toll surpassed 1,000. "Today it's New York, tomorrow it will be somewhere else."
A few days later, New Yorkers' cell phones squealed with an emergency alert, calling on "all health care workers" to come work at understaffed hospitals. It was the citywide equivalent of someone shouting: Is there a doctor in the house?
The most common approach in these situations is redeployment: ordering medical professionals from around the campus to put their usual jobs on hold and focus on the current crisis. That did not work in New York, in part because people resisted their reassignments.
Some outside help arrived in April when the U.S.N.S. Comfort docked in New York City and began taking COVID-19 patients—about 50 from Wyckoff by the end of the month. Mir also did some recruiting. Through a staffing agency, he found a pulmonologist in Arkansas, Dr. Rebecca Martin, who flew to New York and spent a 96-hour workweek at Wyckoff. The scene was beyond her worst expectations. Patients were packed so tightly in the emergency room that it was hard to pass between gurneys. The supply of sedatives ran so short that patients would sometimes wake up prematurely and pull the breathing tubes out of their throats. The good news was that the hospital had enough ventilators. The bad news was the shortage of staff who knew how to work them. "Usually the news sensationalizes things," says Martin. "Here the reality was a hundred times worse than what the news was showing."
Martin wondered how many colleagues at her own hospital, Baxter Regional Medical Center in northern Arkansas, would stick around to fight COVID-19 if it arrived. "Some people will always feel obligated to get the job done, no matter what," she says. "And there are some who will take any excuse they possibly can to get out of it."
On its website, the U.S. Centers for Disease Control and Prevention acknowledges the problem of fear among hospital workers—"Outbreaks can be stressful"—and offers some tips for dealing with it, such as deep breaths and exercise. But such tactics amount to "Band-Aid coping mechanisms," says Dr. Jessica Gold, an assistant psychiatry professor at Washington University School of Medicine in St. Louis, Mo., who specializes in the mental health of medical workers.
Well before the St. Louis area experienced a surge of COVID-19, Gold saw psychological distress in the medical workers she treats. The signs often showed up in their dreams—"impending-disaster dreams, tidal waves, hurricanes, where a lot of people are dying and you can't help them."
Efforts to treat the mental trauma of doctors and nurses amid the pan- demic are in their infancy. The first center devoted to this work in the U.S. is due to open on June 15 at New York's Mount Sinai Hospital. But its founder, Dr. Dennis Charney, is not sure how to address the anxiety of medical workers on the front lines of the pandemic, especially when it comes to their risk of infecting their families. "I don't know how you prepare for that," he says.
One approach would be to copy the military, which often screens soldiers for psychological fitness before sending them into combat. But U.S. hospitals do not have the luxury of screening out health care workers during a pandemic. To do that, says Gold, "you have to have enough staff" to let some people walk away.
And staff shortages have been too critical to keep that door open. On April 7, Rodriguez emailed senior management, ordering them to track down all employees and get them back to work. "This is not the time for anyone to walk away from their responsibility and their duty," he wrote. "All of you are called to the cause of being a part of something greater than all of us."
The soaring language had little effect. For many of the workers who heeded Rodriguez's call, the decision had more to do with paychecks than with some higher calling. Whatever the chances of getting infected, the prospect of losing their health insurance or being unable to feed their families was worse. Jillian Primiano, an emergency-room nurse, captured the sentiment in a sign she held at a demonstration for nurses' rights on April 6. Please don't call me a hero, it read. I am being martyred against my will.
Three days later, the hospital had its first staff death: Terry Small, a carpenter, died of COVID-19 on April 9. No one knows how he became infected. His job rarely put him in rooms with patients.
Venner, his union delegate, also tended to stay in her office, a mask covering the lipstick she always made sure to apply. But as union members came to see her with their complaints, the virus followed. Venner soon became a critical patient in the place where she had worked for almost 30 years.
A procession of colleagues came to check on her as Mir attached the breathing machine. Rodriguez went to see Venner one last time on April 16, two days before she died, and came out weeping. "We had our differences," he told me. "But she was my friend."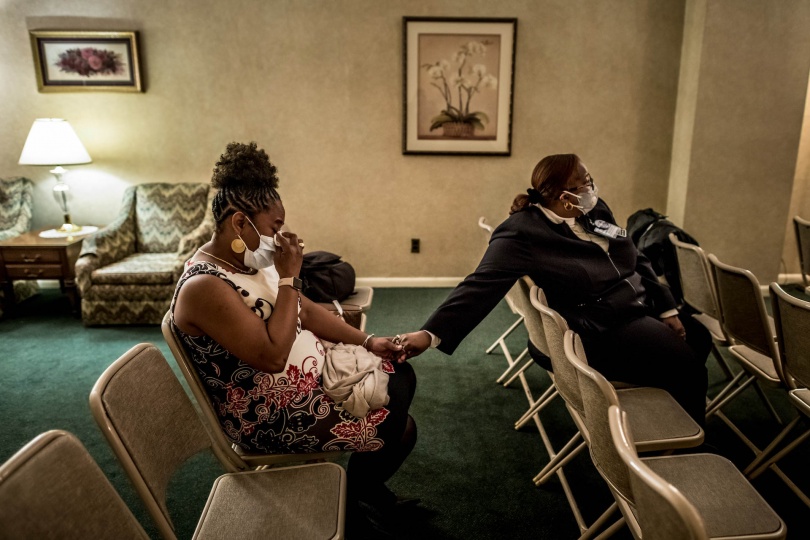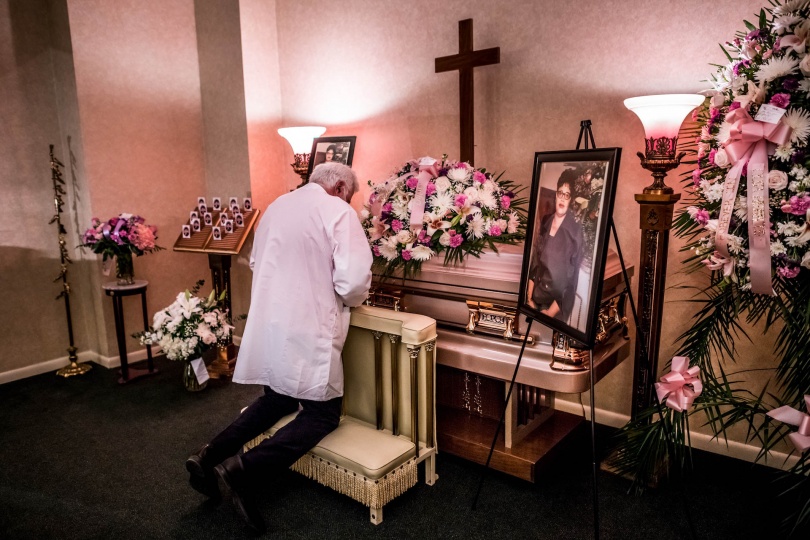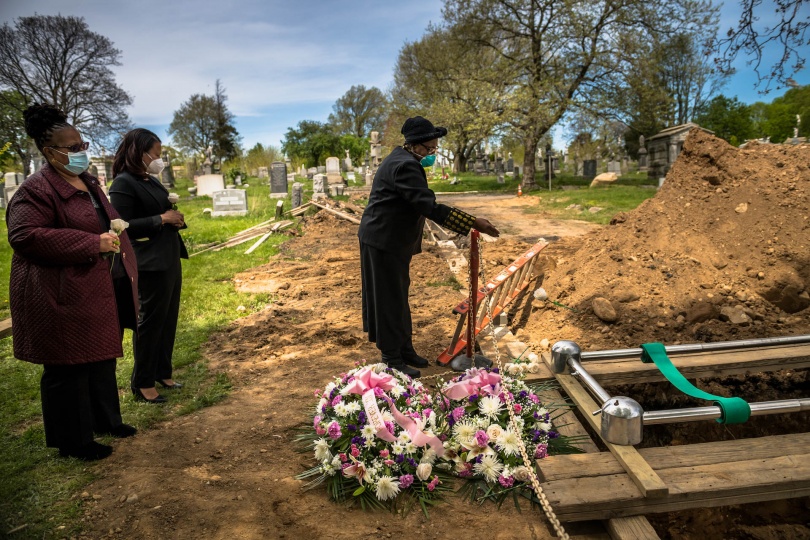 ONE EVENING, Rodriguez hung his suit jacket in the executive suite and rode the elevator down to the basement, which houses the morgue.
The burden of storing the dead falls to the hospital's transport team, which operates out of a tiny basement office. To show his support, Rodriguez wanted to spend the night with them, collecting the dead and bringing them out to one of the refrigerated trailers the city had parked outside to hold the overflow of bodies. The morgue crew obliged, helping the chief executive into his layers of protective equipment: two masks, a face shield and a full-body suit of polyethylene.
Across the hospital, administrators used the same approach, joining staff in the trenches to raise morale. Gallogly-Simon, the head of nursing, would leave her spacious office on the second floor to work in the emergency room. The nurses were used to seeing their boss in high heels. Now she was pushing stretchers in rubber clogs, her hair tucked into a cap printed with shamrocks.
In the intensive-care ward, Mir worked for six weeks without a day off, updating health officials and colleagues while also trying to come up with an effective mix of drugs and treatments. Mir's treatment principle was simple at first: "Throw everything at it but the kitchen sink." Instead of medical textbooks, he used the blogs of frontline doctors from other continents to guide him. In late March, when President Trump was advocating the use of hydroxychloroquine, an anti-malaria drug, Mir gave it to many COVID-19 patients, then observed it was impairing their heart function. From autopsy reports, he saw tiny blood clots permeating bodies of COVID-19 patients, so Mir ordered patients to get blood thinners. "I call this disease Russian roulette," he said. One of the first patients he managed to wean off the ventilator was in his 80s. Then he treated two brothers, Miguel and Leobardo Herrera. Leobardo survived. Miguel did not. Mir shook his head. "I don't even make predictions anymore."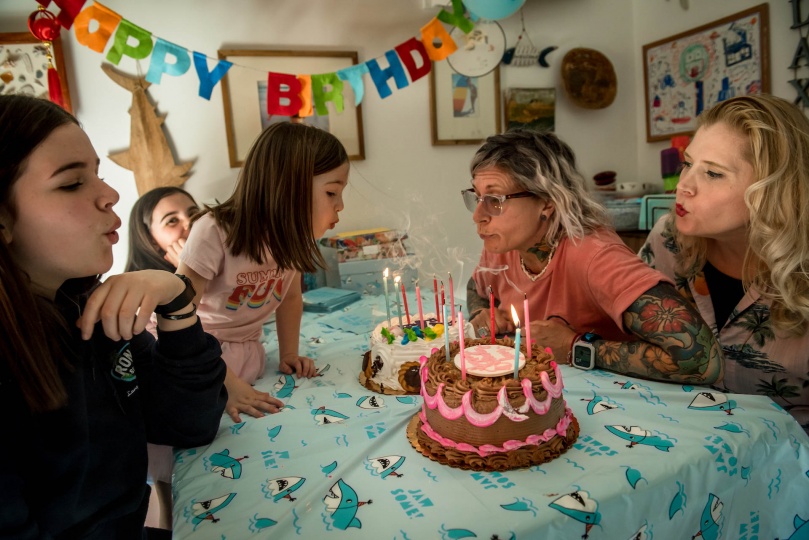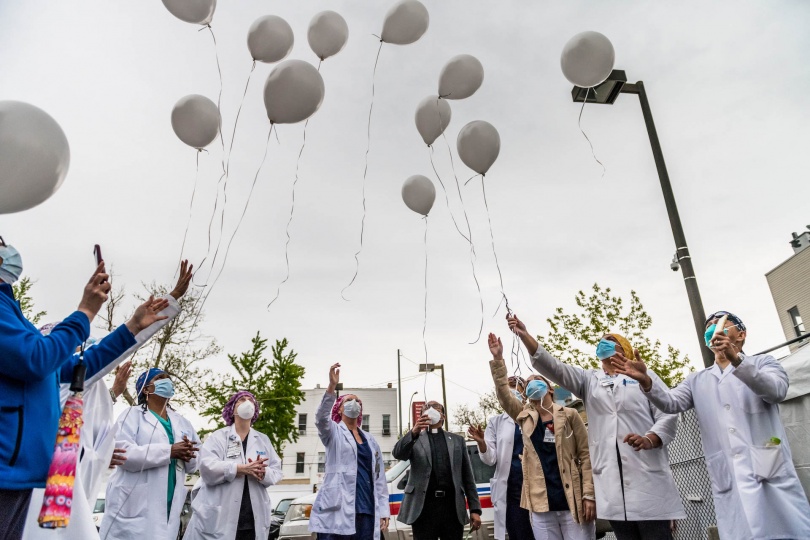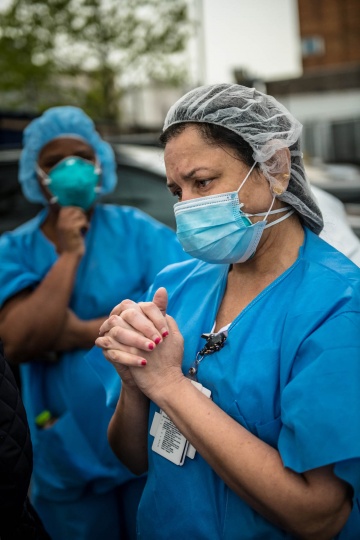 IN MID-APRIL, Mir brought me into the intensive-care ward to meet one of his patients, who had spent a week and a half on a ventilator. The tube had been removed from his throat the previous day.
As we put on the extra layers of rubber and polyethylene that are required to enter that part of the hospital, a fear came over me. My gut seemed to take the masks, gloves, gowns and goggles as signs of danger, and I recoiled as though we were about to enter a room full of poisonous gas or radiation. Instead, behind the heavy plastic curtains, there was just a young man on a bed, unmasked and barefoot, with more terror in his eyes than I had in mine.
He was Christopher Ward, the 29-year-old manager of a Manhattan restaurant and bar. The nurse had just brought him breakfast, and the smell of scrambled eggs mixed with the odor of disinfectants. The tube had strained his vocal cords and left his voice a raspy whisper. The virus, he said, had infected several family members. The last thing he remembered before the anesthesia kicked in was pleading with Mir to get him a ventilator before the nation's stockpile ran out.
There were no flowers or greeting cards in his room. None were allowed. To minimize the risk of infection, nurses avoided entering the room except when necessary. Ward did not blame them. "They have good reason to be scared," he says. Once his phone was charged, it began buzzing with messages from his mother Jacqueline. Forbidden from visiting, she had been keeping vigil at home, texting him passages from scripture as a comfort to them both.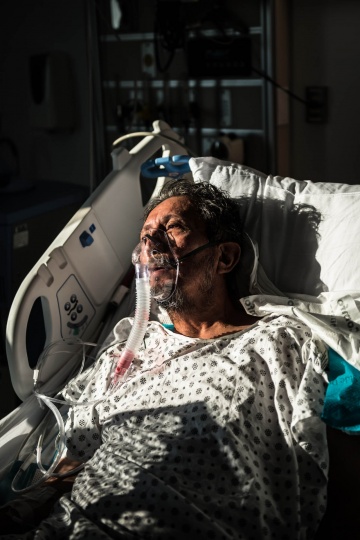 She didn't know how slim her son's chances had been. Only one in five COVID-19 patients at Wyckoff were making it off the ventilator. Recovery is treacherous for those who survive. Some patients feel better after the tube is removed, texting with family members and talking to their doctors. Then they collapse while trying to stand, their oxygen levels plummeting so fast that they need to be resuscitated.
The day after we met, Ward texted me that he was feeling better. Ten minutes later he wrote again: "I think I'm dying." His mother got a similar message from her son that day: "I may not make it." But two weeks later, Ward was ready to go home. The nurses who had cared for him and taken his worried family's calls gathered to see him off, a row of figures in white suits and masks applauding the young man as he made his way to the entrance, where his mother was waiting.
It was April 20, and the emergency room was nothing like it had been when Ward arrived. The nurses were afraid to jinx their luck by uttering the words "calm" and "quiet." But for the moment, the hos
pital was both. The makeshift triage ward in the entryway stood empty. The pharmacy reopened. Amy O'Sullivan, the nurse who'd been near death after treating Wyckoff's first COVID-19 patient, had recovered and was back at work, her healthy breaths rising up from her mask to steam her glasses.
The lull gave the hospital a chance to consider its future. Regular patients were still afraid to come for treatment or elective surgeries, and fewer patients mean less money. The American Hospital Association, an industry group, calculates that losses for hospitals nationwide will come to more than $200 billion from the beginning of March through the end of June.
The federal government gave Wyckoff $59 million in May to help it survive, but Rodriguez says the money will hardly last till the end of the year. "We're living on fumes," he told an all-staff conference call on May 20.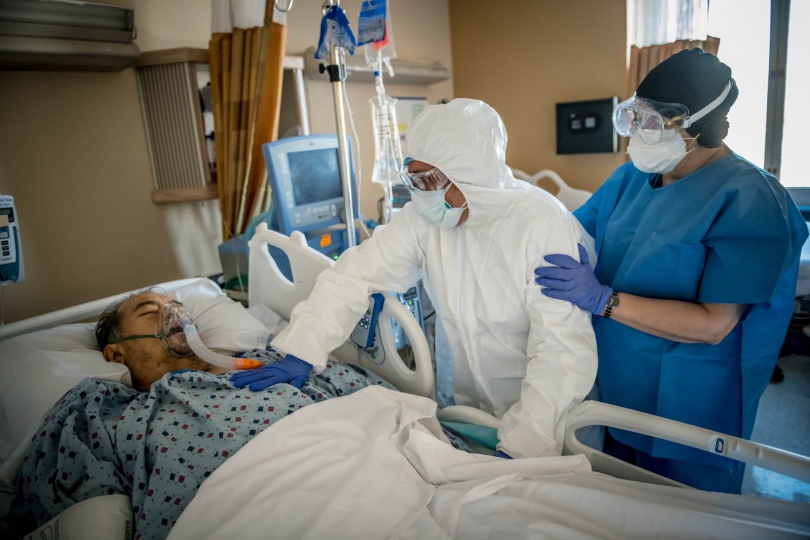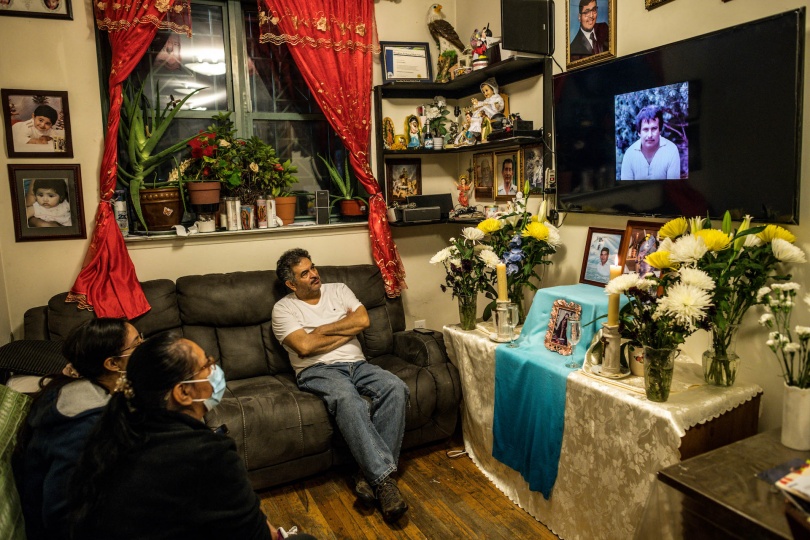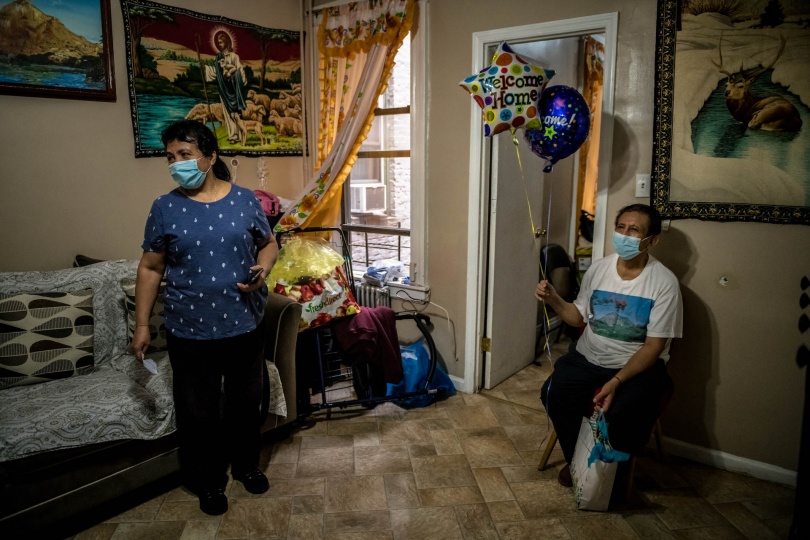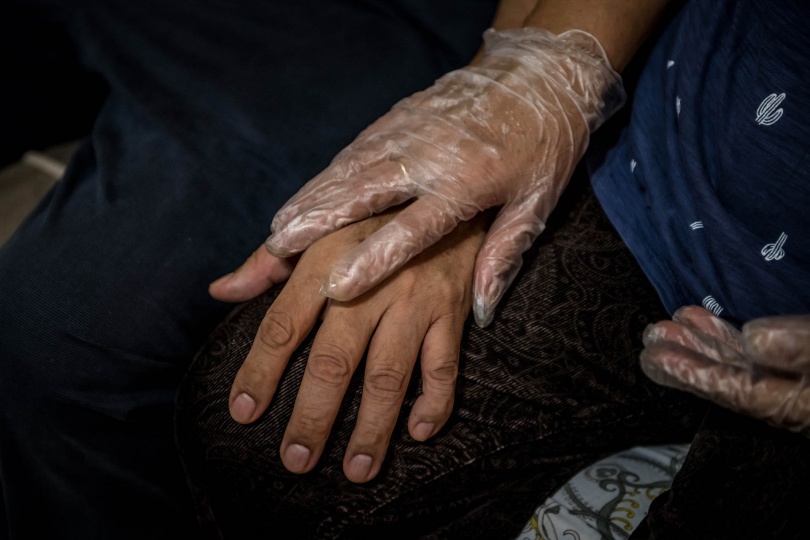 HAVING FINISHED his rounds, Mir went into his office one afternoon in May, closed the door and removed his mask. He'd been showing me around for almost a month. Yet this was the first time I had seen his face. It gave me a jolt, like finding a stranger in a familiar room, and it forced my mind to redraw the features it had invented for him. His nose was longer and his mouth wider than I had imagined. In this new company, his eyes seemed sadder than they had above his mask.
He told me he had stayed in touch with Rebecca Martin, the Arkansas pulmonologist, sending her updates as her hospital prepared for the pandemic. His news was seldom reassuring. The virus had taken four lives among the Wyckoff staff, and their portraits were displayed in the entryway, beneath a sign that read, Rest in eternal peace. Antibody testing of roughly half the hospital's workers found that at least 22% of them—or 186 people as of early June—had been infected with the virus.
Martin realizes how poorly her years of medical training prepared her for the risks she faced at Wyckoff. "In theory," she tells me, "medical school teaches you that your own health and well-being is often secondary to others'." But it does not teach you how to decide between treating a highly contagious patient and protecting your family's health.
Throughout the outbreak of COVID-19, medical workers have often been held to impossible standards, as though their training brings with it a level of superhuman courage. The reality is far more complicated. For every story of selflessness and sacrifice at Wyckoff, there are stories of medical workers who walked away, usually because they put family first.
At the end of May, Rodriguez announced a $2,500 bonus for employees who'd remained on the job through the pandemic.
That forced Wyckoff's managers and union leaders to face some tormenting questions: who made the cut for what some workers called the "hero bonus," and who did not? What about the nurse whose husband died of COVID-19, forcing her to miss work and care for their children? What about the workers who got infected and went on sick leave? What about the families of staff who died of this disease? What about those who needed just a few days off to deal with their anguish and fear of infection? Did they not deserve the bonus?
In the end, Rodriguez was forced to reverse his decision. Instead, every employee will get a much smaller bonus, whether they worked through the pandemic or not.
He says he was tempted at times to apply military logic: "if you don't go forward, you're a deserter." But the pandemic is not a war. Bullets and bombs are not contagious. And Wyckoff could not demand that all employees put their loved ones in the line of fire. "If someone is afraid, we respect that they're afraid," Rodriguez says.
Mir sees it differently. The truancy of some colleagues pained him, and he has little patience for their arguments that the risks of infection were too high. "What does that make the rest of us," he asks, referring to workers who accepted those risks, "chopped liver?"
His office windows overlook a wide expanse of rooftops, the homes of the people Wyckoff serves, "very poor people, very sick people," he says, "young lives, old lives." Nearly all of them were strangers to Mir, but he did not think it strange to risk his own life for their care, nor even the lives of his loved ones. He says he would do it again, and as the next wave of the pandemic hangs in the distance, maybe a month from now, maybe more, all of Wyckoff could be called to treat another surge of COVID-19 patients. At least next time they will know what to expect, from this disease and from themselves.
— With reporting by Meridith Kohut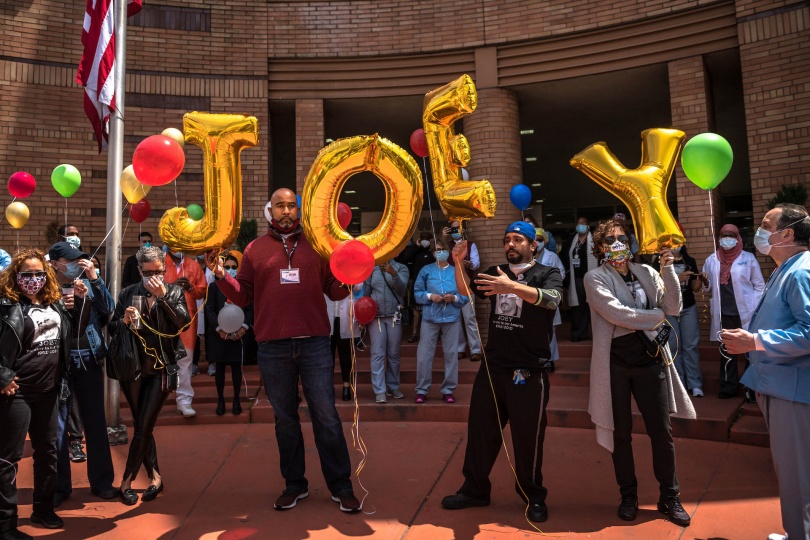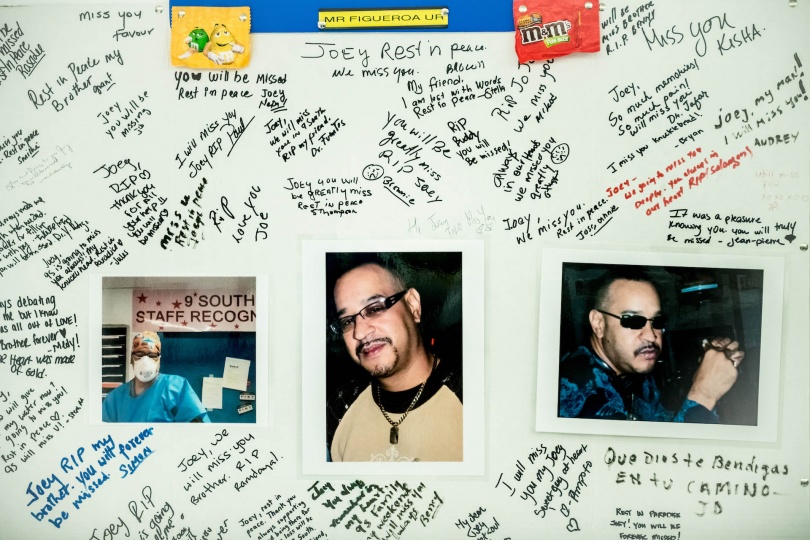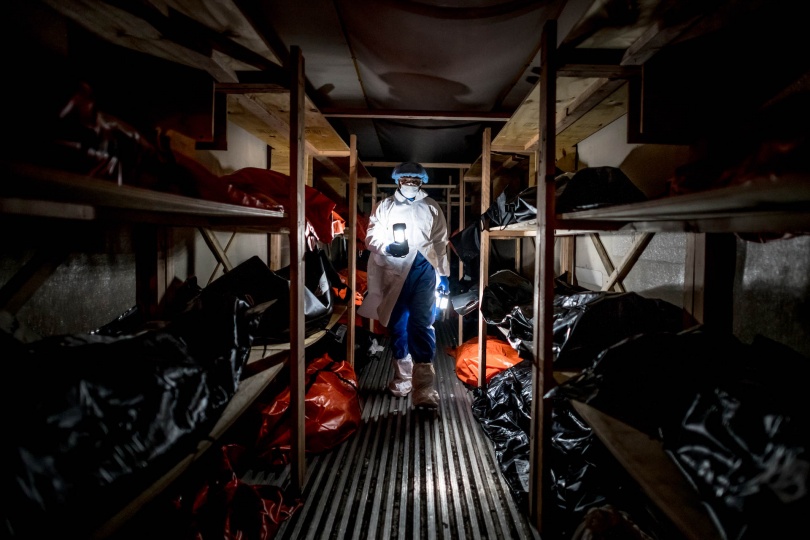 If you would like to support front line organizations helping in the fight against COVID-19, including Wyckoff Heights Medical Center, please visit time.com/giving