In the Line of Duty: Covering Trauma
Louise Tickle on the sometimes devastating impact of covering disturbing stories.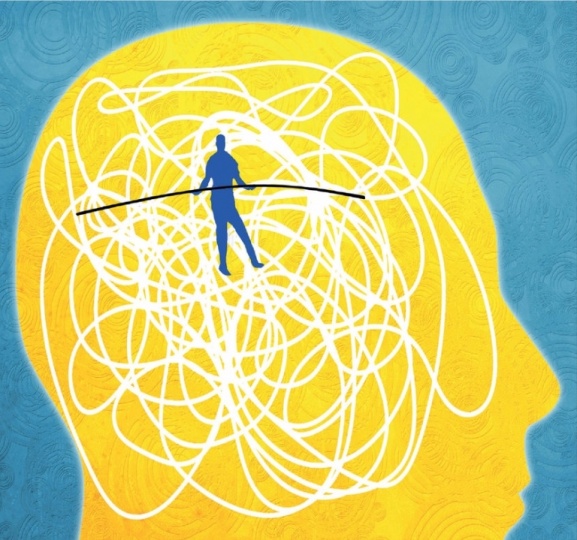 This article was originally published by The National Union of Journalists in the April/May edition of The Journalist Magazine.
This time last year I was hardly sleeping. My mind circled frenetically; terrifying scenarios filled the darkness. The various ways a man could torture and kill a woman, or a child. Seeing my own kids dying. The buzzing mental discomfort of trying to work out, at 3:00 am, how to best tell the story of a woman whose baby had been removed by social services at birth. When panic started to swell into my daytimes, I went to bed, unwritten features – and unearned money – hanging over my head like a cloud of doom. Life felt precarious. And not just other people's. Selfishly, my children's. Mine.

"You're exhausted" said my GP after I'd sobbingly explained that I'd spent two years writing about child poverty and sexual abuse, another two focused on domestic abuse and 12 months on children being taken into care.

My anxiety was compounded because financially too I was teetering: after trying to do bigger, hopefully more impactful stories, my bank balance showed that investigations into troubling social issues tend to take longer than freelance fees account for. I felt guilty and frightened that I was putting my family at financial risk. And yet this was the work I wanted to do.

"I'd also say," my doctor continued, "that you have a touch of PTSD." 

I was shocked, but he explained that it is entirely possible to develop PTSD related to events experienced by other people. It has taken me a while to accept this, and I still feel a sense of "how can I be making such a fuss when others are really suffering?"

There is widespread awareness that reporting from conflict zones can result in journalists suffering from PTSD. Vicarious trauma is "a real phenomenon", says former journalist Gavin Rees, now director of Dart Centre Europe, which works with journalists covering traumatic events. Journalists immersed over long periods of time with people who have lived through extremes of exploitation, violence, fear, grief and loss are particularly at risk of PTSD.

"The lack of understanding is partly because our perspective as journalists is focused on other people," Rees explains. "It's also about industry norms of objectivity, and thinking that we should be a detached observer. That's not how the real world works though; if we're interviewing people who've experienced profound betrayal and don't feel safe and secure, it's not surprising that those feelings transfer over to journalists."
Neuroscience has shown that when you talk to someone who is in distress, the same regions of your brain light up as your interviewee's, he explains. While it's not of the same magnitude, the problem for journalists is that they "may be talking to many people over long periods of time, so many fractions of that distress response start to add up."

Annie Kelly has edited the Guardian's Modern Day Slavery project for three years. Responsible for commissioning, editing and reporting long-form investigations into the worst extremes of human exploitation, last autumn she found herself experiencing a full-blown panic attack while cycling into work. It had, she now realises, been coming for months. 

"As the stories we ran got bigger and harder, I didn't appreciate how emotionally demanding it was getting," she says. "My husband was working on breaking news stories in Ukraine and Syria for a major news channel doing what I suppose I felt was the 'real' journalism, so me holding the fort at home with two young children and keeping my career going just didn't seem to compare."
As well as being embroiled in the detail of every story she'd commissioned, Kelly was also responsible for the wellbeing and safety of reporters across the globe in potentially risky situations. On top of that came the constant stress of litigation by big corporates, and as a result, her three-day-a-week job – realistically a full-time role – started to leak into the rest of her week.

Then she hit a run of stories that involved reading and watching hours of distressing video testimony. "There was this one little boy who'd been trafficked to the UK, just about my daughter's age, and in the week before these panic attacks, this little boy was actually in the room with me at night," Kelly recalls. "Combined with the pressures at home and my husband working long hours and travelling it just all built up."

Looking back, Kelly says there were warning signs. But sometimes, being overwhelmed by traumatic testimony can take us unawares.

I talk to Andrew Norfolk, the Orwell Prize-winning Times reporter about his experience of investigating gang grooming and child sexual abuse. Norfolk tells me he "totally didn't anticipate" what happened to him in 2014. "For a journalist, it is so important to have empathy, but perhaps an excess of empathy can take you to dangerous places," he observes. "Before, I had always been able to switch off. It had never occurred to me that I wouldn't be able to."

Norfolk had weathered three years of sitting in living rooms interviewing families of girls who had been horrifically sexually exploited by gangs when in January 2014 the Times published his investigation into convicted sex abusers who had operated at the other end of the social scale: boarding schools.

"It was like a tap had been turned on" he remembers. "I got dozens of emails and phone calls from Times readers, men mostly in their 40s, 50s and 60s who suddenly felt compelled to talk about what happened to them when they were 11,12,13." 

Norfolk spent two weeks reading and listening to "this torrent of anger and guilt and shame" and for the first time in 25 years as a reporter, found himself waking waking four or five times a night. "I couldn't get these stories out of my head," he said. "I was absorbing all that guilt and anger and pain and I had nowhere for it to go, so it got trapped inside." 

Feelings of responsibility for the people whose stories we tell is a common theme. Two years ago, when freelancer Alex Renton wrote about the physical, emotional and sexual abuse perpetrated at his own prep school for an Observer article, the paper put a line at the end inviting readers to send stories of school abuse to Renton in confidence. "That was a mistake, without the resources to do the job," he says. He felt an immense sense of obligation to read and respond individually to the 800 or so emails that soon arrived. "I couldn't see a way not to; with some, that interaction was very urgent, even involving suicide risks " he explains. The result was days lived on adrenalin and nights broken by nightmares. "I reached the end of what I could cope with really quite quickly," he says.
To cope, Renton put in place a strict regime of reading only for two hours a day, and did cognitive behavioural therapy to give him tools to cope with the emotional fallout. 
His new book, Stiff Upper Lip: Secrets, Crimes and the Schooling of a Ruling Class draws on some of the email accounts, which has helped to assuage his guilt that he was unable to investigate every one but, while he got "lots of support" from his editor whom he told he was struggling to cope, on the financial side Renton says the Observer was "not very helpful." He was paid only the standard word rate for his subsequent investigation into abuse at Gordonstoun school, which meant he substantially subsidised the work; he didn't think it worth asking for help to pay for the therapy he needed.

Does he think news organisations understand that PTSD can affect journalists who aren't reporting from war zones?

"No, not really," he says. "I know there's a lot of sympathy for staff reporters, but for freelancers, I understand that they can't even afford to think about these things because there's no bloody money.

It may be different if you're staff. Kelly and Norfolk both praise the the support they had from their employers. To protect her ability to keep on doing the work she loves, Kelly has deliberately renegotiated her work time as a single, three-day block rather than spread across a week, taken work emails off her personal devices and has a fortnightly counselling session.

Speaking more broadly about the industry, however, she doesn't think there is yet enough awareness that journalists can be vulnerable. "Responsible media owners shouldn't be waiting till someone's in crisis and then saying 'oh do you need some support?'"

Norfolk has a new project underway that is unconnected with child abuse, and says his experience means he now focuses on the "precious" moments of relief that personal passions such as watching his favourite football team can bring. "My admiration for the courage of colleagues who witness and risk death overseas knows no bounds," he tells me, "but war correspondents are not the only journalists who sometimes enter people's lives at their darkest moments."

A sleeping tablet prescription got me through the back end of 2015 – I was too heavily invested in two big pieces just to stop. Then I took January off. There's no sick pay for freelancers so I paid for that time from savings. Now, I try to walk or run every day. I paid for four months of weekly counselling. I try not to only do grim stories about injustice – but in truth they're what drive me, so it's hard to pull back. I grow cut flowers because it makes me happy. I've made an effort to do more fun stuff. And I've been a lot better. Mostly.

Measures that can help
There is a limit to what any one individual can take on: by doing too much, you're not servicing the stories that you already have on your books.
Don't read difficult accounts when you're tired, or within a six hour window of going to bed.
Learn and practice stress management techniques, do regular exercise, or engage in an immersive hobby that takes you completely away from the subject matter.
Remind yourself that journalists cannot fix other people's problems –  making their pain go away is beyond our control.
Share perspectives with journalists doing similar work, and also spend time with people outside journalism so the story doesn't inhabit the whole of your life.
with thanks to Dart Centre Europe