Reporting Safely from Sandy Hook to Ferguson
Yamiche Alcindor shared ten tips for young reporters working in high-risk situations.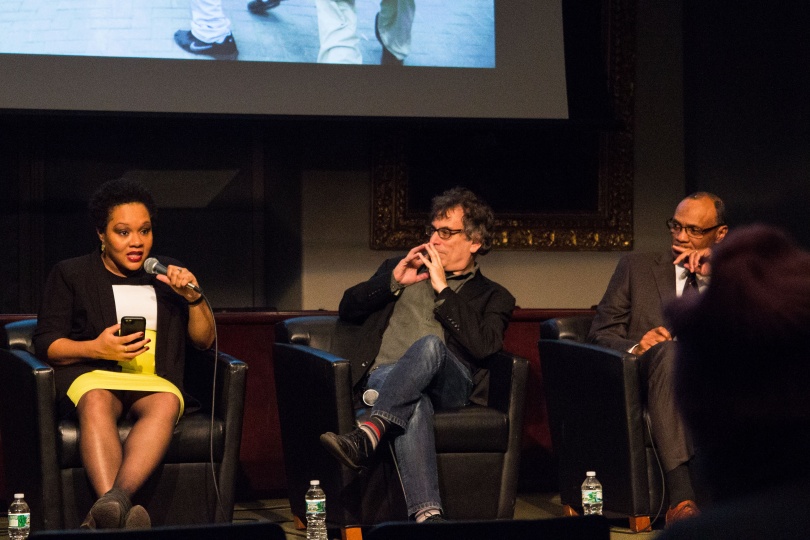 The risks of practicing journalism are not limited to war and conflict. On October 27 at Columbia Journalism School, the Dart Center hosted an all-class panel that introduced safety, security and self-care strategies that should be in every reporter's toolkit, for assignments ranging from neighborhood beats to disasters, mass shootings, and investigative projects.
Yamiche Alcindor, a national breaking news reporter at USA Today, joined Donna DeCesare, Danny Spriggs and moderator Bruce Shapiro to discuss practical tactics for assessing risk and and staying safe on stressful stories. Alcindor shared lessons she learned covering the Sandy Hook school shooting, the Boston Marathon bombing, the death of Trayvon Martin, as well as protests in both Ferguson and Baltimore this past year.
 Wear comfortable layered clothing and shoes. Also, have all-weather gear close by. I always pack sneakers, a raincoat, and an extra shirt in case I need to change. 
Remember to be respectable and treat people fairly even if they're breaking the law or seem very angry. Some of the people who you want to speak with might be very emotional. You want to respect their anger, sadness, or other feelings.
Have mobile charging options. I always carry portable chargers and car chargers for my computer, iPhone and iPad. I have two portable charges on me at all times and my colleague even has a solar powered backpack.
Make sure your phone and tablet have enough space to record events. If something happens and you need to record in an emergency, make sure you have enough data to do so. Back up your phone often and have a hard drive to store photos or videos on in case your phone fills up.
Always pack portable snacks and water! You don't think clearly when you're hungry and thirsty. It can really affect your reporting.
Pack light but smart. I always carry a backpack with me but I try my hardest to keep it from getting too heavy in case I end up walking really far or running. Packing smart means having all your reporting tools but not having too much extra things.
Use your personality to help you. The best reporters I've meant feel authentic and use their life experiences to connect with people. This doesn't mean you have things in common with each interview subject. But being a real person will help you in emergency situations. 
Be on media lists and check the Twitter and Facebook pages of officials connected with your story. Before I get on a plane, I sign up for as many media distributions lists  asI can find because those may be the first ways information gets out.
Find someone to check in with in your newsroom. I emailed my editors regularly when I was in Ferguson to let them know I was safe and doing well. Doing so helped them know I was where I was not in danger.
Keep in touch with your family and friends. It is really important to take breaks and check in with loved ones. It keeps you balanced and allows you to vent to those close to you if you need to vent.