Carina Vance
South American Institute of Governance in Health - Union of South American Nations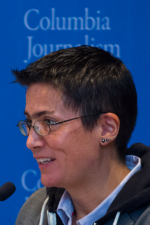 Carina Vance is the Executive Director of the South American Institute of Government in Health of UNSUR (ISAGS). At ISAGS she contributes to the mission of strengthening this center for higher learning and policy debate for the development of leaders and strategic human resources in health, with the objective of promoting the governance of health systems in South American countries.
Before coming to ISAGS, Vance was Minister of Public Health in Ecuador, between January 2012 and November 2015. Her work as Minister was centered around strengthening prevention and health promotion policies, having achieved the implementation of compulsory food labeling alerts related to amounts of fat, sugar and salt, the promotion of sexual rights and reproductive rights through the implementation of the National Family Planning Strategy, a multi-sectorial approach which lead to an important decrease in maternal mortality, and the health component of the National Inter-sectorial Strategy for Early Childhood. Additionally, her time in office was dedicated to increasing universal access to health services, achieving the inauguration of 10 hospitals and 50 health centers nationally, as well as the international accreditation of 30 public hospitals. Vance held the Presidency of the Pan-American Health Organization´s 52nd Directing Council in 2013 and the Presidency of the XXXIV Meeting of Health Ministers of the Andean region (REMSAA) in 2014-2015.
Vance has a B.A. in History and Political Science from Williams College and an M.P.H. from the University of California, Berkeley.
Recent Posts by Carina Vance