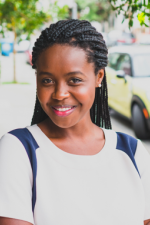 Clemantine Wamariya is a Storyteller and Human Rights Advocate. Born in Kigali, Rwanda, Wamariya was 6 years old when the Rwandan Genocide broke out. Her older sister Claire led their fortunate escape. During the next six years, Claire and Clemantine lived in refugee camps, separated from parents and relatives, in seven different countries in Eastern and Southern Africa.
For the past eight years, she has shared her experiences as both a survivor of genocide and as a refugee. Wamariya received her BA in Comparative Literature from Yale University and is on the board of Women for Women International and was appointed by President Obama to the U.S. Holocaust Museum Board. She is also an advisory board member at Refugee Transitions.
Recent Posts by Clemantine Wamariya
Clemantine Wamariya, who at age six fled the Rwandan genocide with her sister, spent seven years wandering central Africa as a refugee, eventually coming to the United States and succeeding by every conventional marker. Judges called the piece "clear-eyed," "tremendously insightful," and "gracefully and honestly told." Originally published by Matter in June, 2015.