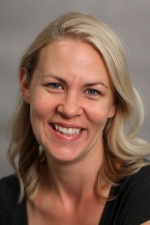 Renée Jones Schneider is a multimedia journalist at the Star Tribune. She was born in Dublin, Ireland, and as a child moved to Minnesota with her parents. She attended St. Olaf College, majoring in studio art. Halfway through that major she discovered photography during two overnights on a documentary project at St. Paul's famous Mickey's Diner. 
For the past 15 years at the Star Tribune, Jones Schneider has covered some of its biggest assignments. Her video and photography work on the 2014 project "Bees on the Brink" won several awards, including best explanatory reporting by a large news organization from the Online News Association, and best documentary in the National Press Photographers Association Best of Photojournalism Awards. She won two regional Emmy awards for videos on radicalization prevention and farming accidents, and she was named Journalist of the Year by the Minnesota Chapter of the Society of Professional Journalists in 2016. She won a World Press Photo award in 2005. She has also worked for the Owatonna People's Press and the Faribault Daily News. 
She lives in Savage, Minnesota, with her husband, Todd, and their four children.
Recent Posts by Renée Jones Schneider