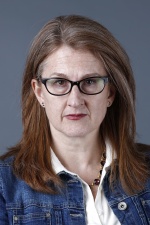 Jennifer Bjorhus covers the environment for the Star Tribune. During her 12 years with the company, she has covered business and criminal justice as well as been an investigative reporter. She was a reporter on the newspaper's 2018 "Denied Justice" series about systemic failures in the criminal justice system's response to reported sexual assaults in Minnesota, a Pulitzer finalist and winner of a Sigma Delta Chi Award from the national Society of Professional Journalists. Her projects on police use of force and on discipline by the state's police licensing board won national awards including the Al Nakkula Award for Police Reporting and a National Headliner Award for investigative reporting. Jennifer was named Journalist of the Year in 2018 by the Minnesota chapter of the Society of Professional Journalists. She started in journalism as a general assignment reporter at the Seattle Times and covered a range of business beats at the St. Paul Pioneer Press, the Oregonian and the San Jose Mercury News. A native of Minnesota, she graduated from Carleton College in 1986 and the University of California-Berkeley in 1994 with master's degrees in journalism and Asian studies. She lives in St. Paul with her husband, Ranjit. They have two sons.
Recent Posts by Jennifer Bjorhus
Judges called the coverage of the killing of George Floyd and its aftermath "outstanding" and applauded the team for "helping readers understand that trauma doesn't end easily or soon, but when addressed properly, it can become a catalyst for major change." They described the long-form narrative, "George Floyd's Search for Salvation" as "gripping" and "powerful" "where a symbol and a martyr became a man," and called it "the definitive George Floyd story." Originally published by The Star Tribune between May and December, 2020.