Anna Boone
Digital designer and journalist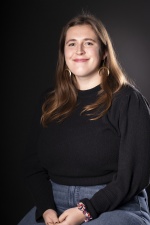 Anna Boone is a digital designer and journalist at the Star Tribune. Since joining the company in 2017, she has worked on a variety of enterprise projects, including investigations into police handlings of sex assault cases, the events that led to the destruction of a police station, breaking down body camera footage from Daunte Wright's killing and creating a visual timeline of the week after George Floyd's death that changed the world. Previously she interned in Denver, doing print news design, and London, doing web design and writing. Boone attended Indiana University where she majored in journalism with a focus on graphic design and worked at her college newspaper all four years.
Recent Posts by Anna Boone
Judges called the coverage of the killing of George Floyd and its aftermath "outstanding" and applauded the team for "helping readers understand that trauma doesn't end easily or soon, but when addressed properly, it can become a catalyst for major change." They described the long-form narrative, "George Floyd's Search for Salvation" as "gripping" and "powerful" "where a symbol and a martyr became a man," and called it "the definitive George Floyd story." Originally published by The Star Tribune between May and December, 2020.