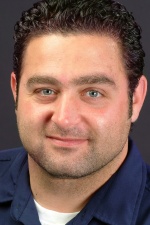 Ricky Carioti joined The Washington Post as a full-time photographer in 2005 after having been a freelancer and part-time staff photographer for The Post since 1998.  
The 2011 Pulitzer Prize was awarded to Carol Guzy, Nikki Kahn and Ricky Carioti for their up-close portrait of grief and desperation after a catastrophic earthquake struck Haiti.
He was born in Washington, D.C., to parents who immigrated from Italy in 1964. He grew up in the Maryland suburb of Hyattsville and graduated from Northwestern High School. Carioti is fluent in Italian. After stints at Prince George's Community College and the University College at the University of Maryland, he began working as a carpenter's apprentice, pizza delivery man and automotive parts rebuilder, and at several bars.
Carioti started in photography in his basement, where his father, for whom photography was a hobby, had a full darkroom and other camera equipment. That led to a job shooting school yearbook photos for a company in Baltimore before beginning freelance work for the Associated Press in 1995
Recent Posts by Ricky Carioti