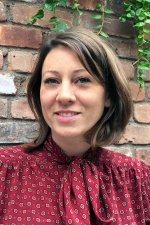 Tara Eisenberg joined Gehl Institute in 2017 as Program Manager to lead projects that drive the organization's mission to transform cities through prioritizing decisions about public life. She works collaboratively with the team to grow the organization and amplify its impact. Prior to joining Gehl Institute, Eisenberg worked at Rebuild by Design, an organization reimagining how communities and government work together to solve complex, urban problems. At Rebuild, she managed ongoing research projects, including facilitating a longitudinal survey on the long-term health effects for communities that self-select to move away from high-risk geographies. She also worked directly with cities and local NGO's to develop processes for creating more resilient building codes and educating and planning for sea level rise. She is a lifelong New Yorker who received both her BS and MA degrees from NYU's Steinhardt school.
Recent Posts by Tara Eisenberg
Full video and powerpoint presentations from "What Makes a Child-Friendly City? ECD-driven urban design"; June 30, 2018.