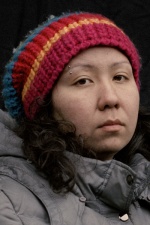 Emine Ziyatdinova is a Ukrainian photographer living and working in Kiev. She works both for herself and as a translator and assistant ("fixer") for foreign journalists. Her photo essay on being Crimean Tatar, published in The New York Times, describes the uncertainty experienced by a community that was forcibly exiled under Stalin in the 1940s and only returned to their homes after the fall of the Soviet Union.
Recent Posts by Emine Ziyatdinova
When journalist Emine Ziyatdinova, a Crimean Tatar, returned to Ukraine earlier this year, she found herself covering a conflict that left one of her friends dead and forced her to conceal her identity. "I loved Ukraine," she said. "But I don't anymore." A Q&A with Alan Chin.