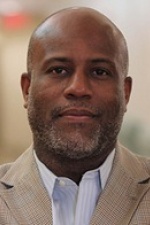 Garry Pierre-Pierre is a Pulitzer Prize winning, multimedia and entrepreneurial journalist. He is the Executive Director of the City University Graduate School of Journalism 's Center for Community and Ethnic Media and the co-host of the show Independent Sources on CUNY TV.
Pierre-Pierre is the founder and publisher of The Haitian Times, an award winning English language newspaper based in Brooklyn that is considered one of the most important news sources for the Haitian Diaspora.
Pierre-Pierre spent six years as a staff reporter at the New York Times where he covered the New York Metropolitan area with special assignments in Africa and the Caribbean. He was a member of the team that won the Pulitzer Prize for spot news for the New York Times coverage of the 1993 World Trade Center Bombing. Prior to that Pierre-Pierre was a reporter at the South Florida Sun-Sentinel and the Lakeland Ledger. A native of Haiti, Pierre-Pierre is the author of 30 Seconds… The Quake that destroyed Haiti, a book of photography that illustrates the wreckage of the January 2010 earthquake across Haiti.
Recent Posts by Garry Pierre-Pierre
In this video, Alia Malek and Garry Pierre-Pierre explore best practices in reporting on immigrants and refugees, and share tips for journalists who are not working in ethnic media.