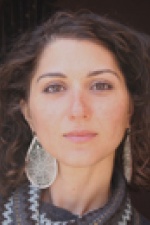 Alia Malek is a journalist and civil rights lawyer. She is the author of A Country Called Amreeka: US History Re-Told Through Arab American Lives and editor of Patriot Acts: Narratives of Post 9/11 Injustices. Her reportage has appeared in several places including the New York Times, The Nation, the Christian Science Monitor, Jadaliyya, McSweeneys, and Guernica. 
Born in Baltimore to Syrian immigrant parents, she began her legal career as a trial attorney at the US Department of Justice's Civil Rights Division. After working in the legal field in the US, Lebanon, and the West Bank, Malek, who has degrees from Johns Hopkins and Georgetown Universities, earned her master's degree in journalism from Columbia University. 
In April 2011, she moved to Damascus, Syria and wrote anonymously for several outlets from inside the country as it began to disintegrate.  In November 2013, she was honored with the Marie Colvin Award for her reporting from Syria. She returned to the US in May 2013 for the launch of Al Jazeera America, where she was Senior Writer until October 2015.
She is currently the Puffin Foundation Writing Fellow at The Nation Institute and at work on a narrative non-fiction book about Syria, a memoir of family, house, and country. In 2015, she completed a residency at the MacDowell Colony. 
Recent Posts by Alia Malek
In this video, Alia Malek and Garry Pierre-Pierre explore best practices in reporting on immigrants and refugees, and share tips for journalists who are not working in ethnic media.

As revolutions spread across the Middle East in 2011, Syrian American author and Dart Fellow Alia Malek decided to leave New York and move to Damascus, where her family had a home. In an interview with the Dart Center, she talks about the Syrian media, misunderstandings about the conflict, and living undercover. With photos by David Degner.