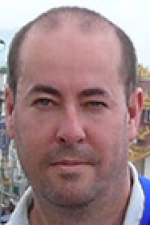 Jon Stephenson is a foreign affairs producer and correspondent for TV3, one of the two major news channels in New Zealand. A former print journalist, Jon has focused much of his reporting since September 11, 2001, on issues and events associated with the Bush Administration's so-called "War on Terrorism," including the US-led invasions of Afghanistan and Iraq and the 2006 Israel-Hezbollah war.
In addition to assignments in places such as Gaza, Zimbabwe and East Timor, Jon has reported on natural disasters like the 2004 Asian tsunami, the 2005 earthquake in Pakistan and the recent earthquake in China's Sichuan Province.
Recent Posts by Jon Stephenson
Mata'afa Kene Lesa woke up in heaven Sept. 19 and found himself in hell. When a tsunami struck Upolu, one of Western Samoa's two main islands, Lesa – the editor of Samoa Observer – was one of the first local journalists to respond, racing to the affected area to be met by scenes of death and devastation.