148 Killed in Attack on Kenyan University
April 6, 2015
An Al-Shabab terrorist attack on a university in Garissa, Kenya, left 148 people dead, including 142 university students.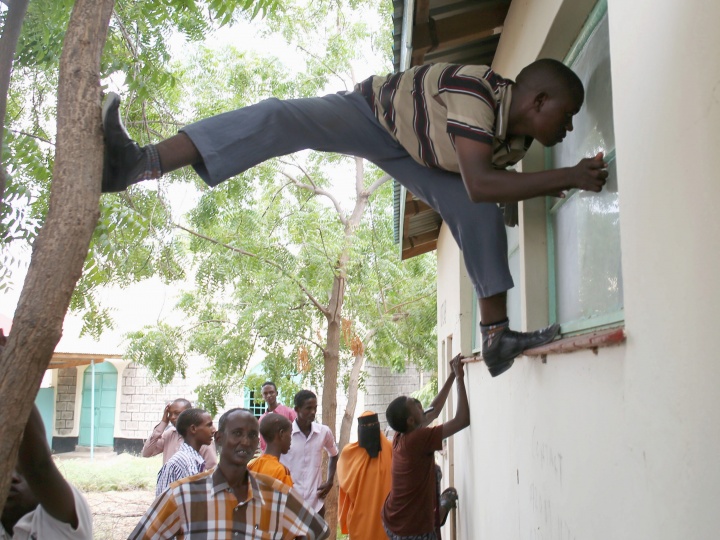 Gunmen from Al-Shabab, an Al-Qaida affiliate based in Somalia, killed 148 people at a university in Kenya on Thursday in the East African country's most deadly terrorist attack since the 1998 bombing of the United States Embassy in Nairobi. The militant group targeted Christian students at the progressive public university just 90 miles from neighboring Somalia.
"The problem is because it's located not too far from the border, it's quite easy for the Shabab to operate in this part of the country," said freelance journalist Murithi Mutiga, speaking from outside of a Nairobi mortuary. "A lot of criticism is now coming in to the authorities based in Nairobi for failing to do more to protect the students and to protect citizens more generally."
"Thought must be put into how to stop this from recurring and how to tackle what is clearly a major regional nemesis," added Mutiga, who has been covering the attack's aftermath for The Guardian.
This is the second major attack in Kenya that Al-Shabab has claimed responsibility for in the last two years. In 2013, they stormed the Westgate Mall, Nairobi's largest shopping center, and killed 67 people, injuring 175 more over a four-day period. 
Kenya's president, Uhuru Kenyatta, vowed to respond "in the severest way possible" to the massacre at the university. On Monday, Kenyan fighter jets bombed two Al-Shabab training camps in Somalia.
The Dart Center has tips and resources for journalists covering tragedy on this scale:
COVERING MASS KILLINGS
Psychiatrist Frank Ochberg, M.D. and Bruce Shapiro, executive director of the Dart Center, share insights on covering mass killings in the aftermath of the Arizona shooting that left six dead and a U.S. Congresswoman grievously injured.
Reporter Dave Cullen's lessons from a decade of reporting on the Columbine attacks.
A self-study unit on covering terrorism.
A compilation of journalist-to-journalist advice.
Professor Meg Moritz shares four lessons on covering school shootings.
Quick tips on working with victims and survivors from Dart Centre Asia Pacific.
Resources for Covering Mass Shootings: Reacting to the 2010 Cumbria Tragedy, the Dart Center's Gavin Rees reflects on the story and offers resources for journalists.
In a piece for Walkley magazine, the Dart Center's Bruce Shapiro points to some of what we've learned from covering mass shootings.
In this video James Grimaldi, staff writer at the Wall Street Journal, talks about how to investigate gun sales.
For those who read German, Gisela Mayer, the mother of victim of the school shooting in Winnenden describes her family's experience of finding itself subject to media attention. 
COVERING CHILDREN AND TEENAGERS
Quick tips for interviewing children.
The Dart Center's comprehensive guide, "Covering Children and Trauma."
The National Child Traumatic Stress Network's resources on responding to a school crisis, suggestions for educators, suggestions for talking to children, tips for youth talking to journalists, parent guidelines for helping youth, age-related reactions to a traumatic event, and psychological impacts to consider following a recent shooting.
Substance Abuse and Mental Health Services Administration's Tips for Talking to Children and Youth After Traumatic Events.
American Psychological Association's guide to help children manage their distress following a school shooting.
A fact sheet on the effects of trauma-related news media on children.
An overview of current research on the impacts of media coverage of tragedy on children.
Oklahoma University's Terrorism & Disaster Center
ADVICE FOR YOUTH JOURNALISTS
A series of resources on covering school shootings, with lessons from student journalists who covered shootings at Northern Illinois University and Virginia Tech.
ADVICE FOR EDITORS
Dart Center Executive Director Bruce Shapiro passes on lessons for newsrooms learned from the Virginia Tech shooting.
Quick tips on how to support your reporters.
SELF-CARE
Quick tips on self-care from Dart Centre Asia Pacific.
Self-care advice from an editor who's been there.