Johanna: Facing Forward
This nine-part series tells the story of a teenage relationship turning to obsession and abuse, and a strong young woman recovering from a horrific act of violence. Originally published in the Cleveland Plain Dealer in September, 2007.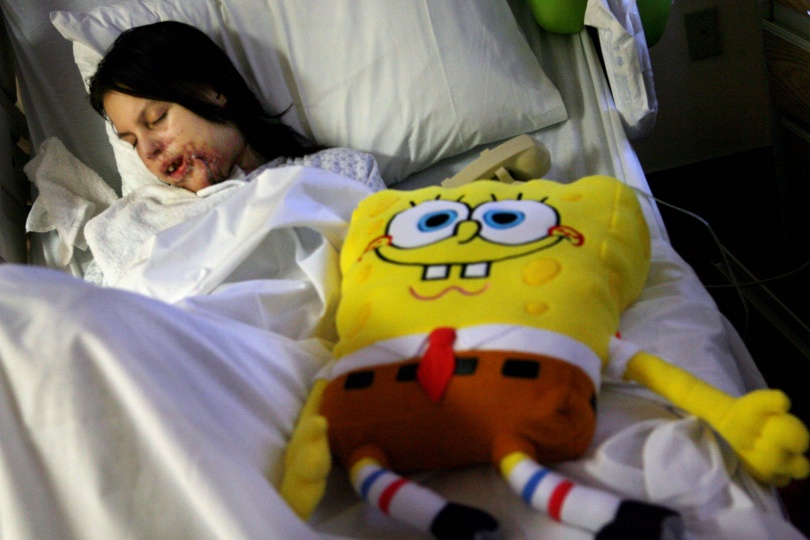 Johanna Orozco's grandmother clasped a bath towel to the darkening pit where the 18-year-old's jaw was supposed to be.
Blood seeped through the older woman's worn fingers.
A rusty-edged Honda Accord bulleted them toward MetroHealth Medical Center, blowing past corner bodegas, sagging wooden porches, 10 stop signs and three traffic lights.
The Orozcos' longtime neighbor, Maritza Santiago, never let off the horn.
Afternoon rush-hour traffic on West 25th Street parted biblically.
Vamos a hacerlo ... We're going to make it, shouted Santiago, glancing at the normally chatty teen in the passenger seat.
Johanna's delicate hands rested on her lap.
Her long and slender fingers were spread and her nails, painstakingly painted a few days before, burst with green, purple, blue and yellow.
It was March 5, more than two months before senior prom, but just a day earlier she was modeling a shimmery brown dress that she had picked out for the dance. Soon her class -- Cleveland's Lincoln-West Class of 2007 -- would be measured for their caps and gowns, in cardinal red and fresh snow white.
For Johanna to reach those milestones took remarkable resolve for the teen, barely over 5 feet tall with cherubic cheeks and a giggle that sometimes ends in a snort. She was a child in an immigrant family. Her struggling parents both died young, jarring her reality just as she was becoming a woman.
It would have been simpler for her to succumb to the streets, giving in to the gang and drug culture that reigned over her Cleveland neighborhood. But Johanna plowed ahead, confronting each obstacle in her daily life. She poured her hurt into poems and journals that she tucked in a bedside drawer. Her personal turmoil stayed hidden behind her smile.
Then she fell for a boy.
He was the reason Johanna was in the speeding car, with her grandmother trying to steady her wobbly head from the back seat.
Johanna's face was shattered; her heart ached.
Did he do this to you? Did Juan do this to you? her grandmother shouted in Spanish.
Johanna tilted her head up slightly, and then down.
Bastard. How could he do this? Juanita spat.
Johanna begged God to keep her alive. If it was her time, she bargained, at least let her join her parents in heaven.
Santiago's car screeched in front of the glass-walled emergency room, the bumper hugging the curb. If the car would have fit, she would have plowed through the doors.
She ripped past patients with colds and cuts and barged into the long emergency department corridor. Santiago screamed that her neighbor was in the car.
She's shot in the face.
Doctors and nurses bolted toward the door.
Johanna leaned on her grandmother, trying to walk herself in. Nurses lowered her into a wheelchair.
She was whisked into an emergency bay, a room lined with shelves and drawers full with sterile tubes, needles, and bandages -- each neatly labeled in block letters.
A huddle of doctors examined the flaps of skin and tissue hanging from Johanna's head. They needed to get a tube down her throat before it swelled and closed, cutting off her breath.
The doctors saw a manifest of violence created by peppercorn-size pellets that had ripped into her. They didn't know why Johanna's lower face had been blown off. They didn't have time to ask.
Only Juan Ruiz could answer that.
When police showed up at Juan's house a half-hour after the ambush that afternoon, accusing him of shooting Johanna, he laughed.
It was just a coincidence, he told them, that they had found shotgun shells in his garbage along with his black clothes and new Timberland boots. He had been home playing video games.
Later at the police station, Juan insisted that Johanna had set him up, framed him for rape, but that he didn't shoot her.
"Find whoever did this," he told them.
At the emergency room, needles pierced Johanna's vein and two spurts of medicine followed.
One made her sleepy; the other kept her still.
A doctor sliced Johanna's jeans and zip-up hoodie from her body.
Johanna remembers trying to mouth:
I don't want to die.
She didn't know if anyone heard her.
Since she was a little girl, Johanna knew her mother was dying.
In 1998, when Johanna was 10, Carmen Orozco had a kidney transplant. Johanna's paternal grandmother, Juanita, was the donor.
Carmen's recovery was rough. And it was nearly impossible to pay the $1,000 a month for the anti-rejection drugs Johanna's mother was supposed to take daily. Johanna's father, Alberto, earned too much for the family to get help with the cost.
The burden was crushing him.
His wife would never get better. If she saw her children graduate from high school, it would be a victory.
Johanna helped cook, clean and dress her brother, Kevin, who was two years younger. The kids often subsisted on Taco Bell and McDonald's when Carmen was in the hospital.
Alberto Orozco, a man with an athletic build and unruly black hair, sweated out some of his stress playing soccer in a league he helped found at a West Side recreation center.
Often, Johanna would get up early on Saturday mornings to help line the field and set up the goals.
But her father also drank.
Johanna's parents fought, almost always when her dad was loaded. Sometimes he slapped her mother. Once, her dad came home staggering. His clattering woke Johanna and she stepped silently down the stairs to see her Aunt Hilda videotaping him. Hilda wanted her older brother to see how foolish he looked.
Don't you care about how you act in front of your daughter? she pleaded.
I don't care, Johanna heard her dad say.
The drinking and abuse upset Johanna but she was still a daddy's girl.
Johanna watched "Star Wars" and "Rocky" VHS tapes from her father's lap. Her dad sparked Johanna's obsession for writing with ink pens in vibrant greens, pinks and purples. He bought them as rewards for her perfectly practiced handwriting.
When she was 11, Johanna visited her father's native Guatemala. Seeing the extreme poverty and the skinny boys who shined shoes for pennies made her cry. Johanna left all her clothes behind for the children in the town.
When she returned to Cleveland, her own family was destitute.
Her parents couldn't keep up their house payments and the bank foreclosed.
The family of four squeezed into the home of Alberto's parents, a mustard-colored double on Newark Avenue, near the towering St. Rocco Catholic Church, on the near West Side.
Aunt Hilda and her four kids lived upstairs. Johanna's great-grandmother also lived there.
In the summer of 2001, Johanna's mother decided to join her sister, who lived 10 hours away in a rural southeastern Tennessee town. Carmen's sister had convinced her that she might be able to get a new kidney there.
Johanna went with her mother. Kevin stayed with their dad.
Johanna, who was 12, didn't want to leave her friends; she didn't want her family to split. She obeyed her mother but refused to speak to her for a month.
The two had never been close, anyway. Johanna resented being responsible for her brother all the time. She viewed her mother as weak, not only physically but because she had tolerated abuse.
Away from the city, though, tucked in the rounded mountains of Tennessee, mother and daughter bonded. They chatted like girlfriends about boys and life and complained about the vegetarian fare Carmen's sister served.
Less than two months later, the family was reunited.
A letter Johanna wrote to Aunt Hilda's oldest daughter prompted her father to head south. She bragged that an older boy from church liked her. Hilda convinced her older brother that he needed to protect his flor florecedora, blooming flower, before someone plucked her.
Alberto promised that he would drink less and keep his temper. He landed a job building frames for mobile homes. Soon he was promoted to foreman.
The tree-covered slopes in Ooltewah, Tenn., reminded Johanna's father of his Guatemalan home, Coatepeque, a village tucked in a mountain range near the Naranjo River, where coffee and fruit thrive better than the people who live there.
Together the Orozcos visited Tennessee landmarks with fairy-tale names such as Ruby Falls and Lookout Mountain.
When Johanna's mother was too weak to travel in mid-2002 because of her dialysis, the family played cards and danced.
There were occasional fights, but not like before.
Carmen needed another kidney badly. Johanna offered but, at 13, she was too young to donate.
One fall day that year, as Carmen's toxin-cleansed blood flowed back into her body during dialysis, she had a stroke.
She was 34.
As her mother lay in a coma, Johanna massaged her legs, read to her and played her favorite Mexican balladeer, Juan Gabriel.
Doctors finally told the family Carmen was not going to wake up. Johanna's father decided to let them unplug the machines keeping her alive.
It took four days for her to die.
Johanna stayed at her mother's bedside, wearing a shirt that held a whiff of jasmine and peaches from her mother's favorite perfume, Estee Lauder's Beautiful.
But inside, Johanna was seething.
How dare she give up and leave me and Kevin, Johanna fumed. She thought her mother didn't try hard enough to live.
Johanna couldn't understand that her mother had accepted her fate. For years, Carmen had been telling her husband's two sisters that she wanted Johanna to have a quinceanera -- a traditional 15th-birthday celebration -- with a puffy princess dress. That she wanted her daughter to graduate from high school, not drop out as she had. And that when Johanna married, she wanted it to be a church wedding, not a courthouse wedding like hers.
At the funeral home just before her mother was cremated, Johanna's father had to drag her away as she flailed and cried. She was angry that her mom was taken just as she had learned to appreciate her.
They buried her mother in a nearby cemetery just over a ridge from a plant that has produced Little Debbie snack cakes for 70 years. The breeze that drifted over the gravesite smelled like individually wrapped Honey Buns.
Carmen's flat, steel-colored marker -- at the top of a grassy slope, shaded by the waxy leaves of an elaeagnus tree -- shouted her heritage. The red, white and blue of the Puerto Rican flag with its single star waved from a corner.
Johanna's father bought a plot there for himself. He told his family that even if he remarried, he wanted to be buried in Tennessee, next to his queen.
Four days after her mom was buried, Johanna begged her dad to let her go on a church camping trip.
Stay with me, he pleaded as they argued. Johanna needed to get away, to be up in the mountains she had come to love.
Her father relented and dropped Johanna off in the church parking lot.
I love you so much, he told her, kissing her on the forehead.
The next day, Johanna was on a hill with the other teens singing religious songs.
There was an emergency. She needed to head down to the camp.
Is it Kevin? Is it my dad? she thought.
At the bottom of the hill, Carmen's sister and her two sons were waiting.
Johanna's clothes and gear were packed.
"What's wrong? What happened?" Johanna asked.
Her aunt hugged her tight and said her father had been in an accident.
Is he OK? Johanna asked.
No. He's dead, her aunt said.
Johanna's father had fallen asleep while driving home from a meeting of a soccer club he had started in Tennessee.
Minutes from his home he crashed into two saplings, then a large tree. He was 35.
Johanna had lost two parents in 11 days.
When she got home, Johanna wiped her tears, so her family wouldn't see them. She blamed herself for her father's death, believing she should have stayed with him to mourn. Johanna looked skyward and promised her parents that she would take care of her brother. And that she would graduate from high school and college to make them proud.
Her grandparents wanted to bring their son's ashes home to Cleveland. But Johanna begged them to keep her parents together, in the spot her father had just picked, in the place their family had been happiest. Her pleas prevailed.
Alberto was buried next to Carmen.
Johanna designed her father's marker.
In a the corner, a sky-blue and white Guatemalan flag danced.
Johanna moved back to Cleveland, to her grandparents' home. The Guatemalan culture that kept her family close-knit also dictated that she mourn her parents for a year.
That meant her quinceanera had to be put off until her 16th birthday.
At first, Johanna faltered on her promise to her parents to be strong and mature. She floated through school in a cloud.
She went to parties where people drank, smoked pot and lost themselves in the thumps of Latin rhythms.
One night, Kevin saw she was tipsy when she came home at her curfew time. I hate it when you're drunk, he told his big sister.
Feeling guilty, she swore she would stop. Kevin didn't need to lose her, too.
Johanna threw herself into school activities, the Latin Dance ensemble and Drama Club. She planned on a calm summer in 2004, hanging out with her cousins and friends. One evening, Johanna was out in the neighborhood and went out with a friend to meet the girl's boyfriend.
The boyfriend's younger half brother showed up, too. Johanna knew him from elementary and middle school.
He had been shy but funny then. But she knew he had started to get into trouble as he got older.
At 16, a year younger than Johanna, he was tall and lanky with the deep voice of a man and the acne of a teen. They hugged and sat on the front porch catching up.
Can I get your number? he asked.
No, Johanna answered coyly.
She told Juan Ruiz she'd get his number later.
---
A Tender Bond Turns Abusive
Johanna Orozco and Juan Ruiz had known each other since second grade, when they attended Walton Elementary School together. They stood next to each other in a school picture, and waved in passing, but they were never close before high school. For months, after a chance meeting in the summer of 2004, they talked on the phone, on and off.
At first they chatted, laughing about memories from their grade school years. But the conversations eventually deepened.
Both high school students shared hurtful pasts. Her parents were dead and his were divorced. His parents' split had upset Juan, his grades dropped and he started getting into fights at school. His mother took him to see a counselor and he was later prescribed pills to help his moods.
Johanna and Juan were each looking for a fresh start.
He asked her to a movie. It was a Samuel L. Jackson flick called 'Coach Carter.'
But first, Juan had to pass the grandparent test.
Wosbely and Juanita Orozco were protective of their two parentless grandchildren. They had strict curfews and rules for Johanna and her younger brother, Kevin.
The couple came to the United States from Guatemala in 1985 to escape poverty and growing violence.
Juanita, a sturdy woman who has both a dagger glare and a deep belly laugh, walked most of the way to Mexico alongside highways.
Her husband, Wosbely, a short man with caring eyes, joined a few months later with their children Alberto, Hilda and Miriam. They hid in barns along the way, ducking immigration officials as they were guided from Mexico to the United States.
They eventually all gained legal status. But their ties to Guatemalan tradition and their hometown remained solid.
For decades, Juanita has collected gently worn clothes and toys from her grandkids and neighbors to ship home in oversize moving boxes.
Wosbely, who didn't own a pair of shoes until he was a teen, remembers soaking corn kernels in liquor as a boy and feeding them to a farmer's chickens so they wouldn't squawk when he stole them to feed his family. Here, he worked tirelessly in a suburban factory that makes air conditioner parts to provide for his family.
To gain the grandparents' respect, Juan came to them properly and asked permission to date Johanna. He met with them in their sparse living room on Jan. 30, 2005. Juan, who is a year younger than Johanna, was jittery but neatly groomed with a fresh haircut and shave.
Juan knew to greet Wosbely with a firm handshake and Juanita with a kiss on the cheek.
The Orozcos had reservations about Juan. His family situation was broken and he admitted to them that he had done drugs.
But meeting Johanna had given him a purpose, he said. He was working two jobs, at a bakery and in construction.
He occasionally cleaned bank offices. Juan talked about wanting to go into the military.
Johanna's grandparents felt he was sincere and gave permission for the two to date. Wosbely handed Juan a stone and repeated an adage in Spanish: 'Never pass through where there is a rock because you're going to fall. Pick the clean road, not the dirty one.'
*****************
That night, Johanna and Juan shared their first kiss. Johanna liked the way Juan treated her. He was caring and trusting. He bought her chocolate, perfumes and a cuddly Care Bear. They strolled hand in hand up Johanna's street, a mixture of wellkept and deteriorating homes. They often stopped at the corner store for chips and pop.
Once they began dating, the teens quickly became inseparable. When they weren't together they were on the phone. Juan's mother, Candida, even disconnected her phones at night so they wouldn't stay up late chatting.
Both Candida and Johanna's grandparents worried the love-struck teens were moving too fast. They encouraged them to be patient.
But Johanna and Juan wouldn't listen.
Johanna's journal was covered in hearts, flowers and girlish flourishes - all symbols of young love. Inside the hardcover book, she neatly jotted a favorite quote: 'You can't marry someone you can live with, you marry someone you can't live without.'
Johanna pushed Juan to do better in school. He transferred from John Marshall High School, where he had gotten into trouble, to Lincoln-West, where Johanna was heading into her junior year.
They acted in plays together, including 'A Christmas Carol,' where she played Bob Cratchit's daughter, and he played the ghost of Jacob Marley.
As the couple got closer over the next year, Juan began to grow demanding. He needed to see Johanna every day. Juan accused her of flirting with other boys. Johanna ignored rumors that he was cheating. The two often fought, broke up and were back together the next day.
By spring, the line between love and obsession had worn thin. On March 30, 2006, Johanna put her hurt about Juan in her journal: 'My heart is really sad right now! Today, Juan had pushed me and called me a bitch. . . I don't understand why he turned out this way. . . I really do love him.'
Johanna needed the relationship to work. She couldn't bear losing another person she loved.
But pushing soon turned to armtwisting - then kicking, once so hard it left a permanent mark on Johanna's leg.
As she chronicled her injuries in her journal, Johanna tried to grasp what had changed.
The perfect loops and curls of handwriting that Johanna's father had taken pride in became sloppy and desperate-looking.
Johanna would vow not to call Juan, only to break down. He would ignore her attempts.
'I hate him I hate him,' she scrawled in inch-high letters in late June of last year.
******************
Johanna hoped that Juan would change, as her father had.
Her Aunt Hilda had doubts. Juan didn't look her directly in the eye. She noticed he was polite and mannerly in front of Johanna's grandparents but cussed and carried himself with a swagger when they weren't looking.
Once when Hilda and Johanna went to the mall, Juan called Johanna's electric-pink cell phone dozens of times.
Where are you? he demanded to know.
At the mall with my aunt, Johanna said. We're leaving.
Minutes later he called again.
Where are you now?
On our way home.
You should be at Snow Road already.
Hilda told Johanna to turn the phone off - or she was going to toss it out the window.
He doesn't own you, she told Johanna.
But Johanna's favorite aunt knew how hard it was to leave. She had stayed in a combative marriage for years struggling with the same feelings. Hilda knew how easy it was to come up with reasons to stay, how hard it was to walk out the door.
Her niece had to come to the decision to leave on her own.
By the late fall of 2006, Johanna had had enough.
On Nov. 27, the day before Johanna's 18th birthday, Juan was suspended from school for having a loaded gun in his backpack.
Juan voluntarily handed the .38-caliber revolver to a school security officer during a metal detector sweep. He told the guards the gun was for protection. Juan was expelled from school, though principals and students, including Johanna, signed petitions asking for Juan to be allowed to finish his senior year. Charges against Juan in juvenile court were dismissed after teachers wrote letters describing him as intelligent, charismatic and creative.
But with Johanna, his chances had waned. She told him she was sorry but unless he changed, their relationship was over. Johanna purged their shared MySpace page of Juan's pictures and name. The page was re-created to represent an independent Johanna: a bubbly and single woman who put family first.
A photo of her parents, Carmen and Alberto, became a focal point. Juan was referred to vaguely as someone Johanna loved, but wasn't with.
A month later, in January of 2007, Johanna gave him one last chance. Her friends begged her not to. They saw how carefree Johanna was without him.
That week, Juan was more obsessive than ever, trying to dictate her every move. She called Juan and cut the relationship off for good.
Johanna told her friends at cosmetology school, where she attended night classes, that she was relieved to be done with Juan. They made plans to go out and dance to celebrate.
I'm single, Johanna cheered.
Johanna was moving on.
But Juan would not allow it.
A few minutes after midnight on Feb. 16 he came to her bedroom window.
Johanna raised it to ask what he wanted.
Juan told her to stop talking so loud; he didn't want to get picked up for curfew. He climbed into her room.
Shut the f- up, he said covering her mouth.
He pulled two knives from his coat.
He held one to his throat.
Give me another chance, he demanded.
---
A Young Life is Shattered
Johanna closed her eyes, fearing for her family -- her brother, Kevin, and her grandparents -- sleeping just rooms away.
Juan told her not to make a sound. Or he would hurt them.
Juan held a plastic-handled kitchen knife across his neck, then hers.
Give me another chance, he begged.
The blade brushing just above her sternum persuaded her not to test him.
OK, Johanna promised, knowing it was what he wanted to hear.
Johanna stayed still in her twin bed, as Juan had sex with her.
As he kissed her, she tried not to throw up.
Afterward, he warned her not to tell.
She didn't plan on it.
But when Johanna went to school the next morning, she was meek and withdrawn.
What's wrong? her brother, Kevin, asked as they headed to school in the used Dodge Durango she had recently learned to drive.
Juan came over and held a knife to me and threatened to kill me, Johanna said. She didn't mention the rest.
At school, Johanna dumped the whole story on two close friends. They urged her to tell. The girls went to their senior class adviser and told her about the rape.
She took them to Principal Edward Muffet's office and he called the police.
Juan was arrested at White Castle, where he worked full time at the drive-through. He had been expelled two months before for bringing a gun to school. Before that, he was a student council and drama club member set to graduate from high school.
***********************
At MetroHealth Medical Center in emergency bay No. 14, Johanna chewed at the sides of her fingernails as a nurse swabbed her for evidence of rape. She plucked a strand of shoulder-length hair from Johanna's head, combed her pubic hair for evidence and scraped the underneath of her fingernails.
As she was prodded, Johanna worried. Not about herself but about her grandfather, Wosbely.
Don't tell Abuelito, she said to Aunt Hilda, referring to her grandfather.
He had a heart attack in 2006, and Johanna had overheard doctors saying stress could trigger another one.
Hilda understood Johanna's fears and she knew her father's reaction would be volatile. But he couldn't be kept in the dark. The rape had happened in his home.
Hilda picked him up and decided to drive around while telling him. That way he couldn't go anywhere, or do anything.
But Johanna's grandfather took the news calmly. He said after losing his son, he could bear anything. After the rape, Johanna's room, with its white-painted paneling and family pictures on the walls, didn't feel safe. She slept on the faded floral living room couch instead of her bed. A knife was tucked within reach.
Juan was locked up four miles away, in a building with concrete walls and bulky guards. That didn't stop him from finding Johanna. He reached out from a bank of pay phones, lining the walls of his unit in the Cuyahoga County Juvenile Detention Center.
Juan called Johanna's home three times from lockup, the first on the evening of his arrest. Johanna picked up and heard his voice. She shrieked and threw the cordless phone down.
Why can't he just leave me alone, she cried. He's done enough already.
***********************
On Feb. 20, just four days after his arrest, Juan was on the street again.
When Johanna went to give her statement to a sex crimes detective she asked: Is he still in jail?
Johanna had heard a rumor Juan was released.
The detective called the juvenile court and confirmed it.
It happens, he told Johanna, especially in cases of rape that are he said/she said.
Johanna was terrified. The detective called and asked officers to patrol around her house more often.
Court Magistrate Laura Williams had released Juan to house arrest. The county detention center was overcrowded. And after listening to the charges, she said he didn't pose a serious threat to the community.
During the hearing, Williams noted that the victim -- "alleged victim," she corrected -- was someone Juan considered a girlfriend.
"She was my girl," Juan retorted.
"Stay away from her," Williams shot back.
"I'll stay away from her, I promise, but --," Juan said.
"You don't have to say anything else," Williams said cutting him off.
Juan was fitted with a plastic ankle bracelet to monitor him.
It didn't keep him away from Johanna.
In little slips of time between leaving his White Castle job and when his probation officer expected him to be home, Juan dogged her.
Johanna knew he wouldn't let her be. To protect herself, she retreated to a second-floor bedroom in Aunt Hilda's house. Shadow, a stocky Labrador and pit bull mix, barked incessantly if a stranger stepped in the driveway.
Less than a week after Juan was released, on Feb. 24, he banged on Hilda's side door. The dog barked. By the time Johanna answered, he was gone.
Panicking, Johanna called her aunt, who told her and a cousin to get in the car and go to their grandparents' house just a few miles away.
As the girls sped down the street, they spotted Juan.
His back was turned and he was bent down as if he were tying his shoe. When Johanna pulled into her grandparents' driveway, she noticed the rear driver's side tire on her car was flat.
She called the police.
Breathless, Johanna answered the dispatcher's questions in a little-girl voice.
"Do you see him around the perimeter of your home?" the dispatcher asked.
"No, not yet, hopefully no," Johanna said shakily.
Two Cleveland police officers showed up at the house. They told Johanna and her family there was nothing they could do. They said nobody saw Juan slash the tire.
They told her to call the detective investigating her rape and left, without making a report.
The detective visited Juan at the White Castle a few days later with a warning:
Don't go near her.
***********************
Despite her fears, Johanna continued to go to high school during the day and cosmetology school at night. Her friends tried to cheer her up.
Johanna planned for prom, buying a dress that matched her brown eyes. That special night wasn't going to work out the way she dreamed, but she wasn't going to give it up.
On the morning of March 5, Juan asked a judge to let him off his electronic monitoring so he could make a visit to a local college.
The judge said no.
Instead, Juan went with his father to enroll at an alternative high school, where he could finish earning his credits to graduate.
Around 4:30 p.m., Johanna pulled into her driveway and headed into her grandparents' house.
She wanted to hop onto MySpace to chat with a friend before going to cosmetology school. She logged off the computer around 5:20 p.m., said goodbye to her grandmother, kissed her, and -- as usual-- let the side door bang on the way out.
Johanna loaded her large duffel bag, with all of her hairbrushes, sprays and beauty textbooks, into the back seat.
Hopping into the front seat, she put the keys in the ignition. Something moved to her left, outside the window.
Johanna glanced over.
It was a person. It was Juan, all in black.
His eyes locked with hers.
Juan lifted the sawed-off shotgun he had stowed in a pool cue case.
Johanna blared the horn.
Everything went white.
---
Time to Start Mending
Dr. Michael Fritz gulped the first time he saw Johanna Orozco's smooth face looking up at him from the front page of the March 11 newspaper.
Johanna, wearing a tiara and silky pink dress, had become Cleveland's princess in distress overnight as her pictures flashed across television screens. Stories railed that the system failed her. That teen dating violence was often hidden.
That wasn't his concern.
She was so beautiful, Fritz thought.
The lower half of the high school senior's face was now a mangle of bluish oxygen-deprived tissue pocked with rounded metal pellets. Bone fragments poked from where Johanna's jaw once was. The roof of her mouth was suspended with wires from a bone below her eye.
It was Fritz's job to piece the puzzle together.
Fritz, a facial plastic surgeon, planned to rebuild Johanna's face using "spare parts" from around her body -- a sliver of leg bone here, a vein, some skin and cartilage there.
Like a carpenter, he started with the foundation. The rest would come later.
The 37-year-old is a trailblazer in his field, known for reconstructing faces without sacrificing cosmetics.
Put simply, Fritz is not satisfied with a face that only functions.
Chewing, squinting and mustering a strained smile are a start. But Fritz wants the face of each patient to reflect a range of emotions -- from a subtle smirk to a stern stare.
Fritz's easy smile belies his cutting humor.
He lives in an older Rocky River colonial a block from Lake Erie. He doesn't drive a flashy sports car or play golf. He's more likely to be found at home after a dozen hours of surgery bathing his three young kids.
Fritz is the only son who walked away from the family produce business, a world where bananas are caressed to ripeness and potatoes are piled taller than two men.
During a morning run near the lake shore, Fritz looked over the water and images of Johanna's face flipped through his mind.
How would he fill the void in her face?
Past surgeries jogged through his mind.
How had he repaired those faces? Would it work for her?
Fritz culled his knowledge, plucking the best ideas to develop his blueprint.
Most of Fritz's patients have cancer. He knows that despite his meticulous repair work, they could still die. Other patients had a hand in their own fates. Some botched suicide attempts, other were shot during drug deals.
Johanna would live with her face -- his work -- for a long time.
Fritz found himself caring deeply about her future.
Something was different about Johanna. He noticed right away, before he knew the volume of tragedies that preceded the shooting.
Fritz was drawn by her energy.
She straddled the worlds of giggling girl and ripening woman.
Other young patients sulk in bed, letting their families do the talking.
Not Johanna. She scribbled on a dry-erase board -- she couldn't speak -- hurling questions in script. She also joked with Fritz, and razzed him. He teased her back.
Fritz would try to examine her when she was in a sedated twilight sleep. Then he could poke and prod Johanna without making her feel uncomfortable.
The doctor was confident he could fix most of what Johanna lost. He would start in a few weeks, on April 3, by using part of her leg bone and a metal plate to remake her jaw.
But "fixed" in the mind of an attractive 18-year-old is a high standard.
Maybe unreachable.
Fritz talked honestly with Johanna. He wields a scalpel, not a magic wand. Every cut he makes leaves another scar.
But Fritz made Johanna a promise:
I'm not done with you until you are done with me.
He knew it could take years.
Every day, people told Johanna she was lucky, that it wasn't her time to go or that God kept her here for something special. She liked to think two angels she called Mom and Daddy looked out for her that day in the driveway.
It seemed, at the very least, some force worked in her favor.
Juan had loaded several different types of ammunition into the shotgun.
Birdshot. Buckshot. Deer slug.
The peppercorn-size birdshot came out first, ripping into Johanna.
It didn't kill her.
But it was close.
One of the pellets skidded to a stop near her spinal cord. Another was millimeters from her optic nerve.The other slugs -- all of which packed more powerful blasts -- would have likely killed her instantly.
Johanna didn't feel lucky.
She was missing the best part of her senior year. Getting measured for a cap and gown. Flip-flopping on what hairstyle to parade at the prom. Signing yearbooks and posing for pictures with friends.
Instead, Johanna was stuck in a stuffy hospital room. She wore unflattering hospital gowns. She couldn't shower or wash her hair. The last thing she wanted to do was mug for pictures. She couldn't even feel her mouth.
Johanna spent her days jonesing for a tall, cool glass of water, or a slice of pizza oozing with cheese. Eating, her favorite pastime aside from dancing, was still weeks away.
In a journal, Johanna wrote she was staying strong for her family and friends. But she also was frustrated.
"I'm not going to lie," she jotted. "It sucks being in the hospital. . . . It's hard to know that most of your face is missing."
***************************
Not much longer than two weeks after she was shot, Johanna's room was already party central. More than a half-dozen teenagers lounged on chairs, tables and her hospital bed.
As they arrived, she hopped up to hug each one, her arms loosely encircling them, careful to protect the football-helmet-like bar fused to her face.
Stuffed animals and get-well cards were propped on a small table and a Lincoln-West Drama Club shirt hung in the window, scrawled with messages: "We love you Jojo."
She still wrote to her visitors, nurses and family on a dry-erase board the size of a medium pizza box.
At first, Johanna's writing was as wobbly as a first-grader's. She would write one letter on top of another, frustrated when people couldn't make out her words. Hardly the penmanship that was her father's pride.
By now her hand was flying across the board, leaving smears of bluish-purple ink on the meat of her palm.
"I really thank you guys for being here," she wrote to the crowd. "You guys mean so much to me."
Johanna motioned to her visitors to turn around. She used a hollow plastic tube to suck up the spit that pooled in her mouth, sometimes spilling over her numb bottom lip onto her gown.
"Sorry guys, this is nasty," she wrote. A nurse poked her head in to ask Johanna if she was tired. Johanna waved her away.
"Hey guys, look alive," she wrote, trying to joke with her friends as she used to, before looking at her made them uncomfortable. Her shoulders shook and her eyes blinked as she chuckled silently. Johanna's tongue, which she couldn't quite control yet, slid from the corner of her mouth.
"I'm still the same old happy Johanna here," she wrote. "Just in bed."
****************************
When Johanna got bored, during the long days she was confined, she often used the tan push-button phone in her room to tease her Aunt Hilda.
Hilda would answer her phone, as she worked cleaning houses, only to hear multitoned beeps.
Hello, Hilda would repeat. Who is this?
The wheezing sound of Johanna snickering through the air tube in her neck gave her away.
Hilda saw Johanna accept her reality in waves.
When Johanna first regained feeling on the tip of her tongue, she moved its wiggly tip around the inside of her mouth.
Teeth? Johanna wrote to her.
There's nothing that can't be fixed, Hilda responded that time and every time Johanna discovered a new defect.
She knew it would all hit her niece at some point.
While Johanna's face was nearly untouched above the crest of her nose, below it crusty red rivers snaked, bridged by stitches. The left corner of her lips curled inward, threatening to create a sneer where a smile belonged. Her left nostril looked melted.
Hilda, the mother of two girls and two boys, found it hard not to cry when she looked at her niece. That's how Hilda's emotions worked -- tears or punches. She came to Cleveland at age 13, not knowing the language. Kids she thought were friends actually laughed at her for her thrift-store styles. She was just glad to have more than one pair of shoes.
But they underestimated the power in her tiny 4-foot-11 frame.
Hilda fought her way through high school before dropping out in the 11th grade when she got pregnant. Though she took a bumpy road relationship-wise, Hilda had an inner compass that put family first. When Johanna's father died, Hilda stayed in Tennessee for a month caring for his kids before they returned to Cleveland. Her own kids felt ignored.
But she explained to them: It was the right thing to do.
In the hospital, Hilda fingered the gold-cross chain her brother had worn. Johanna had taken it from around her own neck and given it to Hilda, for strength.
Johanna's grandfather, Wosbely, visited her hospital room but only in short stints. He couldn't talk about the shooting, referring to it only as "that day" and "when this thing happened."
Johanna's grandmother, Juanita, walked the mile or so of uneven sidewalks to get there each morning, even in a cold drizzle. As others visited, she worked word puzzles in the waiting room.
But mostly, she kept vigil at Johanna's bedside.
"My baby, my baby," she murmured, stroking Johanna's arm or leg as she drifted into another nap.
Juanita stayed close as Johanna slept. Soon Johanna started to whimper. Something was invading her sleep.
From under a SpongeBob blanket, Johanna pushed downward. She was shoving something away, her arms flailed.
She moaned fitfully, her eyes shifting under their lids.
As she wrested herself awake, her grandmother was there to tell her:
"Todo va estar bien, Esté tranquilo." . . . "It's OK, Mami. Stay calm."
---
Surgery Begins to Shape Future
Johanna modeled a pair of movie-star sunglasses with rhinestones arched across the crest. Striking exaggerated poses, she shook her hips to a bumping beat coming from a metallic pink iPod sent to her as a get-well gift.
It was April 2, the day before her first big surgery. She had been at MetroHealth Medical Center for nearly a month.
A friend with long blond braids jumped up to join Johanna's dance party and a sack of Skittles slipped from her pocket.
Johanna snatched the pack, wiggling her fingers inside, plucking out a piece of red candy. She rubbed it against the tip of her tongue, smearing the sugary coating. Then she shrugged, shoulders drooping. She couldn't taste it.
Dr. Michael Fritz slipped through the sliding glass door into her room still wearing a surgical cap and booties. He had a break in the middle of a cancer reconstruction surgery and wanted to check in. Johanna giggled with her shoulders and her eyes. A new trend -- it happened every time the handsome doctor entered her room.
Fritz asked Johanna if she had questions about the surgery.
"Leg?" she wrote, on her dry-erase board.
"Left leg," Fritz told her, pointing to the spot where the incision would run below her knee and above her ankle.
"When can I drink?" she scribbled.
"In four or five days," Fritz replied.
Johanna pumped her fist in the air.
"When can I talk?" she asked.
"Same thing, four or five days," he said.
Another fist pump.
"That's good because I really like to talk and it's killing me not to," she wrote.
Last question.
"When can I get teeth?"
The blast took most of the teeth on the left side of her mouth and the rest were broken or rattled loose from her gums.
"That's going to take a few months," Fritz said, his eyebrows raised. The teeth will have to be individually screwed in. Johanna nodded, not happy, but accepting.
*****************************************
In the morning, Johanna's family held hands in a circle around her bed. It was still dark outside. They prayed in Spanish with Johanna doing her best to mouth the words.
She was groggy, not a morning person at all, but still remembered to thank the nurses who wished her well as she was wheeled from her room.
In the area where they prepare patients for operations, the only sounds were swishing curtains and nurses' squeaky shoes. Johanna's leg poked from under a knit hospital blanket, bobbing nervously.
"Are you Alexis Kennedy?" a perky woman with a ponytail asked Johanna.
Johanna shook her head no.
Looking shocked, the woman glanced down at the textbook-thick sheath of records that followed Johanna to her appointments around the hospital.
When Johanna was admitted to Metro, they gave her a fake name to protect her from unwanted visitors and keep her safe. The plastic band around her wrist bore that name.
Whenever nurses called out to the waiting room with updates for the "Kennedy family" Johanna's walnut-colored, raven-haired relatives laughed.
A doctor marked a purple line on Johanna's leg where Fritz would remove part of her fibula to mold into her new jaw.
"Next time, use lime green, it's my favorite color," she admonished.
A nurse with coifed hair and a white coat started an IV in her arm, a process that Johanna hated. Her veins were tired of being poked.
The woman wheeled her into the bright operating room to the Latin beat of Shakira.
People in the room started touching her all at once.
"You're like a rock star," the nurse told her, as Johanna drifted off.
The nurse lulled her with thoughts of beaches, of being able to drink Sunny Delight in just a few days.
"Now all you have to do is think good thoughts," the woman cooed in Johanna's ear. "And all the bad stuff will be behind you."
If only medicine could make Juan go away, too. He invaded her dreams still. Sometimes he was the Juan who had brought her presents, who loved her. It was unfair that he was allowed to be nice in her dreams. But when she was awake she constantly feared he'd find a way to finish what he started.
Shortly after 9:30 a.m., with Johanna's body draped in blue, sterile cloths, the football-style face mask was removed.
Fritz lifted Johanna's iodine-coated leg into the air, propping it onto his shoulder. He squeezed her flank in his palm.
Johanna has thick skin, Fritz said. He sees that mostly on patients who have diets padded with fast food.
Her face was opened with an incision at the crook in her neck, running from ear to ear. Four surgeons worked there with an array of tools, mini pitchforks, big scissors with white handles and clamps to ready the area.
Suddenly, surgery stopped. Fritz raised his head for the first time.
"OK. This is an emergency," he said.
"This is not my Enya," he said pointing to his iPod, hooked into speakers in the corner of the room, under a broken clock that only made time seem slower.
"Seriously," he said. "This isn't mine."
About 1 p.m., Fritz finally cut into Johanna's leg. There was no blood, because of a tourniquet tight above her knee.
Fritz's pattern to cut was shaped like a narrow heart, similar to the kind kids cut from red and pink construction paper on Valentine's Day. He sliced down, slowly, to the bone, using a saw a little larger than a motorized toothbrush to sever the flap of skin, tissue, bone and veins.
The surgeon fitted a titanium plate, reminiscent of something from a Terminator movie, to Johanna's face. He used a tool similar to needle-nose pliers to bend it into the shape of her jaw. The metal piece, serial number 449.663, was screwed down with 12 metallic purple screws the size of pen tips.
Fritz cleaned a 6-inch piece of fibula. He used pieces of a tongue depressor to make guides for cutting the bone into pieces.
Fritz worked the bone with his hands, snapping it, then honing it with a tool similar to one used for filing fingernails in a salon. The bone was then fitted underneath the metal plate.
After nearly 13 hours, the surgeons began to stitch Johanna's incisions.
The pieces came together like a puzzle, but some were missing.
At the last minute, Fritz decided to take a small graft, the size of an almond, from Johanna's left shoulder to prop up her bottom lip.
As he stitched, Fritz wondered aloud how Johanna would react to the surgery.
Many patients, especially younger ones, take a mental dive in the weeks following surgery, when they realize healing doesn't come quickly.
"This is when she could get depressed," Fritz said. "When she sees it."
Her face will be bloated for weeks. But Fritz's surgeon's eye saw the progress.
He prepared to talk to the dozen or more of Johanna's family members still gathered in the waiting room, though it was almost 11 p.m.
Fritz looked down, studying Johanna.
"That's actually not bad," he said. "For starters."
---
Heading Home, Yet Still Afraid
I want to go home, Johanna told her aunt on Easter Sunday, five days after the 13-plus-hour surgery that gave her a new jaw.
I give up.
Aunt Hilda gestured to the tangle of tubes that drained fluid from her niece's face and leg, her IV stand and her noisy suction tube.
If you go home, all this goes with you, Hilda said. It won't disappear.
The days since surgery had been miserable. Her face, swollen to three times its normal size, was tight and smeared with greasy antibiotics.
Saliva no longer stayed in her mouth, it cascaded onto towels used as bibs.
"I drool like a dog," Johanna complained.
She started to catch her reflection in glimpses. In the screen from her IV machine. In window glass as they wheeled her through the hospital for tests.
Mostly, she glanced for a moment, then looked away.
When Johanna was moved from surgical intensive care to another floor, they forgot to drape the bathroom mirror in her new room with a towel.
Johanna saw herself full on.
"I'm a monster," she cried.
********************************************
Johanna's progress wasn't measured in days. It was marked with triumphs and setbacks.
She was elated to greet her family on Easter by eking out a breathy hello for the first time in more than a month.
But disconnecting the air tube that helped her breathe made her dizzy and she threw up.
Then doctors allowed her a drink. It wasn't the orange juice she craved. It was apple juice and she drank it from a small syringe like an injured baby bird.
Hilda let Johanna's frustrations surface; wallowing was not allowed.
"Don't let this stop your life," Hilda, 34, repeated to her niece again and again. "Don't be a victim. Move forward."
And triumphs did come. Those days were the best.
For Johanna, the best was . . . The Shower.
After 41 long days of scrubbing with a scratchy washcloth, she reveled as the hot rivulets of water washed over her.
She used real shampoo and soap to slough off the sticky goo left from the tubes taped to her arms, legs and neck.
After the shower, Johanna limped down the hallway to her room with a crutch propped under each arm. Her dark hair was plastered to her head. She melted onto her bed with a sigh. Johanna was about three shades lighter.
"It was awesome," Johanna said as a nurse combed and parted her hair.
She giggled with anticipation.
Monday, April 16, was the day she was longing for. Propped up in bed, Johanna studied the lines of an emerald-green notebook.
She was working on a note that would be released to the media after she slipped unnoticed, she hoped, out of the hospital. The intense attention had made her nervous.
"How do I start it?" Johanna asked, looking at Hilda.
"Start it nice, with some thank-yous," Hilda suggested.
Johanna's message was gracious but direct. "Please give me the privacy that I need to recover from the surgery and my emotional state . . ."
In the morning, Johanna had a terrible stomachache.
It could have been nerves but more likely it was the mix of orange juice and milk she gulped down.
After another shower, Johanna got dressed.
Her normally healthy weight of 125 pounds had fallen, teetering around 100. Johanna mourned the loss of her hips and rounded rear. She wriggled into new jeans, size 3, and a black T-shirt.
Johanna dozed as last-minute visitors stopped by: a dietitian to teach her how to fill the tube in her stomach that helps feed her, a social worker with information on a victim compensation fund, and a psychologist Johanna waved away with a frown.
Hilda told her she may, at some point, want counseling. Johanna rolled her eyes. She was forced to see a counselor after her parents died and hated it.
At 1:30 p.m., Johanna perched on the edge of her bed, legs bouncing, when Dr. Michael Fritz waltzed in.
"You ready to get going?" he asked.
"Yes," she giggled.
Her surgeon bent down, examining her chin closely, eliciting even more giggles.
"You look good with real clothes on," he said, grinning.
Johanna put a ruby-red rosary around her neck. It was a gift from her best friend. And she cut off the hospital band, officially ending her reign as Alexis Kennedy.
Aunt Hilda sat down next to Johanna. They prayed.
"You survived your parents' death, you are strong. You survive this, you are stronger. I hope you get something out of this for the rest of your life. You still have a hell of a fight, Mija."
*******************************************
Redheaded Maritza Santiago, the family's longtime neighbor, swirled into the room, a tornado of chatter. She cuddled Johanna, handing her a bouquet of roses.
Johanna's grateful grandfather asked Santiago to do the honor of escorting Johanna home. Santiago's wild ride to the hospital on March 5 had probably saved her life. Santiago cut the tag off a pair of white sunglasses and placed them gently on Johanna's face.
"You ready?" she asked. "Let's get outta here."
Johanna climbed back into the front seat of Santiago's rusty Accord.
There was no sign of her previous ride.
"Today, we have to stop at the stop signs, OK?" Santiago said.
As they wove toward Johanna's new home, Aunt Hilda's house, Johanna was quiet. Just as before, her hands rested in her lap, still.
Her shoulders were hunched.
Santiago glanced over at her. Her grandmother, sitting in the back seat, asked, "You okay, Mami?"
Johanna mumbled.
They couldn't understand her.
She repeated, barely audible.
"Brings memories."
During the 13-minute ride, Johanna flashed back.
The shooting with no noise. The bleeding. Waking up confused.
The hospital had become her cocoon. Boring but safe.
Now, reminders of the fears she faced piled up. As the Accord, with its rumbling muffler, made its way along West 117th Street, the White Castle where Juan had served sliders flashed into view.
Johanna looked away.
Of all the uncertainty ahead, Juan was the biggest question mark.
He was locked up in the county jail, in a special pod with teens who had committed murders and armed robberies. The thought of facing Juan terrified Johanna.
She was also worried about retaliation against her family or friends. But there was something Johanna needed from him.
She needed to know why.
Juan had written her family a letter from jail.
He had begged forgiveness from her grandmother, her grandfather and even urged her little brother, Kevin, not to hate him.
He talked about how Johanna was a blessing to him.
But Juan never addressed her.
He never apologized.
Johanna always felt she communicated best through her poems.
Though he wouldn't see it, she wrote one to Juan, while recovering at home.
It was called "Why"
My heart broken
Because of the decisions he had chosen
Scars on my face
But still not enough for me to hate
Hoping for a better day
*********************************************
In Aunt Hilda's driveway, on a street buffered by two parks, Johanna wobbled out of the car, ignoring crutches sent home with her.
Nobody noticed.
There was no fanfare and no TV cameras -- they were all parked outside her grandparents' house a few miles way.
Johanna limped up the tall stretch of wooden stairs to the bedroom she would share with her cousin, flopping down on her new bed to admire the cheery green paint Hilda had picked.
In the living room, Johanna plopped down on a stuffed chair, and flipped the television to "SpongeBob SquarePants."
Johanna's cousins, home from school for her arrival, ordered pizza from a neighborhood place called Georgio's.
The smell of the pie wafted from the dining room toward Johanna.
"Sniff, sniff," she joked, inhaling jealously.
"Quit smelling it, dummy," her 14-year-old cousin, Junior, told her.
Johanna snagged the piece her cousin was carrying and placed a finger on top, then touched it to her tongue. She savored the orange grease. Screw the rules. She was tired of rules. Johanna plucked a piece of pepperoni out of its cheesy bed and sucked the taste out of it. Her eyes closed dreamily.
One finger at a time, Johanna lapped the sweet red sauce off the soft dough, till it all was gone.
******************************************
Later in the week, on April 20, the prosecutor assigned to Johanna's case met at Hilda's house with her and the family for the first time.
Pinkey Carr -- her real name, she swears -- is a disarming woman with a tough job.
Behind her glowing smile and perfectly pressed suits, Carr is known as a bulldog in the courtroom. But after a jury acquitted Daniel Hines in 2004 of the murder of Shakira Johnson, the girl's family was stunned. Carr wept with them as she grappled to explain what happened.
Hines had just been arrested again, accused of having sexual contact with a young girl. It made Carr smile.
Carr sat on the edge of the couch near Johanna, facing the family members. Carr walked the family through what she would be doing with the case in the following months.
Carr hoped Juan would forgo his right to a trial and plead guilty to the rape and shooting charges he faced.
If that happened, Carr said, it would come down to a numbers game.
Family members asked how many years he would get.
"Trust me, I know that no amount of years will erase the pain or the memories," Carr told them.
She told them to pray for a tough judge.
"One that likes big numbers," Carr said, her eyebrows arched high as she nodded.
She said Juan faced a maximum of 88 years in prison.
Johanna's Aunt Miriam was worried about the sentence. She wanted to be sure that Johanna would be so old when Juan was released that he wouldn't recognize her on the street.
Right now, she was only 18.
Johanna's fears were more immediate.
She didn't want to see Juan, the boy she once loved so deeply.
Johanna couldn't face him.
"I can't do it," she whispered.
---
Prom Becomes a Royal Night
Johanna wriggled into a silky emerald-colored dress with a plunging neckline and sparkly silver accents.
The dress slid down her depleted frame, leaving her modest white bra exposed and the dress hanging off her hips.
Months ago, before Johanna was shot by her ex-boyfriend, she bought a long brown dress to wear to prom. It still hung in the department store bag in her closet.
Nobody -- including Johanna -- thought she would be in shape to go to Lincoln-West High's prom by May 19.
When Johanna heard her friends talk about their plans for the night, it hurt. Johanna decided that nobody was going to take the moment from her. She needed good memories -- even if imperfect -- to combat the bad ones.
But a different Johanna needed a different dress.
And with a few weeks to go, she was searching -- again -- for the perfect gown.
Johanna complained that the dress she was wearing had a slit up the left side, exposing the knotty scar on her leg.
"They won't be looking at your leg," her younger cousin Cathy, a pert girl with a ponytail, told her.
"Yes they will," Johanna worried.
"Well, punch them in the face then," Cathy retorted.
Downstairs, a teacher who was tutoring Johanna as she caught up on her schoolwork waited for her opinion. Bob Duesing, a polo-shirt-wearing science teacher, had become her personal shopper.
It was difficult for Johanna to go out because she attracted attention wherever she went. She felt warmed that people cared. But Johanna was also weirded out about how many people knew details of the personal things that had happened.
Johanna was also tired of the TV cameras that stalked her. Some television reporters tried to bribe her for interviews.
Even Oprah invited Johanna to be a guest.
To avoid the gawking, Johanna searched for prom styles on the Internet and in magazines and Duesing brought similar dresses for her to try on at home.
Johanna bounded down the stairs and told her teacher she loved the emerald dress. But it needed to be a smaller size, much smaller.
Duesing got on his cell phone to the senior class adviser, the teacher whom Johanna first told about being raped, and asked for some help with the dress situation.
"She's all of 5 foot tall," he said. "And maybe 95 or so pounds. I don't know what size that is."
The teacher on the other end asked where the dress was ill-fitting, on the top or bottom.
"I don't look at any of that. Teachers get fired for that," Duesing laughed.
Duesing found a store to donate the same dress in a smaller size and her grandmother altered it perfectly.
***************************
Twist. Pin. Spray. Twist. Pin. Spray.
Michele Polodori, a stylist in cosmetology school with Johanna, worked in a relaxing pattern that was putting Johanna to sleep. She had barely slept the night before prom. Excitement -- not disturbing dreams -- had kept her awake.
Polodori eyed Johanna's orange-and-blond streaked hair before deciding on an updo.
"What is this?" Polodori asked, grabbing a chunk of hair shorter than the rest from behind Johanna's right ear.
"One of the doctors hacked it," Johanna said with a shrug. "They didn't ask me, I was asleep." Johanna thought the errant piece had been tangled with clots of blood.
Polodori blasted the piece with hair spray, enveloping Johanna's head in a fuzzy cloud.
"When will there be a trial?" Polodori asked. Johanna stiffened.
"I don't know what's happening with me and Juan and the trial," she said in the monotone she had adopted for talking about everything post-shooting.
Johanna didn't want to think about him tonight.
Long ago, she thought it would be their night.
But now it was just hers.
******************************
A white stretch Ford Expedition pulled up in front of Aunt Hilda's house shortly after Johanna returned home to get dressed about two hours before the dance.
Standing outside was a limousine driver/bodyguard who called himself Hollywood Bob. He looked like a cross between Sylvester Stallone and Beetlejuice. He had donated his limo to get Johanna to the prom and back safely.
Hilda stitched a sheath to cover the bottom of Johanna's face. She was sleepy from a night-shift factory job she took to catch up on bills that piled up after Johanna was shot.
The smooth netted material, in a sparkly teal, let only the profile of her jaw show. Two handmade straps went under her ears and tied behind her head.
The effect made her look like a genie.
Johanna took a teen named Alex, whom she had dated in the past.
Her younger cousin, Adriana, was also going with a date.
The limo snaked through the narrow streets of the cramped and aging near West Side neighborhood, making several stops for picture snapping.
Johanna and her friends lined up as digital cameras flashed and disposable cameras clicked. People stepped out of their houses, onto their porches, beaming at the group.
They all knew Johanna.
During the ride toward the Renaissance Cleveland Hotel in Public Square, Johanna's leg started hopping. She was nervous. How would people react?
The tingle in her stomach didn't last long.
As Johanna walked into the foyer of the ballroom, her classmates shrieked, enveloping her in satiny hugs. Tall boys in smooth white suits, pastel vests and matching patent leather shoes squeezed her gingerly.
As the students stood, posing glamorously and snapping pictures, Johanna turned her face, pushing her less-damaged right side toward the camera flashes. She asked people not to post pictures of her online.
Johanna bemoaned the fact she couldn't eat from the buffet -- it would be too messy and hard with the veil.
Instead, she took the time to flit from table to table, like a bride at her wedding reception.
Lincoln-West High School's support for Johanna had been tremendous.
Her friends held bake sales. Teachers paid for her cap and gown, yearbook and class ring.
The school of 1,500 students is a tight community. Students represent at least 26 nationalities and speak 54 languages.
But this year had been packed with tragedy.
One student had drowned, two died in separate car crashes. One boy died from a chronic illness and a favorite teacher died after an asthma attack.
Then Johanna.
The fact she survived, her strength, helped her traumatized senior class keep going.
As the dancing began, with bounding beats, reggaeton and R&B, Johanna disappeared onto the parquet dance floor, lost in a swirl of orange, pink and yellow dresses. Sparkles floated all around.
A little more than a month after a section of bone was plucked from her leg to form her new face, Johanna danced the cha-cha slide and the shuffle -- only stopping to pull up her sheath as it slipped down her face.
When the music slowed, she danced with her date, Alex, who watched much of the night from the sidelines. Johanna held the end of her dress in her fist as they twirled under a projection screen, flashing the faces of the Class of 2007.
She turned and stopped for a second. Her eyes locked with his.
Juan's.
He stared out from a picture on the screen, hunkered down in front of a group of boys, wearing a green T-shirt and a smirk.
Even now, Johanna couldn't escape his gaze.
Juan was blocks away, on the fourth floor of the Justice Center tower. His closet-size cell, with bare walls and concrete bed, is in the most dungeon-like part of the county jail. It hasn't been updated since it was built in the 1970s.
Johanna turned away from the photo and kept dancing.
---
Finally, Some Relief
Johanna Orozco weaved though the hallways of the downtown Justice Center, following Assistant Prosecutor Pinkey Carr. The 18-year-old had tucked the bandanna she usually wore over the lower half of her face into her purse.
She had graduated from high school on June 6 and now, a week later, she was about to learn her way around a courtroom. As they walked around the 21st floor, Carr pointed out Judge Timothy McGinty's office.
He was assigned Juan Ruiz's case. Carr was delighted. McGinty had been a tough prosecutor and was known as a judge not afraid to dole out steep sentences.
Johanna waved to McGinty's staff and looked at photographs posted on the door showing the gray-haired judge in a suit and running a race in shorts and a tank top.
Johanna, her grandmother and Aunt Hilda followed Carr into a nearby wood-paneled courtroom with its yellowish light. It was uninviting and chilly.
They filed past a judge's bench and the jury box as Carr pointed at each. She placed her hand on the defense table. She told Johanna that the defendant -- she never called him Juan -- would sit there. A deputy would hover close behind.
Carr had Johanna climb into the witness stand, a sturdy box with a chair in the middle that swiveled. Johanna gauged the space that would be between her and Juan if she was forced to testify about the rape and the shooting at the trial, set for Aug. 20.
It didn't seem far enough.
Hilda wondered if Juan would be allowed to talk to Johanna.
"He has the right to apologize," Carr said. But Johanna and her family and friends would all get a chance to talk, too.
On the way out, Carr stopped Johanna outside of the next courtroom. She had her peer into the small rectangular window on the door. McGinty was on the bench in his robe. He had on glasses and was peering over the rims at a person testifying.
"He looks evil," Johanna said, giggling.
*************************
It was dark on July 6 when their car passed a towering white cross. The brightly lighted highway beacon signaled they were two hours away from the small Tennessee town where joy and sorrow collided for Johanna. Hilda turned down the seat-bouncing music that flowed from the radio.
When she spoke from the driver's seat, her voice was strained.
"I don't feel right about this," she said. Johanna glanced up from the cell-phone screen that was lively with text messages to friends in Cleveland.
"I feel like I let my brother down bringing you back like this," Hilda said.
Johanna, her aunt and her grandmother, Juanita, hadn't made the trip to Ooltewah since Johanna was shot four months before. The trip to where her parents were buried used to be a ritual made every few months. Johanna detested the grave-sitting expeditions, preferring to visit her friends and cousins she left behind five years ago when she returned to Cleveland after her parents' deaths.
Johanna's parents -- to her -- were not two stones, surrounded by silk flowers. For Johanna, her parents were still a part of her life. She thought about them every day and even wrote to them. Johanna knew they had watched as she marched with her Lincoln-West High School classmates at graduation.
From the stage, as people cheered, she raised her diploma, saluting her parents with it.
"I did it," she told her mother and father. "I kept one promise and I'm still going to college. I hope you're proud and I wish you were here."
When Hilda started to dream about her brother, she knew he was calling her to visit.
After a short night of sleep in a Super 8 motel, the morning fog called them to the cemetery.
Johanna's grandmother went to work, pulling out a chopping knife and hacking away at grass encroaching on her son's resting spot. She removed the sun-faded faux flowers and replaced them with baskets of vibrant yellow and purple silk gladioluses and chrysanthemums.
Johanna spread out a handmade, child-size quilt and kneeled on it, kissing each gravestone, each parent. She curled up, grabbing and stroking the grass surrounding her parents. She rubbed the stone where their names and native flags were engraved.
But soon she grew antsy. She was hungry. She waited in the car to leave.
*************************
For Johanna, this was a summer of impatience. The free spirit was roped by schedules she couldn't control.
Doctor visits. Surgeries. Court hearings.
After the excitement of prom and graduation, Johanna grew bored. Sitting in the house, playing on the computer got old.
Too much time alone led to thinking. Thinking led to sadness.
Johanna returned to cosmetology classes. In the rooms filled with mirrors and mannequin heads, she was comfortable. She could bare her face without worry as she concentrated on her scissors techniques.
With the help of county victim advocate Denise Pollard, Johanna landed a part-time summer internship downtown in the county Justice Affairs office, typing and filing. She had wanted to work with other victims. But it was too soon.
When she wasn't at school or work, Johanna was out.
She splashed with her cousins at Huntington Beach and danced wildly at a festival celebrating Puerto Rican heritage.
Some people stared. She danced harder.
Johanna spent a day at the zoo visiting her favorite spot -- Monkey Island. People pointed and whispered when they saw her telltale scarf.
I should start charging $10 for a picture, she announced loudly.
Some people in Johanna's family counseled her, saying she shouldn't be out dancing and having fun in public. People might misjudge how badly she was hurt. Juan might not get the punishment he deserves.
Johanna thought that was bull. Why should she be trapped when she didn't do anything wrong?
Aunt Hilda didn't expect Johanna to be shuttered in the house.
But she saw the mature girl regressing.
Johanna had always been fastidious about schoolwork. She was thoughtful. She often gave advice to her younger cousins and encouraged them to stay on the right path.
Now some days she was silly or forgetful.
Johanna got a small check each month from her father's life insurance, and had gotten Social Security until she graduated because she was an orphan.
One month she forgot to pay the Internet bill. Then she forgot to pay her cell phone bill. She spent her spare cash on white chocolate mocha lattes from Starbucks and cute outfits from Target that made her feel attractive.
On Aug. 2, Johanna was scheduled to have another major surgery. It was the next step toward getting teeth, something she wanted desperately. An oral surgeon was going to cut part of her jawbone, near the joint, to swing it into alignment.
But Johanna didn't get the paperwork filled out in time to get Medicaid to cover the expenses. The oral surgeon canceled the surgery, putting it off for three weeks.
It frustrated her reconstructive surgeon and biggest cheerleader, Dr. Michael Fritz. Johanna had missed an appointment with him, after he rearranged his schedule for her and drove all the way home to grab letters people -- including the governor -- had sent for her.
She's only 18, he reminded himself. She couldn't be expected to always be perfectly put together.
After Johanna's internship ended, she stopped going to cosmetology classes, too. She was sleeping in many days until 1 p.m.
Aunt Hilda, whom she lived with, started lecturing.
Save your money, she told Johanna. Think about the future. Make plans. Keep moving forward.
But something still stood in her way.
Facing Juan.
The closer the trial date got, the more it gave her butterflies.
Johanna was sick of everyone asking her about it. At a bowling fund-raiser for her, television crews scrambled to get an interview. She politely declined to go in front of their cameras.
How do you feel about Juan? they asked. They didn't care about her feelings. They just wanted an interview, she thought. And maybe she didn't really know the answer.
*************************
When Johanna got the call on Aug. 10, she was in her pajamas. Assistant Cuyahoga County Prosecutor Pinkey Carr told her Juan was ready to plead guilty.
Johanna rushed home from her best friend's house where she had spent the night.
Earlier in the week there had been a false start. She got a call that Juan was ready to plead, only to hear 30 minutes later that he wanted to talk to his mom first. But today felt urgent.
At home she tore through clothes piles, pulling several outfits on and off. She settled on a gold shirt and a pair of matching sandals. She messed with her hair, now red, black and gold striped.
Denise Pollard, her victim advocate, met the family in the foyer of the Justice Center and took them to an elevator.
Finally they got called to the courtroom. Pollard led them into a room used for jury deliberations. A partially finished puzzle sat on the table. As Johanna's extended family of eight gathered, Carr explained the situation.
Juan and his attorneys didn't want the family or media to be there, Carr said.
He was waffling.
Before they walked into the courtroom, Hilda reminded everyone not to cheer, yell or gloat.
"Let's all be humans," she said.
Johanna straightened up, walking with her covered face held high.
"That's right. Be confident," Hilda said.
*************************
Television cameras swung in unison toward Johanna.
Juan was sitting at a table in front of her.
She looked at him.
He lifted his gaze from the table where he sat, locking eyes with her for a moment.
Johanna's emotions swirled.
She flashed back to the last time she saw Juan's eyes. Right before he shot her.
Then she remembered how in love they had been.
Johanna took a seat behind the table where Pinkey Carr stood.
Juan's public defender, Patricia London, asked to move the hearing for another day so Juan's mother could attend. London and another public defender flanked the 17-year-old but his side of the courtroom was empty.
No mother. No father. No sisters or brothers.
Juan's mother, Candida Rodriguez, was at work and said she never received a call to come to court.
Otherwise, she would have been there for her only son.
The boy who had a tumor removed from his brain at just a year old, who was hyper and hard to control, but also peppered her with kisses and hugs. The son she struggled to raise after her divorce while holding down two jobs.
Not that she condoned what he had done.
The 37-year-old could not grasp how her child, who had wanted to be a firefighter or boxer, had done something so horrific. Something in his head must have snapped. Candida didn't visit Juan after the shooting.
She wondered what she could have done -- short of handcuffing him to the kitchen table -- to stop him. And she realized: "He's stupid. But he is my son."
His mother thought he deserved prison, but not 40 years. She was afraid the judge would not be fair because of the publicity. That he would not believe Juan could be sorry.
In court, Carr was getting fired up. Mother or no mother, they would go forward today. Or else the plea deal they offered, cutting Juan's sentence from a possible life term to a maximum of 41 years, was off the table.
Juan whispered with his attorneys.
He would take it.
McGinty made sure Juan understood what he was agreeing to and how much time in prison he could end up serving.
When the judge read the first charge, asking Juan to enter his plea to the charge of rape, the teen said nothing.
Thirty silent seconds passed.
Tears rolled over Juan's proud cheekbones. He wiped them on his collar of his jail jumpsuit. London got him a tissue.
A minute passed.
A whimper escaped from Johanna's throat as she squeezed Aunt Hilda's hand so tight her pink and black painted nails left imprints for hours.
"Guilty." Juan uttered.
He wished to be sentenced right away. To get it over with.
But the judge wanted to wait for more information to be gathered about Juan's life and the crime.
He would sentence Juan on Wednesday, Sept. 19.
Johanna hugged her family as they emptied into the jury room.
But the mood was not joyous.
In court, they had all sat silently, listening to the judge and attorneys.
Next month it would be their turn.
*************************
Aunt Hilda had quit her night-shift job; picking up more housecleaning work to pay the bills. On Aug. 31 she ordered a pizza for her kids to eat for dinner. When she went to the pickup window, she froze.
Juan's mother was on the other side of the counter. Hilda didn't know she worked there.
The two women stared.
Please don't look at me like that, Candida pleaded.
Standing there, in the pizza place, the two women talked.
Candida told Hilda she had wanted to call Johanna, to send her flowers, to hug her -- but police had told her to stay away. She also told Hilda she had called Juan's home detention officer before the shooting, telling him she could no longer control her son.
I'm sorry, she told Hilda. She told her she had shunned her son after the shooting.
You're his mother, Hilda said. You need to be there for him. I understand. I'm a mother, too.
The women hugged.
*************************
As she perched on her bed, surrounded by stuffed animals, Johanna stared at the lined paper in front of her and tried to concentrate.
Every time she began to scratch out words, she would start to cry.
What was she going to say to Juan?
Some in her family, like her grandfather, Wosbely, wanted Juan to be thrown into prison forever. Juan showed Johanna no mercy. Why should there be mercy for him? And part of her wanted to smack Juan across the face.
But that didn't feel right. She was taught not to hate.
Besides, it made no difference in her life whether Juan got five years or 80.
It wouldn't change what happened.
Johanna realized she needed to face him in her own way.
With a poem.
Many times, she had bared her feelings about losing her parents, about Juan, about her now-scarred face, in many lines of swirled handwriting.
She just needed a few lines more.
She began: Prince Charming it's clear to see that happily ever after was never meant to be ...
---
Epilogue: Anguish, Tears and Judgement
When Juan Ruiz smacked her, pushed her to the ground and berated her, Johanna Orozco buried her torment in a journal. As she was raced to the hospital, her face blown off and bleeding, Johanna remained stoic. When she was trapped in the hospital, wondering whether she would ever be beautiful again, she put on a brave face for everyone.
Now, Johanna sat in a courtroom Wednesday, clutching a purple notebook and waiting for the boy she had loved to be sentenced. The emotions she had held back for so long bubbled to the surface in a poem.
"Prince Charming it's clear to see that happily ever after was never meant to be," she started.
They had been in Cuyahoga County Common Pleas Judge Timothy McGinty's courtroom for hours when Johanna got to speak.
But first distraught family members -- on both sides -- relived March 5, the day Johanna was shot.
The sawed-off shotgun Juan had used was waved around. Slugs were pulled from his bandoleer and lined up on the judge's bench. Shocking pictures of the damage to Johanna's face were flashed on a large screen.
Juan was allowed to speak first. He stood up and turned to face Johanna. The judge wouldn't let him. "I'm really sorry, Johanna. I really am. If I could change it, I would."
His attorney, Patricia London, told the judge that the 17-year-old was not a monster but a typical high school kid who had been filled with jealousy and rage. She said what he did, what he was capable of, haunted him.
The day of the shooting was the source of nightmares for many people in the courtroom.
Dr. Michael Fritz, the surgeon reconstructing her face, flew home from a conference in Washington to tell the judge what he and his partner, Dr. Tung Trang, have done to piece Johanna back together. And about the other surgeries she will need.
"There's no way I can give her back what God gave her in the first place," Fritz said. "I just can't."
The bills at MetroHealth Medical Center are more than $380,000 so far. Most should be covered by Medicaid.
Johanna's grandmother unleashed still-raw feelings as she recounted finding Johanna shot and bleeding in her driveway.
"I pulled back her hair and my daughter didn't have a face," Juanita Orozco said in Spanish, her cries piercing the courtroom.
She gazed at Juan, the boy she had considered a son. "It hurts for me to see you there. You are a coward. You should have done it to me."
One after another, Johanna's friends and relatives marched forward, telling the judge how Juan's actions had affected their lives. They begged for the maximum sentence, 41 years.
Johanna's little brother, 16-year-old Kevin, sobbed as he talked about losing both of his parents five years ago. He had been so close to losing his sister, too.
"She's the last person I have left. She's the only one I have," he said.
Some said they forgave Juan. That they prayed for him.
Johanna's Aunt Hilda, the woman who had been holding her hand for months, urging her to stay strong, had no tears. She does consider Juan a monster. She said Juan had already sentenced her niece to a lifetime of terrifying memories of rape and scars from the shotgun blast.
She knew that Juan could be put in prison for a long time. But Johanna would always be in her own kind of jail. One he had created out of fear.
"This is not the day that Juan Ruiz gets sentenced," Hilda said. "This is the day that there is justice for Johanna Orozco."
Finally, it was Johanna's turn to speak.
She had practiced her poem over and over, hoping the more she read it the easier it would be. She wanted to read it effortlessly, like the lines in all the high school plays she had performed.
But as she recited her own words, tears welled in her eyes.
"Take a good look at the scars on me. But know I'm living my life free," she read.
Juan's head lifted from the table, looking for the first time at Johanna.
"You thought I was going to be eight feet under but all you did was make me stronger."
After she finished the poem, she had something else to say.
"Juan, I don't hate you, I don't, but you deserve what you have coming."
Juan's mother, Candida, afraid to speak in court, made a plea for mercy in a letter read by Juan's attorney.
She wrote that Juan was still a child. His life had not been easy.
"What he did is not what he is," she wrote.
Just after 6 p.m., more than three hours after the hearing began, McGinty gave a speech, calling Johanna courageous and saying Juan was capable of extreme violence. That he intended to kill her.
Then McGinty pronounced the sentence: 27 years. The earliest Juan could get out would be at age 44.
Neither side was happy.
Candida's worst fears were not realized -- that her son could have been in jail for 41 years. But she vowed to appeal the sentence because it's too long. She said other people have committed worse crimes and gotten lesser sentences.
Johanna's family was stunned. It was minutes before anyone spoke.
"He won again," Johanna said.
But then she took a breath and hugged her friends.
"I guess if it was meant to be this way, it was meant to be this way," she said.
It was time to move on.