2016 Dart Award Winners Announced
April 12, 2016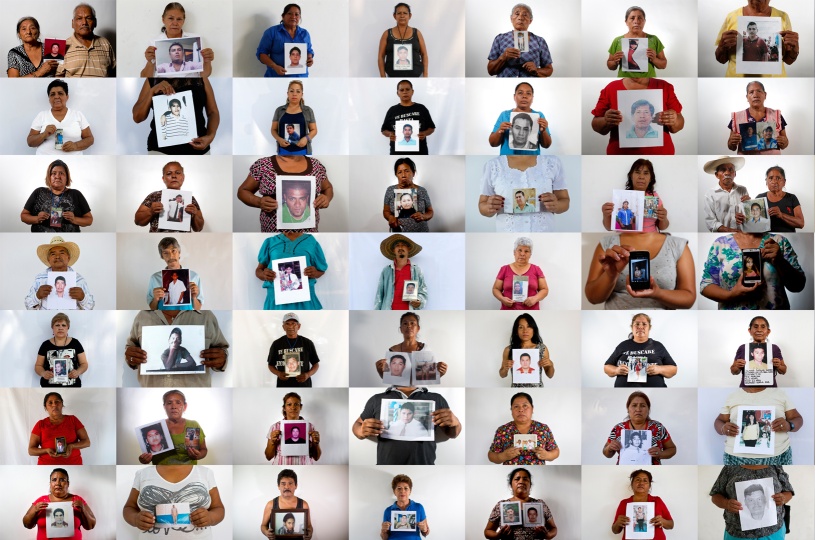 We're pleased to announce the winners of the 2016 Dart Awards for Excellence in Coverage of Trauma: The Associated Press and The Washington Post. An honorable mention went to Matter. 
The annual Dart Awards recognize outstanding reporting in all media that portrays traumatic events with accuracy, insight and sensitivity while illuminating the effects of violence and tragedy on victims' lives.
AP received the Dart Award for "The Other Disappeared" (Christopher Sherman, reporter; Eduardo Castillo, reporter; Dario Lopez-Mills, still photographer and video; Alba Mora Roca, multimedia producer; Roque Ruiz, interactive producer; Ricardo Lopez, video producer.) On September 26, 2014, 43 students from a teachers college in the southern Mexican state of Guerrero vanished. While the incident sparked an outpouring of international attention, hundreds of other families around Iguala had lost mothers, fathers, sisters, brothers, and children to kidnappings and killings, living in a purgatory of silence for years. This comprehensive, interactive multimedia series in Spanish and English tells the stories of these families, and their quest for answers and justice. 
Judges described "The Other Disappeared" as a "tour de force," reported with "incredible depth, rigor and compassion." They called the scope of the project "astounding," the writing "sweeping" and "detailed," the photographs "haunting" and "evocative," and the multimedia presentation "powerful" and "heartbreaking." Judges commended the series for "illuminating the diverse ways that people cope with trauma" and for "giving voice to the voiceless in the truest, least clichéd sense of that phrase." They also remarked on how "both the finished product and reporting process exemplifies everything the Dart Award stands for."
The Washington Post received the Dart Award for "A Survivor's Life" (Eli Saslow, reporter; Jabin Botsford, photographer.) This searing, intimate feature tells the story of Cheyeanne Fitzgerald, the youngest survivor of the Umpqua Community College shooting in Roseburg Oregon, as she struggles against myriad challenges in the massacre's aftermath.
Judges described "A Survivor's Story" as an "eye-opening," "brutally honest" portrait of the intense difficulties and complexities of trauma and recovery. They called the writing "beautifully detailed" and "brimming with insights," and praised the team for showing "how difficult recovery is, what resilience means, and how survivor stories are often messy, harrowing, and hopeful all at the same time." Judges commended Saslow for "carrying the reader on his shoulder for an emotionally wrenching experience," and providing "the ultimate fly-on-the-wall story" of lives upended by violence.
Each winning team will receive a $5,000 cash prize.
An honorable mention went to Matter for "Everything is Yours, Everything is Not Yours" (Clemantine Wamariya, writer; Elizabeth Weil; writer; Mark Lotto, editor; Andrew White, photographer). It is a first-person account of Clemantine Wamariya, who at age six fled the Rwandan genocide with her sister. They spent seven years wandering central Africa as refugees, eventually coming to the United States and succeeding by every conventional marker. Judges called the piece "clear-eyed," "tremendously insightful," and "gracefully and honestly told." They commended it for "advancing the conversation on trauma and resilience," and "challenging the binary" of faceless victims and unadulterated success stories.
The 2016 winners and honorable mention will be recognized at a public ceremony and winners' roundtable on May 4 at 5:30pm at Columbia Graduate School of Journalism. The event is free and open to the public.
The Boston Globe, "The Life and Times of Strider Wolf"; CBS/ 60 Minutes, "30 Years on Death Row"; Frontline with ProPublica,"Terror in Little Saigon"; The Guardian US, "The Counted"; The Los Angeles Times, "The Loneliest War"; The Marshall Project with ProPublica, "An Unbelievable Story of Rape"; NPR "Missed Treatment"; NPR "What Shapes Health"; and WNYC/Radio Rookies "Dating Violence"
The interdisciplinary Dart Awards jury combines journalists, educators and mental health professionals.
Final Judges:
Ann Cooper, professor, Columbia Journalism School; Alfredo Corchado, reporter and professor, Arizona State University Cronkite School of Journalism and Mass Communication; Meaghan O'Donnell, Ph.D., associate professor, department of Psychiatry and Psychotherapy, Hamburg University and President-elect, International Society for Traumatic Stress Studies (ISTSS); Brian Palmer, photographer and Lavanthol Visiting Professor, Columbia Journalism School; Sacha Pfeiffer, columnist and reporter, The Boston Globe; Glenn Smith, projects editor, The Post and Courier and 2015 Dart Award winner; Sarah Stillman, staff writer, The New Yorker, and director of global migration program, Columbia Journalism School.
First Round Judges:
Scott Blanchard, Sunday editor, York Daily Record and 2013 Dart Award honorable mention; Karen Brown, reporter, WCFR- New England Public Radio and 2007 Dart Award honorable mention; Ron E. Claiborne, correspondent, ABC News; Melissa del Bosque, investigative reporter, Texas Observer and 2015 Dart Award winner; Kerry Donahue, professor and director of radio program, Columbia Journalism School; Aaron Glantz, investigative reporter, Center for Investigative Reporting – Reveal; Tom Gorman, executive editor, Las Vegas Sun and 2014 Dart Award winner; David Meeks, managing editor, USAToday Sports; Matthew Kauffman, investigative reporter, The Hartford Courant, and 2007 Dart Award winner; Rawya Rageh, freelance broadcast journalist; Laura Tillman, freelance journalist and author; Duy Linh Tu, professor and director of digital media program, Columbia Journalism School.