Nepal Earthquake: One Year Later
One year after a pair of powerful earthquakes shook Nepal, resulting in the deaths of more than 8,000 people, Ochberg Fellow and Dart Asia Pacific Regional Facilitator Amantha Perera writes about the challenges of covering this tragedy and its aftermath, featuring lessons learned from Nepali journalists Sudarshan Khatiwada, Makar Shrestha and Sangita Shrestha. With reporting by Deepak Adhikari in Kathmandu.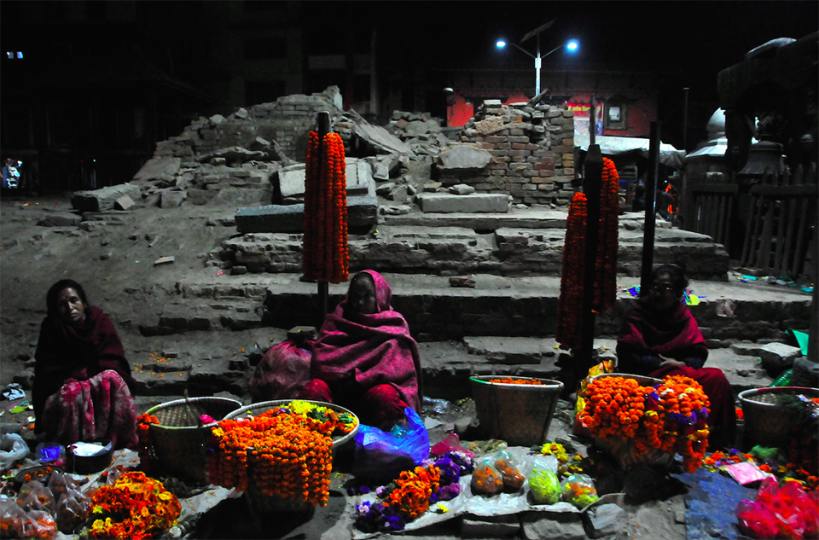 April 25, 2015 was just another day for Sudarshan Khatiwada, a Nepali journalist from Sajha Post, an online news website. He was in Nepal's capital Kathmandu at the Academy Hall where Subas Nemwang, the Speaker of parliament, was the honorary guest at a concert event. And then the earth began to shake.
Everyone started to run. The building didn't sustain major damage but a few of those assembled suffered minor injuries in the mad-rush to get out. But it wasn't until Khatiwada got out that the true level of the devastation hit him. "When I was out, the city was already screaming," he wrote recently.
In the chaos of  screaming and shouting, Khatiwada's first instinct was to grab his camera and start reporting. When he learned  that the ancient Dharahara towers had fallen he ran to their location. "I ran towards it, watching buildings falling down at Bhotahiti and people screaming for help. How could I capture photos of people in great pain, some of whom are crying from inside the rubble?"
Then he realized the phone lines had gone dead, and he felt scared for the first time. "I started panicking.. I couldn't connect calls to family. I didn't know what happened to my elderly parents, or my office. The screaming, the siren of ambulances, and the injured people made me dizzy."
It was their inability to connect with loved-ones over the phone that made Nepali journalists who survived the earthquake most anxious. "That day, I couldn't make calls to my family because the phone networks were down. The next day, we tried in vain to get into a helicopter carrying relief material," Makar Shrestha, a 30 year-old reporter for Kantipur, Nepal's largest newspaper said of the second quake that hit on May 12. That smaller quake flattened his home. 
But he kept on reporting like many of his colleagues who had started to send out information almost immediately after the first tremors had stopped.
Not many Nepali journalists had received any physical safety training or trauma awareness before or in the aftermath of a natural disaster. They wanted to be reporting, but felt overwhelmed, not having any training or frame of reference for what to do or not do.
"It was harder to deal with the effects of the disaster personally because I never thought in my life that I would have to leave behind the comfort of my home and spend my days and nights in the open air. It was depressing," Sangita Shrestha, a reporter and a sub editor at The Himalayan Times newspaper told me. Her rented house in Basantapur in Katmamndu was completely flattened in the April 25 earthquake. She spent four nights in an open square in the capital before she and her family could locate a safe place to stay. She has not returned to her former home since last year.
All three journalists said that despite the fact that their lives were upended, they continued reporting, sometimes for days, without a break because it kept them occupied and gave them a sense of purpose in the midst of utter turmoil.
Makar Shrestha continued to work after the second quake while worrying over his family and their condition. He was unable to reach them because the phone networks were down. Finally he hired a vehicle to take him to his village at twice the usual fare.
"It was the first time I was affected.. My philosophy is that if we suffer loss, we should not agonize over it but instead try to get on with life. I had a feeling that as a reporter, once I am out in the field, even if it's my home, the task at hand will consume me and help me to forget the tragedy  my family endured."
When I asked Sangita Shrestha why she continued to work her answer was similar.
"I was at Mangala Chhen, Bhaktapur. I was talking to people for my feature story where I found out the whole area had been deserted and many people lost family members. There were people who had narrowly escaped during the earthquake. And only after a month were they able to return and clear the wreckage. Listening to their stories of narrow escape I felt lucky to be alive."
Looking back at their experience, a year after the tragedy, many journalists feel that if they had had even a basic knowledge of how to handle traumatic situations, they would have been on better footing, both personally and on the job.
"In hindsight, I now feel that I should have devoted more time to my family, but the responsibility to tell the world about the plights of survivors was also of utmost importance," Makar Shrestha said.
NEPAL EARTHQUAKE STATISTICS:
Death of journalist: 1
Death of family members of journalists: 24
Injured journalists: 13
Injury to family members of journalists: 12
Media outlets with infrastructure damage: 49
Journalists with complete house damage: 149
Journalist with partial house damage: 524  
Source: Federation of Nepali Journalists
With reporting by Deepak Adhikari in Kathmandu.