David C. Van Essen
Department of Neuroscience Washington University School of Medicine
Alumni Endowed Professor of Neurobiology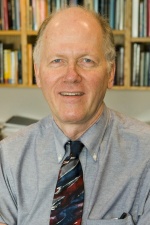 David Van Essen received his undergraduate degree from the California Institute of Technology and his doctorate from Harvard University. He was a postdoctoral fellow in Boston, Norway and England before joining the Caltech faculty in 1976. In 1992 he moved to Washington University in St. Louis and chaired the Department of Anatomy and Neurobiology for two decades.
Van Essen is internationally known for his research on the structure, function, connectivity, evolution, and development of cerebral cortex in humans and nonhuman primates. His tension-based theory of morphogenesis accounts for how and why the cortex gets its folds. His laboratory has developed powerful methods of computerized brain mapping, with a particular emphasis on surface-based visualization and analysis of cerebral cortex. He has been a pioneer in neuroinformatics and data sharing efforts for nearly two decades. He has written more than 200 peer-reviewed articles and invited publications.
Van Essen was a Principal Investigator of the Human Connectome Project (HCP), a highly successful endeavor to map brain function and connectivity in healthy young adults. He is currently a PI on two Lifespan HCP consortium projects. He has been a leader in two major professional societies, serves on several advisory boards, and is a Senior Editor for eLife. He is a Fellow of the AAAS and has received many awards, including several for teaching excellence.
Recent Posts by David C. Van Essen