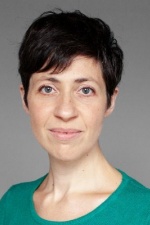 ​​Irene Caselli is a multimedia reporter and writer, with over 15 years of experience in radio, TV and print, now focusing on early childhood, reproductive rights, and carers. She is also a senior advisor for The Early Childhood Reporting Initiative at the Dart Center. 
For a decade, Caselli was a foreign correspondent in Latin America, reporting for the BBC, The Washington Post, The Guardian, The New York Times and others. In 2019, she started covering early childhood for The Correspondent. In January 2021, she launched her own newsletter, The First 1,000 Days, where she continues her writing about the first 1,000 days, the foundational period of our lives that is too often overlooked. Caselli published a chapter in "Unbias the News," a book about how to make journalism more diverse. She produced a documentary on women's football and gender inequality, and one of her short films on the same subject received a prize for collaborative journalism.
Caselli has been awarded fellowships by the International Women's Media Foundation, the European Journalism Centre and the Solutions Journalism Network. She speaks six languages (English, Italian, Spanish, German, French, Portuguese), and is now learning Greek. In her free time, she tries to keep up with her son Lorenzo.
Recent Posts by Irene Caselli
As events in Ukraine continue to unfold quickly and dramatically, children and young people are in danger - one million are already on the move. 

This tipsheet brings together advice from Dart fellows who have reported on children in war and other emergency situations. Click here for a Ukrainian translation.