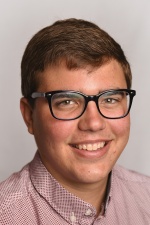 Jabin Botsford has been a staff photographer at The Washington Post since March, 2016. He earned an associate's degree in photography at Pellissippi State Community College in Knoxville, followed by an internship at the Daily Times in Maryville, Tennessee. In 2011, Botsford transferred to Western Kentucky University to enter its photojournalism program. While attending Western Kentucky, he interned at The Washington Post, the New York Times (twice), the Columbus (Ohio) Dispatch and the Los Angeles Times. His assignments included covering politics, Capitol Hill, the White House and presidential trips. He lives in Washington, D.C.
Recent Posts by Jabin Botsford
This searing, intimate feature tells the story of Cheyeanne Fitzgerald, the youngest survivor of the Umpqua Community College shooting in Roseburg Oregon, as she struggles against myriad challenges in the massacre's aftermath. Judges described "A Survivor's Story" as an "eye-opening," "brutally honest" portrait of the intense difficulties and complexities of trauma and recovery. Originally published in the Washington Post in December, 2015.