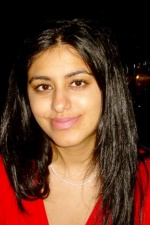 Habiba Nosheen is an award-winning Pakistani-Canadian filmmaker and journalist based in New York.
Her radio documentary What Happened at Dos Erres? aired on This American Life and was called "a masterpiece of storytelling" by The New Yorker. Nosheen most recently directed the documentary, Outlawed in Pakistan, which premiered at Sundance and will air on PBS FRONTLINE in spring 2013. Previously, she shot and produced the PBS films Surrogacy: Wombs for Rent? and To Adopt a Child.
Nosheen teaches at Columbia University's Graduate School of Journalism. She is fluent in English, Urdu, Hindi, and Punjabi. She has reported extensively from South Asia. Nosheen works in print, radio, and television documentaries. Her work has appeared in The New York Times, PBS FRONTLINE, Time magazine, Glamour, and Washington Post, and on PBS, CBC, BBC, and NPR.
Nosheen has received numerous prestigious awards for her reporting including: 2012 Silver Prize for Best Documentary by the Third Coast Festival, the 2012 Gracie award for Outstanding Reporter/Correspondent, the South Asian Journalists Association Award, the Morton Mintz Award for International Reporting, and the Leslie Sanders Award. She was part of the team that won the Best Canadian Feature Award at Hot Docs Canadian International Documentary Festival. She holds a master's degree from Columbia University's Graduate School of Journalism and a master's degree from York University in Women's Studies.
Recent Posts by Habiba Nosheen
This American Life, ProPublica and Fundación MEPI collaborated to produce a stunning and powerful story in multiple formats that uncovers a 1982 massacre of a village in Guatemala. There were only two known survivors. Thirty years later, Oscar Ramirez, living in Boston, got a call from a woman who told him he was one of them. "Finding Oscar" and "What Happened at Dos Erres" were both originally published in May, 2012.