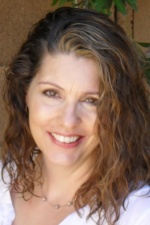 Jennifer Longdon is a Phoenix-based speaker, writer, and activist. She contributes to public policy efforts through her work on the Phoenix Mayor's Neighborhood Advisory Council, the State Independent Living Council of Arizona and as part of Arizonans for Gun Safety. Longdon is also a Public Impact Advisor to the Christopher and Dana Reeve Foundation, and the immediate past Chair of the Phoenix Mayor's Commission on Disability Issues. She has been profiled in AZ magazine, the Phoenix New Times, Mother Jones and Rolling Stone.
Longdon has been a featured speaker at TEDx and Ignite events. She received the MASK UNITY award in 2013, the City of Phoenix Impact Volunteer Award, also in 2013, the MLK Celebration I Have a Dream Award in 2014, and the 2014 Citizen of the Year Award from National Association of Social Workers' Arizona Chapter.
In 2004, Longdon was paralyzed in a random shooting. Since she has become an outspoken advocate for people with disabilities and strengthening laws to curb gun violence.
Recent Posts by Jennifer Longdon
Full video and edited transcript; "Getting it Right: Reporting on Gun Violence"; May 29, 2015.

Use the shooter's name sparingly, with purpose, and instead focus on the survivors. Avoid salaciousness, but don't sugarcoat the facts. Be gentle, but understand that no matter what, asking a survivor to retell his or her story opens up old wounds.