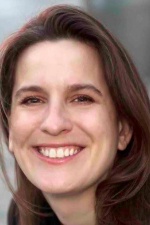 Lu Olkowski is an independent producer based in New York. She is currently artist–in–residence at KCRW where she will spend the year reporting a series of stories about the Ports of Los Angeles and Long Beach. Her radio work has been heard on All Things Considered, Day to Day, Radiolab, Studio 360, This American Life and Weekend America. Most recently, Lu produced an audio documentary for NPR's State of the Re:Union about a tiny town in the Appalachian foothills of Ohio where, for a century, residents have shared the common bond of identifying as African-American despite the fact that they look white. In 2012 she was awarded the National Edward R. Murrow award, the Sigma Delta Chi award, the RTNDA/Unity award, the Gracie award, and a citation from the National Association of Black Journalists. 
Prior to a career in public radio, Lu was a creative director at Nickelodeon. There, her responsibility was to lead a team of television and online producers to use emerging technologies to explore new ways of storytelling.
Recent Posts by Lu Olkowski
After a devastating year covering the Middle East for NPR, Kelly McEvers unexpectedly turned the microphone on herself, as well as doctors, researchers, and fellow war correspondents. The result: a deeply personal radio documentary, "Diary of a Bad Year." McEvers will speak at a Dart sponsored forum Nov. 5.