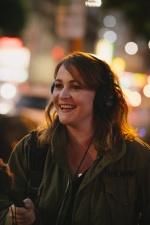 Kelly McEvers is a two-time Peabody Award-winning journalist and former host of NPR's flagship newsmagazine, All Things Considered. She spent much of her career as an international correspondent, reporting from Asia, the former Soviet Union, and the Middle East. She is the creator and host of the acclaimed Embedded podcast, a documentary show that goes to hard places to make sense of the news. She began her career as a newspaper reporter in Chicago.
Recent Posts by Kelly McEvers
Judges called this episode "a masterpiece of trauma-informed journalism" that "cuts right to the heart," helping listeners "understand the real impact of violence directed at this profession and at the democratic institution." They praised the team's "persistent, careful and caring touch" alongside its "straightforward, unblinking approach," "from the reporting to the language choices to the structure to the ways it demystifies local news." They praised the team for "creating space for the staff to have agency and nuance in the telling of their own stories," and said, quite simply, "this story is what trauma is all about." Originally aired as the first episode of NPR's Embedded podcast on February 18, 2021.

After a devastating year covering the Middle East for NPR, Kelly McEvers unexpectedly turned the microphone on herself, as well as doctors, researchers, and fellow war correspondents. The result: a deeply personal radio documentary, "Diary of a Bad Year." McEvers will speak at a Dart sponsored forum Nov. 5.