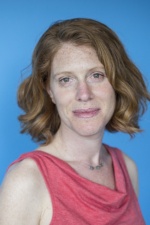 Alison MacAdam is an editor for narrative podcasts. Recent work includes Dart Award winner Believed, 544 Days, Land of the Giants and The Heist. Previously, she spent 15 years at NPR, working as a producer and, later, Senior Editor for All Things Considered and as NPR's audio storytelling trainer. 
Recent Posts by Alison MacAdam
Judges called this episode "a masterpiece of trauma-informed journalism" that "cuts right to the heart," helping listeners "understand the real impact of violence directed at this profession and at the democratic institution." They praised the team's "persistent, careful and caring touch" alongside its "straightforward, unblinking approach," "from the reporting to the language choices to the structure to the ways it demystifies local news." They praised the team for "creating space for the staff to have agency and nuance in the telling of their own stories," and said, quite simply, "this story is what trauma is all about." Originally aired as the first episode of NPR's Embedded podcast on February 18, 2021.