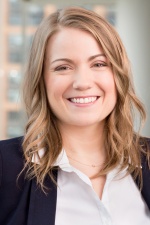 Nicole Beemsterboer is the former Senior Supervising Producer of NPR's Enterprise Storytelling Unit, where she oversaw NPR's seasonal longform narrative properties, including Invisibilia, Rough Translation, Embedded, and short-run special series. Previously she was the Senior Producer of Investigations at NPR, where she oversaw the conceptualization, development and execution of the network's investigative reporting. 
Recent Posts by Nicole Beemsterboer
Judges called this episode "a masterpiece of trauma-informed journalism" that "cuts right to the heart," helping listeners "understand the real impact of violence directed at this profession and at the democratic institution." They praised the team's "persistent, careful and caring touch" alongside its "straightforward, unblinking approach," "from the reporting to the language choices to the structure to the ways it demystifies local news." They praised the team for "creating space for the staff to have agency and nuance in the telling of their own stories," and said, quite simply, "this story is what trauma is all about." Originally aired as the first episode of NPR's Embedded podcast on February 18, 2021.