Anya Grundmann
Senior Vice President of Programming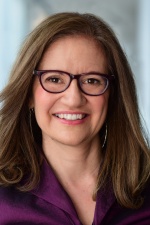 Anya Grundmann oversees NPR's industry-leading podcast portfolio with 150 million monthly global downloads, in addition to NPR Music, NPR Events and NPR's entertainment and talk radio programming. Before becoming the head of NPR Programming in 2015, Grundmann was the founding Executive Director of NPR Music, a premiere award-winning source for music discovery and innovative multiplatform journalism that reaches more than 12 million people a month across npr.org, YouTube, podcasts and NPR radio programs.
Recent Posts by Anya Grundmann
Judges called this episode "a masterpiece of trauma-informed journalism" that "cuts right to the heart," helping listeners "understand the real impact of violence directed at this profession and at the democratic institution." They praised the team's "persistent, careful and caring touch" alongside its "straightforward, unblinking approach," "from the reporting to the language choices to the structure to the ways it demystifies local news." They praised the team for "creating space for the staff to have agency and nuance in the telling of their own stories," and said, quite simply, "this story is what trauma is all about." Originally aired as the first episode of NPR's Embedded podcast on February 18, 2021.