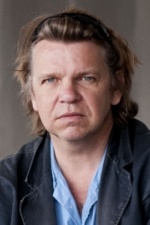 Teun Voeten is a freelance photographer and writer who has covered the conflicts in Bosnia, Haiti, Chechnya, Colombia, Nicaragua, Afghanistan, Rwanda, Sierra Leone, Kosovo & Angola. He has worked for publications such as Vanity Fair, The New Yorker, NY Times Magazine, National Geographic Magazine, Granta, Details, Village Voice, Vrij Nederland, NRC, De Standaard, Frankfurter Allgemeine, and for organizations such as International Red Cross, Doctors without Borders, UNICEF, UNHCR, UNFPA, Amnesty International, Human Rights Watch and Save the Children.
Recent Posts by Teun Voeten
Photojournalist & anthropologist Teun Voeten talks about a photograph from his latest book "Narco Estado," which focuses on drug-related violence in Mexico.