Bali's Bombings: Covering Tragedy Ten Years Later
A decade after terrorist attacks killed more than 200 people in one day—the deadliest bombings in Indonesia's history—award-winning Australian journalist Gary Tippet recounts his experience interviewing survivors and reflects on the way the media has conducted its retrospectives.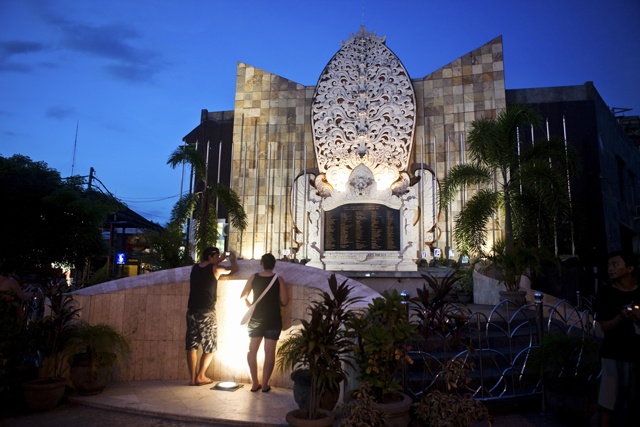 [For resources, click here.]
"I'm going to cry," Jane Mavroudis told me. "But don't worry about it. I always cry. I'll cry right through the interview."
And she did. We sat side by side on the couch in her flat in the Sydney beachside suburb of Clovelly and talked about her brother David, 29, murdered by the Bali bombers eleven months earlier, and she wept.
Jane spoke softly but clearly and with great affection about their childhood in Wagga and coming to Sydney and David's time with the Coogee Dolphins rugby club. She often smiled, sometimes laughed, but all the while the tears fell, spotting and salting her thighs.
For me, it is a small, indelible image from the Bali tragedy: that patch of faded blue jeans turning wet with tears of love and loss.
It is now 10 years since Jemaah Islamiyah terrorists exploded two bombs at
Kuta on 12 October 2002, killing 202 people, including 88 Australians and 38 Indonesians. Media outlets across Australia had e already prepared and begun publishing their projects to mark the anniversary.
The "anniversary story" is a journalism staple. Done well – thoughtfully
and responsibly – it can resonate with survivors, and their communities, helping to promote healing and understanding. Done badly it can rip the scabs off unhealed wounds.
That first anniversary of Bali, The Age and Sydney Morning Herald sent teams of reporters and photographers to meet the relatives and loved ones of the Australian victims. It was a project unashamedly borrowed from the New York Times' exemplary Portraits of Grief series that followed the 9/11 attacks and it aimed to paint small but nuanced and respectful pen portraits of the lives that had been lost through the memories of those closest to them.
For the most part, I think it succeeded because from the start the journalists handed over the power to their subjects. They were approached well before the anniversary with a carefully-worded letter from the Editor-in-Chief explaining the project and what it hoped to achieve. They were given the choice as to whether they wanted to be involved and if they said no that decision was respected and they were left alone. Those who agreed chose the time and place for the interviews and photographs and who they might like with them. We explained that each small biography might only be a couple of hundred words, but the interviews were never rushed. I think the key word here is respect.
But it was tough. There were a lot of tears and not just from those left behind like Jane. Covering grief is a draining, sometimes dangerous task. As Jane's tears fell into her lap, I noticed the Age photographer was also crying. In a couple of weeks she had listened to maybe a dozen similar stories. Morever, she explained while hugging Jane later, she too had lost a dearly loved brother. Each story had resonated to her core and the effect on her has been deep and lasting.
As the Dart Centre's tips on Tragic Anniversaries notes, anniversaries mark
progress and the passage of time. They can also conjure memories we may not
always want to face. We need to approach them with care and respect. For those on both sides of the story.