The Art of Trauma Reporting: Pulitzer Prize Winners Reflect
In the summer of 2016, in advance of a two-day conference commemorating the centennial of the Pulitzer Prize, Dart Center researchers interviewed 10 Pulitzer Prize winners from the past 20 years who were honored for their coverage of traumatic events or investigative reporting on trauma-related issues. Navigate through sections of this article to find pieces by: Alex Hannaford, who wrote on the relationship between Pulitzer winners and their sources, and on the impact of Charles Porter's 1996 Prize-winning photo; Elana Newman, who gathered advice from honorees on best practices in trauma reporting, and created teaching notes for the classroom with Matthew Ricketson and Autumn Slaughter; Matthew Ricketson, who also wrote a conference recap for those who could not be in attendance.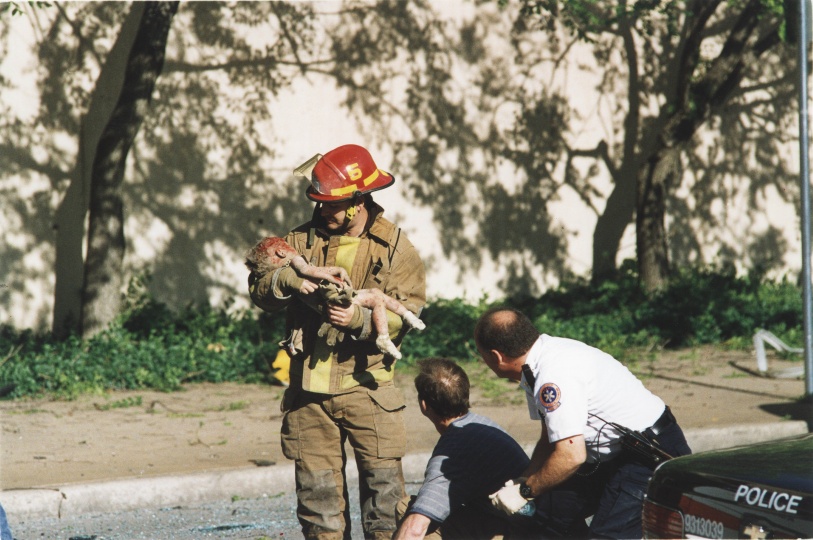 The Art of Trauma Reporting
By Alex Hannaford
It took seven months before "Marie" even agreed to a formal interview with Ken Armstrong. He went back and forth with her attorney, exchanged emails with Marie directly, talking with her by phone multiple times and then, finally, the interview.
Armstrong worked for The Marshall Project, a nonprofit journalism organization focused on criminal justice issues Marie was at the center of a complicated story that highlighted the failures of law enforcement in investigating a rape, and how trauma can affect people differently: that no stereotypical "victim" exists.
Ethical storytelling is vital to victims and their families, and there are numerous lessons to be learned from ethical reporting of tragedy.
The Dart Center for Journalism and Trauma spearheaded a project to identify exactly how Pulitzer Prize winners such as Ken Armstrong report on victims of trauma and tragedy with rigor, compassion and integrity. The Center's research was conducted in advance of a two-day Pulitzer Centennial symposium "The Impact of Trauma Coverage" co-hosted by the University of Central Oklahoma, University of Oklahoma and University of Tulsa.
Shortly after Armstrong started work on Marie's story, he learned that T. Christian Miller, a senior writer at the news organization ProPublica, was working on a similar piece. The two journalists were confronted with a choice: try to scoop each other, or collaborate. They decided to join forces. The result was "An Unbelievable Story of Rape," a compelling example of impactful long-form trauma journalism that won the pair the 2016 Pulitzer Prize in Explanatory Reporting.
Media Matters for America said the story "not only highlighted the challenges of investigating cases of rape and sexual violence, but also demonstrated how the media can cover these issues with [more] compassion and higher quality reporting."
This year marks the Pulitzer Centennial. Since the prizes were first awarded in 1917, the winning words and pictures in the journalism categories have tackled a wide array of traumatic subjects, including:
Armstrong was familiar with the basics of Marie's story before he set out to tell it. But what he hadn't heard was Marie's voice – nobody, it seemed, had written about what she had actually gone through.
Marie said she had been raped in her Washington State apartment. But after being confronted with inconsistencies in her account, she told authorities she had made the whole thing up. Charged with a gross misdemeanor, the 18-year-old faced up to a year in jail. Then police in Colorado began investigating a serial rapist and discovered photos of Marie on a camera in the suspect's apartment. In fact she had been telling the truth.
"I really wanted to reconstruct the police investigation and find out where the doubt started and how that doubt spread," said Armstrong, who began collaborating with the radio program "This American Life."
Marie only agreed to talk if some good could come of the story. She wanted to know the journalistic backgrounds of both Armstrong and Miller and the impact of their past work. For seven months, Armstrong said he gathered records and spoke to Marie and her attorney, but he didn't start interviewing anyone else connected with the events – Marie's family, friends, the police officers – until Marie herself agreed to talk. Everything hinged on that.
Armstrong said that after the story was published, Marie was glad she participated because it had the kind of impact she had hoped for.
"It communicated the key message that it's a mistake to assume anyone who's been hurt should act in a particular way; that there is no one right way for someone to act when they've been a victim of trauma," he said.
Initially, the Lynwood Police Department in Washington that investigated the case declined to comment, but eventually the head of the criminal investigation division said it was important to talk openly.
"A 'no comment' really doesn't benefit the department in a case like this, and it doesn't benefit the readers, and it doesn't benefit other police departments," Armstrong said. "The department's approach at the end was that other police could learn from the mistakes they had made."
Armstrong said it was important that Marie not be surprised when she read the story in print.
"Most people have had limited dealings with the media. They're not accustomed to getting phone calls or emails asking them to talk about something that is painful and so I think that if you can make that process less jarring, that benefits everyone. It's common sense, to a large degree," he said. "It's really basic empathy. That's why I approached her attorney first because I thought it would be better for her to receive a phone call from someone she knew letting her know, 'there's a reporter who's interested in this story' as opposed to me calling her cold."
He also offered this advice to journalists:
"I don't think that there's anything about being respectful of people who have been hurt that in any way undermines the journalistic mission. You want to know what happened, you want to be accurate, fair – none of those things is in tension with being open and transparent and respectful with people who have been hurt."
Avoiding compassion fatigue
Empathy. It's something that Miriam Pawel knew was crucial when in 1996 she assigned her reporters to cover the horrific story of a passenger jet that had crashed off the eastern tip of Long Island. As Newsday's assistant managing editor for Long Island, she knew that her news organization would not only be responsible for the breaking news story, but for relaying details of the investigation – of vital importance to the families of TWA 800 victims – in the months ahead.
Amidst the anguish, sadness and horror of the tragedy, Pawel said she believes her news team played an important role by becoming, over time, a trusted source of information. This increased reporters' ability to spend time with families and cover the stories as they unfolded.
"One reporter spent most of the next five months on what we would now call a long-form narrative: a special section that followed six different people, including the widows of some of the victims, a priest, a technician in the morgue who spent days and weeks trying to identify bodies, and a diver who spent months trying to recover the remains," Pawel said. "The idea behind that story was how people's lives changed and what the impact of this was, not only when it happened, but over a long period of time."
Pawel said her job as an editor was as orchestrator or conductor, matching her reporters' different skills with specific assignments. But those assignments, she said, inevitably took their toll.
"It was really hard, and I think it very much changed their lives, too. I think a lot of editing is social work to begin with, so this became an extension of that. Knowing when to give people breaks, for example. Sometimes people just don't want to even take a day off and you can just see that they are exhausted and that they need it."
Under Pawel's watch, Newsday won the 1997 Pulitzer Prize for Breaking News Reporting. She notes three reasons her team won the Pulitzer: first, the comprehensiveness of the story, staying true to its multiple strains: the victims, the rescuers, the causes. Second, the decision to profile each victim of the tragedy – something Pawel describes as having an "ambitiousness, that there were no limits to what we were trying to do." And finally, it was in the execution: paying attention to the job of providing information as well as a duty to telling their stories.
Her advice:
"It's easy for people to become immune to tragedy and to not want to read about it anymore, and we had to find ways to tell those stories that were different and compelling."
It begins with honesty and sensitivity.
Photographer Barry "Bear" Gutierrez was part of the team at the Rocky Mountain News that won a Pulitzer for its coverage of the Colorado wildfires in the summer of 2002. Gutierrez captured his stunning image of a cabin framed by fire and smoke on a remote mountain in Durango.
In order to take that image, Gutierrez said he had to befriend the homeowner who stood watching as his property was on the verge of being swallowed by flames.
"It was his lifelong dream to build this house. He designed it and had it built with his retirement money. And the home was saved," Gutierrez said.
"That morning I'd thrown my boots on, grabbed my gear as fast as I could to try and beat the road block. I saw a man hosing down his house, pulled on to his property, and I asked if I could stay there and take some pictures," Gutierrez said.
A year later, Gutierrez returned to see the homeowner and took a picture of him holding a framed copy of the iconic image he had made during the wildfire.
"He told me how grateful he was that he had this picture," Gutierrez said. "He had a framed print on his wall as it was such a powerful reminder of the fire and how grateful he was that he didn't lose his home. We hugged, we talked, we shared time together, and he was just so thankful that I was there that day."
Gutierrez said the key to taking photographs like this in times of tragedy is to begin with humility.
"It starts with honesty and sensitivity. And I usually start without my camera if I can. It may seem contradictory to most photojournalists' training – you know, 'get the picture at any cost', and if it's spot news, if things are blowing up, then yeah, there's no time. But when you set your cameras down, put them in the bag, and just talk to people first, it makes a vast difference… I've photographed enough funerals from across the street to know I never want to do that again. And so if I ever have the opportunity to get into somebody's life and be part of their circle in the most difficult moments of their life, that's where I'd prefer to be."
While proud of his effort that summer, Gutierrez said he wished he'd stayed in touch with the people he photographed.
"I think I just jumped right back into work and kind of moved on," he said.
He also has this advice for photographers following in his footsteps: beware of compassion fatigue.
"When you're working 12- to 20-hour days, day after day, in 100-degree weather, inhaling smoke, it just wears you out. You wake up some days, and you really don't want to do it. You'd rather sit at a roadblock and tell your editors nothing is happening. But if you hit a roadblock, you have to keep on going. I had to just look for another way in, to find another dirt road, another evacuee. That was the biggest toll for me. If I face it again I'd do it much the same way, and I'm really proud of how our staff handled themselves that summer."