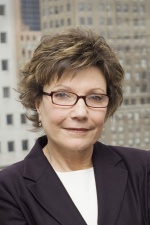 Deborah Amos covers the Middle East for NPR and is also reporting on refugee resettlement and immigration in the U.S. Her reports can be heard on NPR's award-winning Morning Edition, All Things Considered and Weekend Edition. 
Amos teaches Migration Reporting at Princeton University in the Fall term. She was first named a Ferris Professor in 2012 and has returned to Princeton to continue teaching as the University expands its journalism program. 
In 2017 Amos won the IWMF Courage in Journalism Award for a career of war reporting.
In 2013 she won the Alfred I. DuPont-­‐Columbia Award, the George Foster Peabody Award and was honored by the Alliance for Women in Media Foundation for her coverage of the Syrian uprising.
Recent Posts by Deborah Amos
A series of stories focusing on those speaking out to bring justice in European courts for a regime accused of war crimes. Judges called the series "a case study in thorough, humane, and complete reporting." They applauded Amos for "swiftly and skillfully relating the background and current situation of each person she profiles, describing but not lingering on the traumatic situations they have endured, and then focusing on their resilience and the action to which their personal histories have spurred them." Originally broadcasted by NPR on September 24, 2019.